Brian Viloria Fighter Profile, Bio and Career Record (31-3, 18 Kos)
Brian "Hawaiian Punch" Viloria is the reigning WBO Flyweight World Champion.  The former amateur standout has found success in the pros flying under the radar in the sports lighter weight classes. He is enjoying a major resurgence after some setbacks earlier in his career.
Amateur Career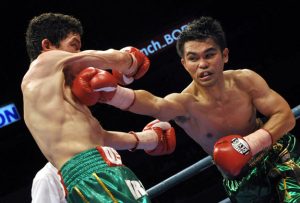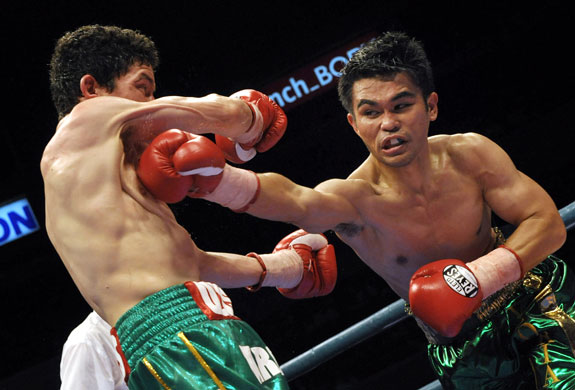 Viloria achieved much success in the amateur ranks.  His first major amateur title came in 1995 when he was a National Junior Olympics gold medalist in the 100 lb weight class.  The following year he was a gold medalist at the World Junior Olympics in the 106 lb weight class.  In 1999 he was the World Amateur Light Flyweight Champion easily defeating Cuban standout Maikro Romero in finals (9-2).
In 2000 at the US Olympic Trials at Light Flyweight Viloria defeated both Glenn Donaire and Nonito Donaire to help him earn a spot on the 2000 US Olympic team.  At the Olympics in Sydney, Donaire won his first round match but lost in the 2nd round to Brahim Asloum of France in a fight that many observers felt Viloria deserved to win.
Viloria would finish his amateur career with an outstanding record of 230-8.
Early Professional Career
Viloria turned pro on May 15th, 2001 on his home turf in Hawaii with a unanimous decision victory over veteran Benjamin Escobia.  After winning his fist nine fights against low level opposition Viloria fought veteran Juan Javier Lagos for the NABF Flyweight Title on August 20th, 2002.  In this bout Viloria was completely dominant and won every round on all three judges' cards to win by unanimous decision.
The fight with Lagos was followed by a fight with Alberto Rossel.  Rossel gave Viloria the toughest fight of Viloria's early professional career but Viloria was able to come away with a close majority decision victory.  After several more defenses on the NABF Flyweight Title, Viloria would move down in weight and challenge for his first World Championship.
World Championship and Romero Bouts
Viloria challenged WBC Light Flyweight Champion Eric Ortiz on September 10, 2005 at the Staples Center.  Viloria was spectacular winning the fight with a one punch knockout in the first round.
After one defense, Viloria would face Omar Nino Romero of Mexico on August 10th, 2006.  Romero would outwork the champion and win a unanimous decision victory.  In their rematch three months later, Viloria would put Romero down in both the 5th and 9th rounds.
However, that would not be enough and the fight was declared a majority draw.  Romero though failed a post fight drug test and the decision was changed to a No-Contest.
In his next bout Viloria would face Edgar Sosa for the now vacant WBC Light Flyweight World Championship, losing by close majority decision.
Road Back to a Light Flyweight World Championship
After his latest loss, Viloria would move up to flyweight and win five straight against relatively weak competition. But on April 19th, 2009 Viloria would move back to Light Flyweight and challenge longtime IBF Light Flyweight Champion Ulises Solis.  In an exciting fight with much ebb and flow, Viloria was able to stop the champion in the 11th round to recapture a belt in the Light Flyweight Division.
On January 23rd, 2010 Viloria would lose the IBF Light Flyweight Championship to Carlos Tamara.  Viloria was ahead on two of the three judge's scorecards entering the last round but the determined challenger would stop Viloria in that final round.
Flyweight Career
Following the loss to Tamara, Viloria would move to the Flyweight Division.  On July 16th, 2011 Viloria would win the WBO Flyweight Championship with a unanimous decision victory over reigning champion Julio Cesar Miranda.  Viloria would follow that win up with an eight round TKO victory over the hard punching Giovani Segura.  On May 13th, 2012 Viloria would finally avenge his previous loss to Omar Nino Romero with a dominant ninth round stoppage of the former champion.
Future: What's Next for Brian Viloria?
Viloria seems to be on a collision course with fellow pound for pound entrant and Junior Flyweight kingpin Ramon Gonzalez.  If all goes as planned that fight could be made in early 2013 and could be the biggest fight in the smaller weight classes since the Carbajal-Gonzalez trilogy in the early 90's.  And it has the potential to be equally as thrilling as those fights were, and bring notoriety back to the lower weight classes.