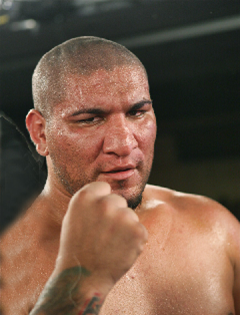 Chris Arreola is a US Mexican American Heavyweight boxer. He is widely regarded and one of the most top prospects in the Heavyweight division. Packing a 6'4 frame, Arreola has enormous amounts of power that he uses to overwhelm opponents in the ring.
The Beginning for Arreola:
Chris Arreola starting his boxing career at the tender age of eight. Starting at the age of 16, Arreola had over 200 amateur bouts before losing interest in the sport and eventually quitting. At the age of twenty, Chris was able to get back into the game and claim the National Golden Gloves in 2001 as a Light-Heavyweight. Shortly after 2003, he missed his deadline to come back and compete for the 2003 National Golden Gloves. Unable to compete, Chris Arreola decided to turn pro.
Out Come the Wolves:
At the beginning of Chris Arreola's professional career, the offensive-minded Arreola only beat weak opposition. However, sporting a record of 12-0 with 10 KO's, Arreola obtained good sparring partners in California against Wladimir Klitschko, Hasim Rahman and James Toney. In 2005, Arreola fought Domonic Jenkins, who held wins over Malcolm Tann, Victor Bisbal and Carlos Barnett. Arreola won the fight by a technical knockout in round five.
In 2006, Chris Arreola stopped numerous contenders in the Heavyweight division. Chris was able to stop club fighter Sedreck Fields, and Cuban southpaw Damian Norris. During 2006, Arreola was tipping the scales close to 260 pounds. This prompted him to drop down to a more effective weight around 230 pounds.
Chris Arreola then faced a fellow undefeated prospect in Chazz Witherspoon in June of 2008. In the third round, Arreola landed a barrage of punches, topped by vicious right that sent Witherspoon to the canvas. Witherspoon stumbled to his feet as the bell rang, and one of Witherspoon's corner men jumped into the ring before the mandatory eight count, causing disqualification.
In November of 2008, Chris Arreola climbed into the ring against the hard hitting Travis Walker. During the first round, Arreola was out boxed and highly overwhelmed by Walkers power. Chris Arreola came back in the second round after taking a knee; and was able to knock Walker down twice. The third round continued the excitement; Arreola knocked Walker out early in the third round, and improved his record to 26-0 with 23 KO's.
Chris Arreola then faced Heavyweight veteran Jameel McCline on the Paul Williams vs. Winky Wright undercard. At the start of the bell, Arreola went right to work, landing some big shots against McCline. As the fight progressed, Arreola dropped McCline in the fourth round with a combination consisting of an uppercut, and two right crosses. McCline was unable to beat the count, and Arreola picked up the win.
The Future for Chris Arreola:
Clearly the public is clamoring to see Chris Arreola fight through the Heavyweight division that is almost shockingly thin. That means there isn't much reason to waste more time taking small steps. With that said, Chris Arreola is slated to face Vitali Klitschko in September of this year (see our Klitschko vs Arreola preview & prediction and check out live Klitschko Arreola results come fight night). Expect Chris Arreola to bring his hard punching and aggressive style into the ring. Who knows, by the end of September we may have a new Heavyweight champion of the world.
Photo Credit: Goossen Tutor Promotions