Boxer Danny "Swift" Garcia Biography & Career Record (23-0, 14 KOs)
Danny Garcia has graduated from unbeaten prospect to undefeated titleholder, and currently holds the prestigious title of WBC light welterweight championship. With a few big wins under his belt, Garcia is now looking for the big names, and a number of intriguing and lucrative potential fights are awaiting him.
Amateur Career: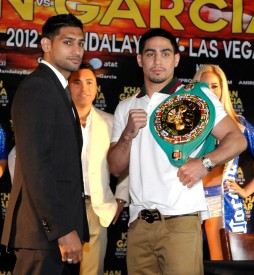 As an amateur, Garcia's athletic ability and great boxing skills led him to become the 2005 under-19 National champion. Following this, Garcia became the 2005 Tammer Tournament Champion and in 2006 became the USA National Champion.
Professional Rise:
Garcia's talent in the amateurs quickly developed and Danny turned professional only a year after becoming USA National Champion. The hot prospect got off to a hot start, and 7 of his first 10 fights ended in some sort of knockout, as he became recognized as one of the best young fighters in the sport, and one of the best to be coming by way of Philadelphia in quite some time.
One of Danny's biggest tests came from former Junior Welterweight champion Kendall Holt. Many had believed that Garcia was the underdog of the bout, but this was proven otherwise and Danny's quick hands and accurate punches were too much for Holt to handle. Even as the scorecards looked close, Garcia was still able to win by split-decision and become the NABO Junior Welterweight Champion. This victory cleared the way for him to start meeting bigger names and competing for belts in the crowded junior welterweight division.
Fight with Eric Morales:
Garcia's fight against the legendary Eric Morales in March 2012 proved to be his coronation of sorts, as he took home Morales' 140 lbs title strap. The quick and agile Garcia slowly picked apart the overweight and old Eric Morales round by round, knocking Morales down in the 11th round and eventually winning by unanimous decision. While he clearly won the bout, he made it more difficult than he needed to at times, perhaps showing too much deferential to the legendary warrior instead of fighting his own fight.
What's Next for Danny Garcia:
Next up for Danny Garcia is a fight against Amir Khan this summer, in what should prove to be an extremely exciting and interesting fight between two of boxing's youngest and toughest fighters. If Danny is able to win against such a formidable foe, he may be able to step up and challenge the likes of Juan Manuel Marquez, Victor Ortiz, or even Manny Pacquiao. Either way, he has earned his place amongst the best fighters in the junior welterweight division today.