David Haye Fighter Profile & Biography
The 32 year-old, 6'3" Haye is one of the charismatic boxers in the sport today. Fans are hoping the former unified Cruiserweight Champion and former Heavyweight titlist can rejuvenate his career following a disappointing performance against Wladimir Klitschko in 2011.
Profile Updated & Amended by Matt Andrzejewski December 2012
Amateur Career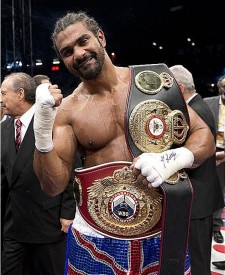 Haye was a successful amateur, highlighted by a silver medal in the 2001 World Championships, where he was defeated in the finals by current heavyweight contender Odlanier Solis.
Early Professional Career
Turning pro in 2002, Haye sprinted out to a 9-0 (9) record, including wins for the British Cruiserweight Title and a step-up stoppage over former titlist Arthur Williams before facing Carl Thompson in September '04. Haye was already being regarded as a potential future star. He battered the 40-year old for several rounds, but the ultra-hard Thompson didn't fold, and dispatched of an exhausted Haye in the fifth round. It is still Haye's only loss, and while perhaps troubling, has appeared to serve as an educational experience for the "Hayemaker."
Cruiserweight Title Run
Haye returned to the ring three months after the Thompson loss, and began a reign of terror against the best cruiserweights in Europe. Scoring one resounding knockout after the other, he won the European title with a 45-second win over Alexander Gurov. Following three defenses and a heavyweight cameo, he set his sights on world honors.
World Cruiserweight Championship
In November of '07, Haye challenged unified Cruiserweight Champion Jean-Marc Mormeck of France. On Mormeck's home-court, Haye rose from a 4th round knockdown to blast the defending champion out in the seventh round of an exciting slugfest. Haye then consolidated his world title claims with an emphatic second-round thumping of WBO champion Enzo Maccarinelli four months later. With his body of work, particularly in unifying the titles, Haye stands out as perhaps the finest cruiser since Evander Holyfield was at this weight wreaking havoc in the 1980's.
Move To Heavyweight
Haye had long complained of cutting weight to get down to Cruiserweight. Even before the Maccarinelli fight, he announced it would be his last at that weight. He began his assault on the big boys in November '08 with a fifth round stoppage of former contender Monte Barrett. This would be his only fight for 20 months.
Haye twice had fights with both Klitschko brothers fall through. An injury forced him to pull out of an eagerly anticipated match with Wladamir. Then a bout with Vitali that seemed on tap just fell apart. He settled for WBA titlist, Nikolay Valuev.
New WBA Heavyweight Champion
On November 7, 2009, Haye won a majority decision over Valuev to become WBA Heavyweight Champion. The fight was a measured one, with Haye understandably leery of a man who outweighed him by 99 pounds. While hardly inspiring, it proved effective enough.
Many have criticized this performance. This is understandable due to Haye's bombastic claims of being the savior of the division; the man who will spare us of the boredom that characterizes the Klitschko brothers. Those remarks are not very consistent with his performance where he shockingly threw 12 punches a round, didn't pounce on a very wobbly Valuev in the 12th, and seemed to just be content to leave his fate in the hands of the judges.
Others rightfully point to the fact that Valuev, at 7 feet and 320 pounds, is a difficult proposition for any heavyweight. None of his opponents have managed to look good against him. We should give Haye the benefit of the doubt and wait for him to fight some more conventionally sized heavyweights before criticizing him too harshly for the Valuev performance. The idea against a fighter like Valuev is not so much to look good, but to get the win and move on. Haye is now ready to do that.
Defending His Title
In Haye's first defense he faced former Heavyweight Titlist John Ruiz.  Haye was dominant as expected against the faded Ruiz.  He put Ruiz down twice in the 1st and then again in the 5th and 6th rounds.  Ruiz's corner would finally call a halt to the one sided affair in round nine.
For his second defense, Haye would face former Olympic Super Heavyweight Gold Medalist Audley Harrison.  After two uneventful rounds, Haye picked up the pace in the 3rd and was able to put Harrison down.  Harrison, who outweighed Haye by 43 pounds coming into the fight, got up but offered no resistance as Haye unloaded combinations.  The referee would stop the fight and Haye had his second successful title defense.
Wladimir Klitschko Bout
On July 2nd, 2011 Haye would finally get in the ring with heavyweight champion Wladimir Klitschko in a highly anticipated bout.  The bout was the most significant heavyweight contest in years and the two fighters showed much animosity towards each other in the pre-fight build up.
The bout however turned out to be a very one-sided affair in favor of Wladimir Klitschko.  Haye was very cautious throughout and very rarely would throw more than one punch at a time.  Klitschko found the very defensive Haye to be a difficult target to hit but simply controlled the rounds with his much busier activity.  The fight would go the distance and Klitschko would be awarded with a decisive unanimous decision victory.
A few months following the loss to Klitschko, Haye would officially announce his retirement from the sport.
David Haye's Comeback
Haye's retirement would not last long.  He was present at the post-fight press conference for the Vitali Klitschko-Dereck Chisora Heavyweight bout.  During the press conference Haye and Chisora were engaged in a disgraceful brawl.  And this would lead to the two men agreeing to get in the boxing ring to settle their differences on July 14th, 2012.
The bout itself started off slowly and cautiously for both men.  At the end of the 3rd round Chisora caught Haye with a left hook after the bell had rung.  The punch seemed to shake up Haye but he would be able to recover.
The fight turned to Haye's favor in the 5th.  He would knock down Chisora twice in that round.  The 2nd knockdown, from a flush left hand to Chisora's face, would cause the referee to stop the contest and give Haye the knockout victory he sought.
Future for David Haye
Haye had made it clear that he would like to face WBC Heavyweight Champion Vitali Klitschko.  However, the question remains about whether Klitshcko is interested in the fight.  He seems to be leaning toward retirement and a career in politics.  But one last substantial payday and a chance to give a beating to a family nemesis may entice Klitschko into the bout.
If Haye is unable to land the Klitschko fight, then he may set his sights on WBA Heavyweight Titlist Alexander Povetkin.  Though the fight would not generate the payday of a bout against Vitali Klitschko, it would probably be the next most lucrative fight to make.
David Haye has certainly had a career full of highs and lows.  And we will most likely see him in a few more meaningful bouts before his career officially comes to an end.