Devon "the Great" Alexander Fighter Biography, Record & Profile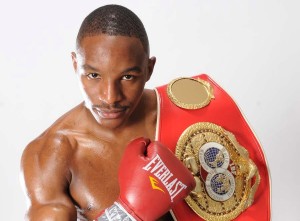 Devon "the Great" Alexander is the current WBC and IBF light welterweight champion, and is one of today's top young fighters in the world.  "Alexander the Great" was born and raised on the rough streets in the Hyde Park neighborhood in St. Louis, MO., where he learned the sweet science under the expert tutelage of Kevin Cunningham, a former police officer, who started a boxing program to keep young kids out of trouble.  Alexander is a southpaw who is known for his quick hand speed and elusive boxing style.
Amateur Career
Under the tutelage of Cunningham, Alexander had a successful amateur career, sporting a spectacular amateur record of 300 wins and 40 losses.  During his amateur career, "Alexander the Great" won the Silver Gloves four times, the PAL national championship three times, the Junior Golden Gloves, and he was a Junior Olympics national champion. In 2003, Alexander won the United States national championship in the 19 and under division, and in 2004, Alexander won the United States light welterweight national championship, but he did not make the United States Olympic because his last fight ended in a draw and since he was knocked down once during the Olympic trials, he lost his spot in the 2004 Olympics on a tie-breaker.
Professional Career
"Alexander the Great" turned professional at the age of 17 in the junior welterweight division, where so far, he has fought his whole career.  He made his professional debut in May of 2004 at the Kewadin Casino in Sault Sainte Marie, Michigan, where he faced off against the winless Vincent Torres who had been knocked out in the first round of his first two professional fights leading up to his third professional fight against "Alexander the Great." Alexander defeated Vincent Torres by first round technical knockout, and no one has heard from Torres again.
Devon has used his elusive skills to conquer every opponent he has faced so far, which adds up to an unblemished record for the southpaw superstar.
After defeating "Winless" Vincent Torres, Alexander won his next twelve fights over easy opposition en route to winning a WBC youth welterweight title before running into his first test when he faced former WBO junior welterweight champion Demarcus "Chop Chop" Corley in January of 2008 at Madison Square Garden in New York City for the vacant WBC Continental Americas junior welterweight title. Alexander easily passed the test against "Chop Chop" by using his superior boxing skills, and even though "Alexander the Great" was deducted a point in the twelfth and final round of this fight, he was ahead by a wide margin in the fight, which resulted in a unanimous decision victory for Alexander.
Alexander went on to fight Junior Witter in August of 2009 for the vacant WBC light welterweight title.  Alexander dominated this fight also, and in round eight, Witter re-injured his hand and was unable to continue.  Witter quit on his stool so Alexander won the fight and captured the vacant WBC light welterweight championship due to the RTD in the eighth round by Witter.
Next up for the undefeated Alexander would be two time champion Juan Urango in a title unification bout in March of 2010 at the Mohegan Sun in Uncasville, Connecticut.  Devon used his outstanding counter-punching and effective aggressiveness to overwhelm the two time champ. Alexander ended this fight in spectacular fashion when he caught Urango with a perfect counter-uppercut in the eighth round that sent Urango directly to the canvas.  Urango got up from the uppercut shot, but was caught again in the eighth round by "Alexander the Great.  This time Alexander caught Urango with a hook that sent him to the canvas again.  The referee stopped the fight because Urango was still on dream street.  Alexander was awarded the eighth round technical knockout victory, which proved to be the first knockout loss of Urango's career.
In Alexander's last fight back on August 7, 2010 he faced the former WBA light welterweight champion Andreas Kotelnik in his hometown of St. Louis Missouri.  Devon won this fight with his effective aggressiveness and boxing skills, but Kotelnik was able to get inside of Alexander's jab and use some effective aggressiveness of his own to give Alexander some serious trouble during the fight.  As the fight went into the later rounds Kotelnik's aggressiveness really started to wear down Alexander, but Alexander was able to fight through his stamina issues and earned a unanimous decision victory.
A Look Ahead
The superstar status of "Alexander the Great" is unknown.  Alexander won his last fight against Andreas Kotelnik, but he did not look spectacular doing it.  Alexander hopes to land a mega-fight against another top junior welterweight, Timothy "Desert Storm" Bradley, who recently was successful in testing the welterweight waters when he faced Luis Carlos Abregu.  No matter who Alexander fights in the future, after opponents take a look at his last fight against Kotelnik, they may be clamoring to test Devon's new found stamina issues. His newly perceived shortcomings may finally be his ticket to the big money fights he craves.