Edwin Valero Fight Record, Biography and History
Edwin "El Inca" Valero is a rising puncher and the WBC Lightweight Champion. The 28 year-old has a record of 27-0 (27 KOs) and has the boxing world talking about him.
Early Career and Trouble
Valero was a distinguished amateur in his home country of Venezuela. He was a multi-time national champion, as well as Central American and South American champion. In the amateur ranks, he defeated future mega-prospect Pancho Bojado.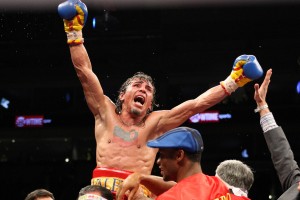 Prior to turning pro, he suffered a skull fracture in a motorcycle accident. Surgery was required to treat a blood clot. Nevertheless, he was cleared to box professionally in his native Venezuela. After a string of first-round knockouts he was signed by Golden Boy Promotions and looked to take his career to the next level. He failed a pre-fight MRI and was denied a license. The deal with GBP was scratched and Valero was left looking for answers, effectively banned from fighting in the U.S.
He returned to Venezuela and continued his winning ways. He soon developed a promotional base in Japan, fighting there five times. He also fought in Mexico, France, and Panama, becoming somewhat of a world traveler.
Knockout Streak
Valero not only has a 100% knockout percentage, but he also holds the record for the most consecutive first-round knockouts to begin a career. He opened his career with 18 consecutive first-round knockouts!
Rising to the Top
After having his first-round knockout streak stopped by Gonzalo Trazancos, who got into the second round with Valero before getting whacked out, Valero took on a pretty decent fighter in Vicente Mosquera for his WBA Super Featherweight Championship. Valero rose from a third-round knockdown to stop Mosquera in the 10th round to win his first world title. Valero defended his crown 4 times, all by knockout.
Coming Back to America
Valero was able to procure a boxing license in the state of Texas, where a fight was scheduled with 46-3 Antonio Pitalua for the vacant WBC Lightweight Title. With 40 knockouts on his record, Pitalua was considered a dangerous, though aging opponent. A comprehensive 2nd-round knockout earned him his second world title. The fact that the fight was in Texas also indicated that maybe the door was open for him to return to the U.S. for more big fights. Thee Showtime spot also gave him some exposure in the States.
Recent Form
In his first defense, Valero stopped tough Mexican Hector Velasquez in seven rounds. His next opponent would be Antonio DeMarco, a tough top contender with good skills and power. Valero opened well, but was soon busted up, his worst cut being a horrific gash on his forehead from a wayward DeMarco elbow. Soon, he was bleeding from a collection of cuts on his face.
Valero showed the poise of a true champion. The cuts did not appear to bother him significantly and he attacked DeMarco with hunger and desire. With each passing round, DeMarco's cause grew increasingly hopeless. Valero showed angles, threw combinations, and rattled DeMarco with his power. He showed a lot of "want to" while revealing a different side of himself. He wasn't the one-dimensional wrecking-ball some made him out to be. He was clever, shifty, somewhat fluid, and flashed decent hand speed. DeMarco's corner wisely kept him on the stool before the beginning of the 10th round.
Future
His ability to fight in the U.S. is still hampered by his failed MRI and legal issues. The DeMarco fight was supposed to be in the U.S. but a drunk driving charge in Las Vegas was cited as the reason for denying him a visa. If that ever gets cleared up, it remains to be seen if he could get a license in California, Nevada, or New York, states with a ton of big-time boxing action.
Even without the commissions' blessings, Valero has managed to become one of the top lightweights in the world, perhaps only behind Juan Manuel Marquez. With Marquez aging and having not fought at lightweight for a while, Valero could become the top guy. He has expressed a desire to move up, however, so we'll see how it all plays out. It should be fun.