Fighter Profile, Biography & Record for Guillermo Rigondeaux (10-0)
Cuban boxer Guillermo Rigondeaux has wasted no time with his professional career, and has already seen much success with his debut in the pro ranks. The former Cuban amateur star, and one of the best amateur boxers of all-time, Rigdoneaux is looking for big fights and big names. Currently, Guillermo holds the WBA super bantamweight title, challenging for the interim strap in just his 7th professional fight.
The Amazing Amateur Career of Guillermo Rigondeaux: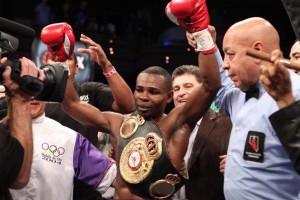 Guillermo's amateur career was absolutely spectacular, as he took home numerous prestigious awards and titles including the Cuban National Amateur Bantamweight Champion (7 time champion), and the World Amateur Bantamweight Champion. However, his greatest accomplishments occurred when he became a two-time Olympic gold medalist at the 2000 and 2004 Olympic games.
He's one of the most accomplished and successful amateur boxers in history, and surely would have been able to continue that success longer. However, he eventually chose to defect from Cuba to pursue his professional career.
Pro Career:
Guillermo's professional career, although still in its very early stages, has proven to be a success thus far. His extremely slick and refined south-paw form has allowed him to transition smoothly from the amateurs. Additionally, his powerful punches have helped him to tally 8 stoppage wins in his 10 career fights so far. He defeated the respect Ricardo Cordoba in just his 7th fight, and in his next bout, he smashed the undefeated Willie Casey in one round.
WBA Super bantamweight title:
In January 2012, Guillermo was crowned the new WBA Super bantamweight champion by knocking out Rico Ramos. Guillermo's display of accurate body punches was too much for Ramos to handle, and in the 6th round Ramos was knocked out. He completely outclassed Ramos, who was himself a reasonably highly touted prospect on the rise, and an undefeated titleholder making the first defense of his strap.
Future for Guillermo Rigondeaux
Much talk between a possible fight between Guillermo and Nonito Donaire has arisen in the last few months. This would be a great push for Guillermo Rigondeaux's career, and winning against Nonito would of course be an amazing accomplishment, although easier said than done.
That being said, there are many other great fighters in the super batamweight division such as Jorce Arce, Toshiaki Noshioka, and Wilfredo Vasquez Jr., whom Guillermo is still yet to fight. It will be interesting to see how Guillermo 'The Jackal' Rigondeaux's pans out in the next year or so, and whether or not he is able to chase down Donaire.