Marco Huck Bio, Fight Record & Profile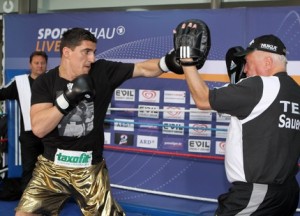 Marco Huck has come a long way since arriving in Germany as a young kickboxer. The Serbian born 26 year old's aggressive style and sheer will to win have made him a popular figure amongst German fight fans.
Having trained as a kickboxer, Huck made the switch to professional boxing and as a relative novice won many of his early bouts using a mixture of aggression and fitness. His lack of refinement and wild attacks earned him a reputation as a fighter not averse to bending the rules. As a result, Huck holds the distinction of being involved in one of the most farcical fights in recent memory. His a bout with the veteran Pietro Aurino for the minor EU Cruiserweight belt saw the fighters exchange headbutts and leg kicks before the Italian left the ring in disgust and was disqualified.
EARLY CAREER AND FIRST TITLE CHANCE
Despite the controversies surrounding him, Huck had powered his way to 18 straight wins by the time he was matched with the unbeaten Vadim Tokarev. The IBF declared  the bout to be a world title eliminator with the winner earning a shot at Steve Cunningham's belt. Huck boxed well and took a surprisingly close majority decision over his Russian opponent.
Huck's first attempt to claim a world title resulted in the sole blemish on the adopted German's record. Cunningham withstood Huck's trademark attacks and boxed superbly to force the German onto the back foot. It was the first time Huck hadn't had his own way in a fight and he wasn't nearly as effective. His increasingly desperate attempts to turn the fight back in his direction left gaps which Cunningham exploited beautifully, eventually forcing a 12th round stoppage.
Check out our Marco Huck photo gallery collection
REBUILDING AND TITLE GLORY
After rebounding from that disappointment by chalking up five wins and claiming the European Cruiserweight title, Huck was granted another shot at the WBO belt and this time triumphed with a deserved points victory over Victor Emilio Ramirez. As well as claiming his first world title belt, Huck proved he was capable of boxing with discipline as he followed his pre fight strategy perfectly.
Huck seems to have grown as a fighter since claiming the title and the first 3 defenses of his title demonstrated a calmer approach in the ring. Although still a  rough and uncompromising inside fighter, his TKO victories over the outgunned Adam Richards, and outclassing performances over Brian Minto and Matt Godfrey were controversy free. While Huck looked impressive in recording these victories the level of opposition was decidedly second tier and fans and experts alike were calling for him to face some tougher challengers.
Huck answered his critics by closing an active 2010 with a mandatory defence against the dangerous Denis Lebedev. The Russian's unbeaten 21 fight record and the manner of many of those wins made him the favorite in many observer's eyes. The bout never quite produced the fireworks many expected and although both fighters had moments of success, Lebedev seemed to be enjoying far more in a tense battle.
Strangely, with his title seemingly hanging in the balance as they came out for the final round, Huck's longtime trainer Ulli Wegner instructed his charge to box and move. When the judges returned their verdict of a split decision in the champion's favor, the cries of robbery were supplemented by accusations that the German corner had been provided with inside information of the scorecards during the course of the fight.
THE FUTURE
In defeating Lebedev, Huck cemented his place as one of the top two cruiserweights in the world with his only rival for the top spot being his former conqueror Steve Cunningham. Sauerland Promotion's fighter Huck would dearly love to avenge that defeat and with Cunningham now also being promoted by the European giants, that fight should be simple to make. With the idea of a Cruiserweight version of the Super Six tournament still being talked about, 2011 promises to be a busy one for Huck.