Fighter profile & biography for Mikkel Kessler
Mikkel Kessler, known as the "Viking Warrior" is the former WBA and WBC Super Middleweight champion of the world. Kessler is a powerful fighter that hails from Copenhagen, Demark and has earned his stake in boxing as an intimidating force. Currently, Mikkel Kessler is continuing with his comeback after having to pull out of the Super Six Super Middleweight Tournament due to an eye injury.
Profile updated & amended by Matt Andrzejewski September 2012
Professional Career: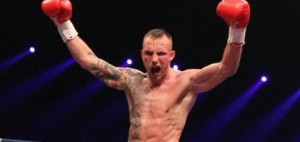 Mikkel Kessler started his career as a professional fighter as a light Middleweight. Kessler showed an enormous amount of power during his first 16 fights. During this span he is accredited with a total of 16 wins, 11 by way of knockout. In April of 2000, Mikkel Kessler made his debut in the Middleweight division by facing Kevin Hall. The comfortable Kessler make quick work of Hall, knocking him out in the second round.
During the span of September of 2000 through November of 2002, Mikkel Kessler opened up a sea of victories by defeating some notable journeyman in the Super Middleweight division. It was at this time that Kessler found his niche for weight class and piled up an incredible 29 wins, 22 by way of knockout.
His first title shot came against former WBC champion Dingaan Thobela. Kessler dominated the contest simply by over powering his opponent. Mikkel Kessler earned the unanimous decision and his first IBA Super Middleweight title. However, with Kessler tasting victory he relinquished the IBA title to challenge Craig Cummings for the more recognizable WBC International Super Middleweight title.
During the contest, "The Viking Warrior" made quick work of Cummings knocking him out in the third round. Interesting enough the boxing community was inundated with the power of Kessler. It was at this point when Kessler relinquished his title belt once again to fight against Manny Siaca for the WBA World Super Middleweight title.
Mikkel Kessler took the fight against Manny Siaca on short notice after Kessler's stable mate Mads Larsen had to back out because of an injury sustained during training. Mikkel Kessler stepped into the ring on November 12, 2004. Kessler outworked Siaca landing several combinations that hurt Siaca throughout the fight. It wasn't until the seventh round that Siaca retired due to tremendous punishment at the hands of Kessler. Mikkel Kessler earned the knockout and the WBA Super Middleweight championship of the world.
Continuing Success:
In this first true test, the Viking Warrior continued his success in the ring and was able to obtain the WBC Super Middleweight championship by defeating Markus Beyer in three rounds. He followed up with a title defense against Librado Andrade. Andrade withstood an all-out assault by Kessler, refusing to fall despite being hit 348 times during the bout. Interesting enough, Kessler embraced Andrade at the beginning of the final round as opposed to traditional glove tapping. Mikkel Kessler earned the unanimous decision at the end of round 12.
Mikkel Kessler VS. Joe Calzaghe:
With the public clamoring for a unification bout, Joe Calzaghe and Mikkel Kessler jumped into the ring on November 3, 2007. In front of a sellout crowd, Calzaghe was aggressive from the opening bell. However both fighters were accurately sharp, landing shots when time called. Kessler has a bad round three and four as Calzaghe landed several uppercuts and was the busier fighter. Joe Calzaghe continued to outbox "The Viking Warrior" in the late rounds, however; round ten saw the two fighters go toe to toe. It was Joe Calzaghe who prevailed in the long run earning a unanimous decision, and giving Mikkel Kessler his first professional loss.
Regaining the Championship:
After Joe Calzaghe vacated the Super Middleweight titles to compete at light Heavyweight, opportunity knocked on Mikkel Kessler's door. He was slated to face Dimitri Sartison for the vacant WBA World Super Middleweight title. In a great match, Kessler simultaneously broke down Sartison, finally flooring him in the eleventh round and finishing him off in the twelfth.
Mikkel Kessler went on to defend his title two more times against Danilo Haussler, defeating him by knockout in the third round; and Gusmyr Perdomo winning by a TKO in round 4. In the previous July of this year, Mikkel Kessler was given the opportunity to compete in a very special event that housed other world class champions.
Super Six World Boxing Classic:
Mikkel Kessler agreed to take part in the Super Six World Boxing Classic, and his first match in the tournament was against Andre Ward on November 21st, 2009 .
Kessler had a difficult time dealing with Ward's hand speed and natural boxing ability.  Ward was dominant throughout the fight on both the inside and outside.  Kessler was hurt in the 4th round and was cut over his left eye in the 8th.  In the 10th, an accidental head butt opened another cut over Kessler's right eye.  The referee stopped the fight due to this cut over the right eye.  The fight went to the cards where Andre Ward was awarded with a unanimous decision victory.
In his next bout in the Super Six Tournament, Kessler would face Carl Froch in Denmark.  The fight was a give and take battle throughout.  Kessler was busier but Froch had success counterpunching.  The rounds were all very close but in the end the judge's awarded the busier Kessler with a unanimous decision victory.
Post Super Six World Boxing Classic
Following the Froch bout, Kessler would be forced to pull out of the Super Six World Boxing Classic with an eye injury.  After taking more than a year off Kessler would return on June 4th, 2011 to face Mehdi Bouadla in Denmark.  Kessler was able to successfully shake off the ring rust and dominate Boualda on route to a 6th round stoppage.
Kessler was next going to face Robert Stieglitz for Stiegltiz's WBO Super Middleweight Title.  However, after two postponements the bout was scrapped.  So instead Kessler faced Allan Green, in a Ligght Heavyweight match.
In the first round Green put Kessler down.  However, later in the round Kessler would come back and stagger Green.  In both the 2nd and 3rd rounds the fighters would each exchange big punches.  In the 4th, Kessler would catch Green with a highlight reel left hook that would end the night.
Future for Mikkel Kessler
Kessler has signed to fight tough southpaw Brain Magee on December 8th, 2012 in Denmark for the interim WBA Super Middleweight Title.  Magee is a very well schooled fighter who could pose some problems for Kessler.  However, with a win Kessler could once again position himself among the elite in the loaded Super Middleweight division.  And that could lead to lucrative bouts with some of the big names of the division in the coming years.