Orlando Salido Fighter Profile, Bio and Career Record (38-11-2, 26 Kos)
Orlando Salido is the current WBO Featherweight Champion of the World.  Salido's career is a story of ups and downs.  However, his perseverance and determination have helped him achieve success in boxing in spite of the many setbacks he has faced in his career.
Early Pro Career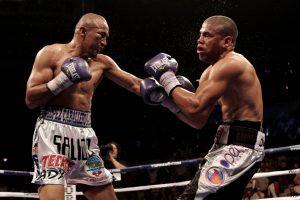 Orlando Salido turned pro in Mexico on March 1st, 1996 at the age of 16 and lost by TKO in the fourth round to Ivan Cazarez.  Salido would lose six of his first fifteen bouts with five of those losses coming by knockout.
Soon after his fifteenth fight, Salido left his native Mexico and began accepting fights in the United States.  After a couple decent wins in the US, Salido scored the biggest win in his early professional career with a split decision victory over former World Champion Regilio Tuur at the Roseland Ballroom in New York on November 23rd, 2001.  The victory brought the early professional record of Salido to 14-7-2.
World Championship Aspirations
As Salido's career progressed, the fighter that lost many early fights by knockout started to hone his craft and pile up win after win.  His perseverance paid off on September 18th, 2004 with a World Title bout against Juan Manuel Marquez.  However, that night the more experienced Marquez got the better of Salido with a unanimous decision victory.
Salido, undeterred by the loss, would win his next four fights in a row to earn a title bout against Robert Guerrero on November 4th, 2006.  On this night, Salido got the better of his inexperienced opponent to win the IBF Featherweight Championship.  However, after the fight Salido tested positive for a steroid and the result of the bout was changed to a No-Contest. Salido immediately had a follow up drug test to another independent body and that drug test came back clean.  Nonetheless, the result of the Guerrero fight stood as a No-Contest and Salido lost his championship.
After four more wins Salido once again found himself in a championship fight against Cristobal Cruz.  It was a very close fight but when the scorecards were read Cruz was awarded a split decision victory.
World Championship Dream Realized and Gamboa Fight
On May 15th, 2010 Salido and Cruz got back in the ring for their rematch and for the IBF Featherweight Title.  This time around Salido dominated the fight and earned a unanimous decision victory.  For his first defense, Salido would take on the upcoming Cuban sensation Yuriorkis Gamboa.  Though he put up a valiant effort and had Gamboa down in the eighth, Salido could not match the much younger fighter's blazing hand speed and would lose a twelve round unanimous decision.
Bouts Against Juan Manuel Lopez
Based off his better than expected outing against Gamboa, Salido was offered a fight against the undefeated WBO Featherweight Champion Juan Manuel Lopez in Puerto Rico on April 16th, 2011.  The fight was action packed through the first four rounds and Salido was able to hold his own against the heavily favored Lopez.
In the fifth, Saldio dropped Lopez and changed the course of the fight. The fight was stopped in the eighth after Salido landed a barrage of punches and Lopez did not respond. It was a monumental upset victory that shook up the boxing world, and once again Orlando Salido held a Featherweight championship belt.
The rematch with Lopez took place on March 10th, 2012.  This time, after four competitive rounds Saldio was dropped by Lopez in the fifth.  However, Salido was determined and after a spirited ninth round filled with toe to toe exchanges, he dropped Lopez with a three punch combination in the tenth.  The referee would soon stop the fight and once again Orlando Salido had knocked out Juan Manuel Lopez.
Future For Orlando Salido
Salido, coming off his two wins over Juan Manuel Lopez, is one of the sports hottest fighters at the moment.  His action style makes fan friendly fights and there are certainly many interesting bouts that can be made in the featherweight division.  One interesting possibility would be a unification bout against the winner of Jhonny Gonzalez and Daniel Ponce de Leon.
If he chooses, he can fight a veteran name opponent like Rafael Marquez or if he continues to face prospects a bout against Mikey Garcia would be intriguing.  And though unlikely, Juan Manuel Lopez remains out there and since their first two fights were very entertaining a third bout can never be ruled out.