Robert "The Ghost" Guerrero Fighter Profile & Biography
The 26 year-old Guerrero, from Gilroy, California-the garlic capital of the world, is one of the United States' finest lower-weight boxers. The former two-time IBF Featherweight Champion is the current IBF Super Featherweight Champion. The tall (5'8") Guerrero, nicknamed "The Ghost," is primed to make a push into the upper echelon of boxing champions.
Amateur Career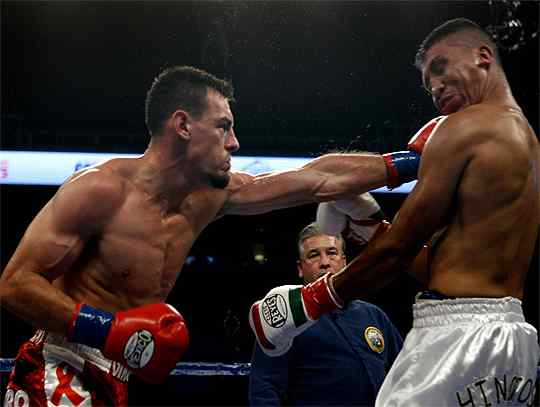 Guerrero began boxing at a young age and before long, his potential would manifest. He won a gold medal in the National Junior Olympics at the age of 15. Guerrero wanted to make the 2000 Olympic team and at 16 he tried out for the team, the youngest boxer in the trials that year. He lost in the trials, but turned pro as a guy to keep an eye on.
Early Pro Career
Rather than wait 4 years for a spot in the 2004 Olympics, Guerrero turned pro in April '01. His potential was unmistakable as he began stacking up wins. The quality of his opposition gradually increased and by the end of 2004, Guerrero has scored wins against former champions Juan Polo Perez and Enrique Sanchez, as well as fringe contender Cesar Figueroa.
In December '05, Guerrero brought his 16-0-1 record into the ring against fringe contender Gamaliel Diaz. Guerrero seemed complacent, giving away rounds to the dogged Diaz who was on a 19 bout unbeaten streak of his own. It went to the scorecards where "The Ghost" lost a split 12 round decision. It was the typical rite-of-passage fight, with the young undefeated fighter overlooking the unsung veteran and getting outworked.
Rematch
After a quick tune-up, Guerrero met Diaz in a rematch 6 months later. This time, we saw a different Guerrero as he got in close and muscled Diaz around. Twice in the first round, Robert dropped Diaz with body shots, the only knockdowns in Diaz' nine-year career. Diaz came back and made a fight of it for a few rounds before Guerrero applied the coup de grace, an uppercut to the ribs, avenging his only defeat via 6th round KO.
Two-Time IBF Featherweight Champion
Guerrero's next fight after the Diaz rematch was his first title shot against forgettable IBF titlist Eric Aiken. Guerrero punished Aiken inside, and after eight rounds, Aiken stayed on his stool. Guerrero had won his first world title!
In his next fight, against mandatory #1 Orlando Salido, Guerrero lost a wide 12 round decision. Salido had nine losses and there was something bizarre about the huge underdog being able to walk through the shots of the talented, hard-hitting Guerrero. Robert left the ring a former champ. But not so fast! Salido's drug test came back positive for steroids. The loss was changed to a No Decision and the title was declared vacant.
Rightfully, Guerrero was given a shot at the vacant title, easily beating Spend Abazi in his hometown of Copenhagen, Denmark by ninth round TKO. Guerrero was now a two-time titlist. He followed his triumph with two high quality defenses: stoppages over capable contenders Jason Litzau and Martin Honorio. Everything was back on track.
Road To The IBF Super Featherweight Title
Having fought at 126 since he was a kid and struggling mightily to make weight, Guerrero moved up to 130 in 2009. After a stay-busy fight, he fought unheralded but undefeated Indonesian Daud Yordan in his HBO debut. A clash of heads in the second round led to a cut above Guerrero's eye. "The Ghost" claimed he could not see and the bout was ruled a No Contest, hardly the result he was looking for in his HBO debut.
Many said that Guerrero quit, knowing it wasn't going to be his night. Yordan looked like he was giving Guerrero major problems and when Robert had a chance to take the night off, he took it. You never know, but if a fighter says he can't see, the bout must be stopped. Nevertheless, Guerrero caught a lot of grief over this performance.
Guerrero made a lightweight cameo before setting his sights on IBF Super Featherweight Champion- the tough South African Malcolm Klassen. Guerrero started well enough, but tired badly over the final few rounds. Klassen didn't capitalize and Robert won by unanimous decision. While not overly impressive, he did defeat a capable titlist in winning a belt in his second weight class, pushing his record to 25-1-1 with 17 KO's in the process.
Looking Ahead
2010 will be a critical year in Guerrero's career. He has been stuck in the "young titlist" mode for several years now. If he wants to make a run at being the best at 130, now is the time to do it. A rematch with Yordan could help Guerrero close that unpleasant chapter of his career and silence some critics. A fight with Humberto Soto would give Guerrero the chance to become the clear top dog at 130. There are also many fighters at and around 130 that would offer "The Ghost" ample opportunity to increase his profile.
Guerrero has stated his willingness to fight the other champions at 130 this coming year. No fights have been scheduled as of this writing. Hopefully, his ongoing promotional issues with his Goossen Tudor will not curtail his development any more than they already have.