Robert Helenius Fighter Profile, Bio and Career Record (17-0, 11 KOs)
Robert Helenius is a 28-year-old heavyweight contender hailing from Stockholm, Sweden.  At 6'6″ and 240 pounds, Helenius, known as the "Nordic Nightmare" is an imposing figure. Maybe people have hailed him as the future kingpin of the heavyweight division once the Klitschko brothers are no longer at the top, however, he has a long way to go before he comes close to proving that to be true.
Amateur/Early Professional Career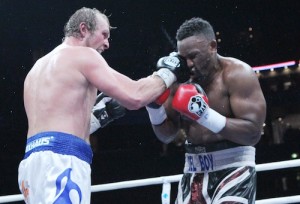 Helenius had a distinguished amateur career amassing 105 victories in 144 fights.  In 2006, he finished 2nd at the European Amateur Boxing Championships.  After falling just short of qualifying for the 2008 Olympic Games in Beijing, Helenius decided to turn pro.  He made his professional debut in Germany in 2008 with a first round stoppage of Gene Pukall.
Career Progresses
After winning his first ten fights against relatively soft opposition, Helenius faced former WBO Heavyweight Champion Lamon Brewster. Helenius was dominant and stopped Brewster in the eight round.
After knockout victories over three other faded fighters (Attila Levin, Samuel Peter and Sergei Liakhovich) Helenius stepped into the ring in December 2011 against Dereck Chisora. Though it appeared that Chisora outworked the taller Helenius for much of the fight, Helenius was awarded with a controversial split decision victory.
It was such a controversial verdict, that most fans and pundits simply dismiss the win altogether, and credit Chisora for the win, and Helenius for being handed an unofficial loss. It was certainly a major blow to his reputation, despite the fact that his "0" remained intact.
Future for Robert Helenius
Helenius has a solid amateur background and holds some wins over some faded former champions and contenders.  With the lack of quality heavyweight fighters that are currently available this will probably be enough to get Helenius either a shot at a Klitshcko or an opportunity to fight for some sort of piece of the heavyweight title.
He certainly still has the size and skill to be a major player in the division. However, the Chisora fight exposed some flaws. After a long layoff following that loss, he'll need to build up some momentum before truly being in line for a title shot.