Seth Mitchell Fighter Profile, Bio and Career Record (25-0-1, 19 KOs)
Seth Mitchell is a fast rising American Heavyweight prospect.  The former Michigan State linebacker got a late start in boxing but has been quickly making an impression on fight fans across the world. With the backing of Golden Boy Promotions and HBO Boxing, we've already seen a lot of Mitchell, and can expect to see plenty more from him in the future as well.
Amateur/Early Professional Career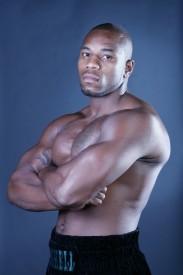 Mitchell was a stand out high school linebacker and received a scholarship to Michigan State University. After a strong career on the gridiron with the Spartans, in 2005 he was forced to give up football due to injuries. He would go on to graduate from Michigan State with a Bachelor of Arts in Criminal Justice and Security Management.
In 2006, Mitchell watched Notre Dame safety Tom Zbikowski make his professional debut and was inspired by watching Zbikowski to take up boxing.  Mitchell had only ten amateur fights going 9-1 before turning pro on January 18, 2008 with a four round unanimous decision over veteran journeyman Mike Miller.
Career Progresses
Due to his lack of amateur experience, Mitchell faced relatively weak competition in his early career while learning his craft. After amassing a record of 15-0-1, Mitchell stepped up his level of opposition on May 7th, 2010 against Johnnie White who came into the ring with a 22-1 record.  Mitchell was dominant and stopped White in the 2nd round.
After scoring six more knockout victories Mitchell made his HBO debut on December 10th, 2011 against Timor Ibragimov.  Mitchell was very impressive in destroying Ibragimov, who had never been stopped in his career, in two rounds.
Following the Ibragimov fight Mitchell was back on HBO on April 28th, 2012 against contender Chazz Witherspoon. Witherspoon hurt Mitchell in the first round and Mitchell looked to be in serious trouble.  However Mitchell impressively bounced back in the 2nd round and was able to stop Witherspoon in the third round. While it perhaps exposed a weakness in Mitchell, it also showed some signs of great promise, and even better, the makings of an exciting fighter who fans will want to watch.
Future for Seth Mitchell: Is Seth Mitchell the Next American Heavyweight Champion?
Mitchell has an exciting style that has seemed to be lacking in the heavyweight division in the last few years. He seems to be on a collision course for a fight with one of the Klitschko brothers in 2013. We'll be seeing him built up on the airwaves via HBO and Golden Boy, so we'll see how he progresses, and whether or not he has what it takes to climb that mountain.
Though time will tell if he can dethrone a Klitschko, fight fans know that Mitchell will at the very least bring some excitement to a division that badly needs it in the coming years.