Vitali Klitschko is a Ukrainian professional Heavyweight boxer, and is the current WBC Heavyweight champion. His brother, Wladimir Klitschko, is the current IBF, WBO, WBA and ring magazine world Heavyweight champion. Vitali is also the first professional boxer to hold a PhD in sports medicine and appears headed to a career in politics in the Ukraine once his fighting days are over.
Amateur Career: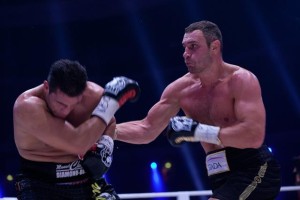 Vitali Klitschko actually started his career as a professional kick boxer. It wasn't until 1995 where he won the Heavyweight championship in the World Military games hosted in Italy in 1995. Later that year, Vitali won a silver medal at the 1995 World Amateur Boxing Championships in Berlin, Germany. Vitali Klitschko ended his amateur career with 195 wins, 15 losses, and 80 knockouts.
Hands of Iron:
Vitali Klitschko began his professional boxing career in 1996. Klitschko was able to win the first twenty-four fights by either early knockout or technical decision. His immense size and power enabled him to earn the nickname, "Dr. Iron Fist." Eventually Vitali signed with German-Athlete promotion company Universum. As a well educated man, Vitali in time became a national celebrity in Germany; which he adopted as his home country.
"Dr. Iron Fist" earned his first title shot against Herbie Hide on June 26, 1999. Klitschko was able to win the WBO Heavyweight title by a second round knockout. VItali Klitschko then had two successful title defenses against Ed Mahone and Obed Sullivan. He was able to demolish both of them by technical knockouts, which enabled him to line up a fight against American Chris Byrd.
"Dr. Iron Fist" and Chris Byrd stepped into the ring on April 1, 2001. However, with Klitschko leading on all scorecards, he complained of shoulder pain at the start of the fourth round. Vitali and his corner threw in the towel after the ninth round despite carrying a lead on all three judges' scorecards. Vitali Klitschko was later diagnosed with a torn rotator cuff.
Vitali Klitschko vs Lennox Lewis:
After Vitali's first professional loss, he went on to face five other opponents; reeling a total of five victories. This earned him a title shot against Lennox Lewis for the WBC Heavyweight Championship. On June 21, 2003, both fighters stepped into the ring with Klitschko a 4 to 1 underdog.
Klitschko dominated the fight early, as he stunned Lewis with two hard right hands during the second round. During the third round, Lewis landed a bone crushing right hand that opened a deep cut above Klitschko's left eye. Vitali was able to regain control of the fight, but continued to bleed heavily from the opened cut. Before the seventh round, the ring doctor declared the wound severe enough to sustain eye damage if struck again.
The fight was eventually stopped after the sixth round despite Klitschko's plea to continue. Vitali Klitschko was ahead on all three judges' scorecards at the time of stoppage. And because the cut was caused by a punch and not a head-butt, Lewis earned the technical knockout. However, with Klitschko requesting a rematch, he never would get his revenge. Lennox Lewis announced his retirement in 2003.
Earning what's deserved:
Vitali Klitschko rebounded from his loss to Lewis with a victory over Kirk Johnson. This match, which was won by a Klitschko technical knockout in round two, was part of an elimination bout. This victory earned Vital a shot against Corrie Sanders (who recently knockout Wladimir Klitschko) for the WBC Heavyweight title.
During the fight, Klitschko was rocked early by Sanders. Klitschko regained control of the fight by using movement and strong punching to break down Sanders forcing the referee to stop the bout in round eight. Vitali earned the WBC Heavyweight title and the Ring Magazine belt.
"Dr. Iron Fist's" first title defense was against British boxer Danny Williams (who came off a recent win against Mike Tyson). The mismatched fighters stepped into the ring on December 11, 2004. Klitschko was able to walk all over Danny Williams, with knockdowns in the 1 st, 3 rd, 7 th and 8 th rounds eventually leading to a stoppage.
The Doctor Retires:
On November 9, 2005, Vitali "Dr. Iron Fist" Klitschko announced his retirement, and vacated his titles. His decision was based on several mounting injuries, and he chose to leave while still on top. Following his retirement, the WBC conferred "champion emeritus" status on Vitali, and assured him he would become the mandatory challenger if and when he decided to return. Impressively, Vitali Klitschko retired with a career knockout ratio of 92 percent. Klitschko had never been knocked down, or received a standing eight count.
The Return:
Vitali Klitschko announced his comeback on January 24, 2007. However, due to a number of health problems Klitschko backed out of a number of bouts scheduled for him. It wasn't until August 3, 2008 that Vitali Klitschko would prove that once again, he is a world champion.
Vitali Klitschko squared off against WBC Heavyweight champion Samuel Peter in August of 2008. Vitali was able to use his height and reach advantage to pummel Peter with numerous hard rights and jabs. Samuel Peter took enormous amounts of punishment, and never changed his game plan during the fight. Klitschko earned the technical decision in the eighth round, and the WBC Heavyweight title.
On March 21, 2009, Klitschko defended his title against mandatory challenger Juan Carlos Gomez. Klitschko started the fight early, landing several jabs to the right eye of Gomez. Vitali used his superior size and reach advantage to break down Gomez. During the seventh round, Gomez took a knee from a right hand followed by an uppercut. Round nine found Gomez turning his back against Klitschko while taking punches causing the referee to stop the bout.
In his next bout, Klitschko faced the fast rising undefeated Chris Arreola at the Staples Center in Los Angeles, CA.  Some boxing insiders thought the youthful and confident Arreola would cause Klitschko problems.  However, Klitschko turned in yet another dominant and impressive performance.  He was able to punish Arreola at a distance with his jab and right hand.
When Arreola would attempt to bring the fight inside, Klitschko would hammer him on the way in.  And when Arreola was on the inside his combination punches had little effect on Klitshcko.  Following the 10th round, Arreola's trainer mercifully called a halt to the contest giving Klitschko another knockout victory.
Following the Arreola bout, Klitschko would fight one more time in 2009 and easily win a lopsided unanimous decision over another undefeated contender in Kevin Johnson.  In 2010, Klitshcko would rack up two more dominant victories, although against lackluster opposition.  First, he KO'd Albert Sosnowski in May and then pummeled former Heavyweight Champion Shannon Briggs for 12 rounds on route to a unanimous decision victory.
On March 19th, 2011 Klitschko faced off against another undefeated heavyweight in Odlanier Solis.  Solis was a decorated amateur and former Olympic gold medalist for Cuba.  Late in the first round Solis would go down from what appeared to be a glancing punch from Klitshcko.  Solis began grabbing his right knee while on the canvas.  Though Solis would make it to his feet his knee was clearly bothering him and the referee called the fight off.
Klitschko would next face former Light Heavyweight and Cruiserweight World Champion Tomasz Adamek in Adamek's home country of Poland.  Adamek was considered to be a top heavyweight contender and considered by many as the best opponent Klitschko has faced since his comeback began in 2008.  But he proved to be no match for Klitshcko.  Once again, Klitschko dominated and won easily won the first 9 rounds on all three judges' scorecards.  Klitshcko administered more punishment in the 10th before the referee stopped the contest giving Klitschko a TKO victory.
With the division almost void of contenders, Klitschko fought twice in 2012 against a mixed class of opponents.  In February, Klitschko easily decisioned Dereck Chisora.  Later in September, Klitschko TKO'd the tough but limited Manuel Charr after Charr suffered a bad cut over his right eye in the 4th round.
Future for Vitali Klitschko?
There were rumors preceding his bout with Manual Charr that Vitali Klitschko would retire following the bout and head into a career in politics in the Ukraine.  Klitshcko has yet to state publicly his intentions for the near future.
If he does fight again many believe it will be against outspoken British Heavyweight David Haye.  Vitali's brother, Wladimir, dominated Haye in July 2011 but Haye remains a marketable name and is coming off a solid knockout win over Dereck Chisora.  At the very least the fight would be one last good payday for Klitshcko.
Also, Alexander Povetkin remains a possibility.  In the past, Povetkin has avoided both Klitschko brothers but may opt to finally seek a fight with one of the two brothers in hopes of a big payday of his own.
Vitali Klitschko has enjoyed a tremendous career and will go down as one of the era's best Heavyweights.  One day he will find himself enshrined in the International Boxing Hall of Fame in Canastota, NY.