Fighter Profile, Career Record & Bio for Yuriorkis Gamboa
Yuriorkis Gamboa is considered one of the top Featherweights/Super Featherweights in the world today. The most advanced, and perhaps the best of the recent "Cuban invasion," Gamboa is an offensive whirlwind with sizzling speed and power, and enough deficiencies to make most of his bouts very entertaining.
Profile updated & amended by Matt Andrzejewski November 2012
Yuriorkis Gamboa's Amateur Career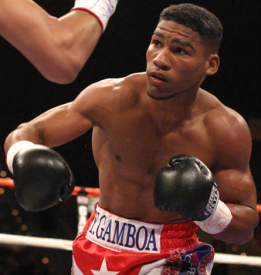 Gamboa was a phenomenal amateur with deep credentials. After zooming to the top of his class in an ultra-competitive Cuban Amateur system, Gamboa proceeded to win 4 national championships, as well as gold medals in the Pan Am Games and the World Amateur Boxing Championships. His crowning achievement was winning Olympic gold at the 2004 Olympics in Athens.
Defection
Cuba doesn't allow their citizens to participate in professional sports, forcing many world-class athletes to toil in poverty. Gamboa even had to sell his gold medal to pay for his daughter's birthday party, while other boxing gold medalists around the world were signing seven-figure contracts. While training in Venezuela, Gamboa and two teammates snuck out of their training quarters and fled to Colombia, and later surfaced in Germany.
Gamboa is now based in Miami.
Meteoric Rise To Prominence
Already a longtime prominent amateur on the demanding Cuban circuit, Gamboa didn't need 5-6 years of seasoning before jumping up to the world-class level. Turning pro at 26 with a decision win in Germany, Gamboa has since won 14 of 15 bouts by knockout. Among his highlights were first round knockouts over Johnnie Edwards and Al Seeger, the latter a frightening annihilation.
WBA Featherweight Champion (Well, Sort Of)
Even though Chris John is the longtime WBA Featherweight Champion, the organization saw fit to sanction Gamboa's bout against Jose Rojas as being for the WBA "interim title." Gamboa stopped Rojas in ten rounds. Gamboa was later upgraded to "regular" champion, as John was given the tag "super champion." In his last fight, he stopped unexceptional Whyber Garcia in four rounds on the Lopez-Mtagwa undercard in November.
Progression Continues
In his next defense, Gamboa faced veteran Rogers Mtagwa.  Mtagwa, in his previous fight, had given Juan Manuel Lopez everything he could handle and many thought he could possess a real threat to Gamboa.  Gamboa, however, made easy work of Mtagwa putting him down once in the first and twice more in the second before the fight was stopped.
Following a decision victory over Jonathan Victor Barros, Gamboa would face Orlando Salido.  On paper, Salido was the most accomplished fighter Gamboa had faced to date and also represented a major step up in competition for Gamboa.
From the opening bell it was obvious that Gamboa was the much quicker fighter.  He was able to land his combinations at ease and quickly retreat before Salido could get off his own shots.  But in the 8th Gamboa, as has happened several times in his career, suffered a flash knockdown.
Gamboa was able to shake the knock down off and dominate the fight down the stretch.  In the 12th, he was able to put Salido down twice though Gamboa did suffer a point deduction for hitting Salido while he was down.  The fight would go the distance and Gamboa would be awarded a unanimous decision victory.
Gamboa would fight twice in 2011.  In March, he stopped Jorge Solis in the 4th round in a very impressive showing. And in September he out-boxed Daniel Ponce De Leon from the outside and was awarded a technical decision victory (the fight was stopped in the 8th due to a cut on Ponce De Leon due to an accidental head butt).
Brandon Rios Debacle
Gamboa next agreed to face Lightweight Champion Brandon Rios in a highly anticipated bout in April 2012.  However, after agreeing to terms of the fight Gamboa failed to show at a pre-fight press conference and later backed out of the fight altogether.
By failing to come through on his commitment his reputation took a major hit among those in the business of the sport. Promotional and managerial issues arise out of the mess and have left Gamboa on the shelf for far too long.
Progress Report
Gamboa has impressed with his offensive prowess, and has stirred up much interest, and rightfully so. He makes for exciting fights, has a pristine pedigree, and has shown enormous potential in the pro ranks.
There have been signs of trouble, however. Gamboa has been dropped several times. His whirlwind style overwhelms foes, but also leaves him open for counter attacks. While he has overcome those knockdowns and gone on to win, things like defensive deficiencies don't tend to get better as the quality of opposition improves.
Also his reputation took a severe hit after he inexplicably pulled out of the Brandon Rios fight.  Due to his actions, he cannot be relied upon at the moment to honor his commitments in the sport.  He will need to be on best behavior over the next few years to regain the trust of those in the industry.
Future for Yuriorkis Gamboa
Gamboa has been added to the pay-per-view portion of the Pacquiao-Marquez IV undercard.  His opponent will be veteran southpaw Michael Farenas.
Gamboa appears to be campaigning for the moment in the Super Featherweight division.  Unfortunately, the division is very weak at the moment and lacks quality opponents.  He may target one of the belt holders in the near future (Juan Carlos Salgado?) though he would be heavily favored against whomever he faces.
As for big fights the one that was being thought of for some time, Juan Manuel Lopez, has been derailed for the time being because of Lopez's back to back knockout losses to Orlando Salido.
But one name that may emerge over the next year could be Mikey Garcia. Garcia has a tough fight coming up against Salido but a win puts him on top of the Featherweight division. If both Garcia and Gamboa can remain undefeated through the next year then a big fight between the two upcoming stars could happen in 2014.