Zab "Super" Judah Biography, Career Record & Fighter Profile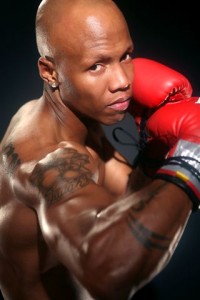 Zab "Super" Judah is one of those world class fighters who have always had the potential to became one of the bestof this era, but has fallen short due to lack of focus in the ring and stamina issues.  The Brooklyn, NY native is the former undisputed welterweight champion, and the former IBF and WBO junior welterweight champion.  Judah is known as a boxer who has great slick, elusive counter-punching skills and quick combinations.  Judah is also known for his power, and of course, his mental breakdowns in and out of the ring.
Amateur Career
Zab "Super" Judah started boxing at the age of six.  Judah's amateur boxing record was a sensational 110 – 5.  During his amateur career, Judah was twice a US national champion and three times he won the New York Golden Gloves championship.   Judah also won the PAL national championship in 1996, but failed to make the 1996 US Olympic boxing team when he lost to David Diaz in the finals to qualify for the team.
Professional Career
Judah turned professional as a lightweight at the age of 18 years old.  Judah made his professional due on September 20, 1996, in Miami, Florida against Michael Johnson in a fight where Judah won by a second round technical knockout victory.  "Super" Judah was undefeated for the first five years of his professional career, taking his opponents by storm with his exceptional speed, power, and unbelievable combinations and counter-punches.  During Judah's first five years as a professional, he chalked up victories over contenders such as Angel Beltre and Micky Ward, when Judah captured the vacant USBA junior welterweight title in 1998, Wilfredo Negron, when Judah captured the interim IBF junior welterweight title in 1999, Jan Piet Bergman, when Judah captured the vacant IBF junior welterweight title in 2000, Junior Witter, and Terron Millet.
Judah's Trials and Tribulations
The highs and lows of "Super" Judah's professional career began when he faced off against Kostya Tsyzu in a junior welterweight unification mega fight at the MGM Grand in Las Vegas, Nevada back on November 3, 2001.  In the first round of this fight, Judah looked sharp, mesmerizing Tsyzu with his speed and hard combinations, but with ten seconds left to go in the second round, Judah was caught on the chin with a right-hand shot from Tsyzu.  Judah went down to the canvas, but he got back up too quickly and fell back to the canvas.  This caused the referee to stop the fight and Judah suffered the first loss of his professional career. He then infamously threatened the referee, attempting to choke him and throwing a chair across the ring, earning a costly fine and a lengthy vacation.
After the Tsyzu fight, Judah came back to win the WBO junior welterweight title in 2003 by a split decision when he faced Demarcus "Chop Chop" Corley, and successfully defended the title when he knocked out Jaime Rangel in the first round of their bout in December of 2003.  After the Rangel fight, Judah moved up the welterweight division.
As a welterweight, Judah's first test came in April of 2004 when he faced then undisputed welterweight champion Cory Spinks for the undisputed welterweight title.  Judah was simply out boxed in this fight. Spinks kept Judah at the end of his jab and effectively counter-punched him the whole fight.  Judah was able to knock Spinks down in the final round but it was to no avail.  Spinks won by unanimous decision.   Judah would later avenge his loss to Spinks in a welterweight unification title rematch in February of 2005 in Spinks' hometown in St. Louis, MO., where Judah knocked Spinks down in the ninth round, and later finished Spinks in the ninth as he continued to apply pressure, finally knocking him down again and forcing the referee to stop the fight.  Judah was the new undisputed welterweight champion.
Judah successfully defended the undisputed welterweight crown once against Cosme Rivera in May of 2005.  Judah knocked Rivera down in the first 30 seconds of the fight, and finally finished Rivera with a devastating left uppercut, which caused the referee to stop the fight.  Judah won by a third round technical knockout.
After the Rivera fight, Judah went on a serious downward spiral, losing his undisputed welterweight championship in January of 2006 to Carlos Baldomir by unanimous decision in a stunning upset.
After the Baldomir fight, Judah faced off against then Pound for Pound King Floyd Mayweather, Jr., at the Thomas and Mack Center in Las Vegas, Nevada, back in April of 2006.  In the first five rounds of this fight, Judah was strong and appeared to have scored a knockdown on Mayweather in the second round when Mayweather's glove touched the canvas, but the referee ruled it a slip. Judah hurt Mayweather in the fourth with a straight-left hand that sent Mayweather back against the ropes.  In round five, Mayweather took control of the fight completely with effectively counter-punching and combinations as Judah started to slow down.  By round ten, Mayweather was in complete control of the fight when Judah hit him with a low blow with ten seconds left to go in the round.
After Mayweather was hit low his uncle and trainer, Roger Mayweather, jumped into the ring and approached Judah.  Judah's father and trainer, Yoel Judah, also jumped into the ring and tried to fight Roger.  Both Judah and Mayweather's camps entered the ring, and a brawl began. Roger Mayweather was choking Judah against the ropes. Security officers and police officers rushed into the ring and managed to control the situation.  Roger Mayweather was ejected from the fight because he started the brawl when he jumped into the ring to fight Judah.  The officers cleared the ring, and the two fighters finished the last seconds of the tenth round.  Mayweather dominated the last two rounds of the fight en route to a unanimous decision victory.
After the fight, the Nevada State Athletic Commission fined Roger Mayweather and revoked his boxing license for one year, fined Yoel Judah and revoked his license for one year, fined Mayweather's advisor Leonard Ellerbe and revoked his license for four months, and fined Zab Judah and revoked his license for one year.  These fines and suspensions were due to the brawl that happened during the Mayweather vs. Judah fight in April of 2006.
After the suspension, Judah made his return to the ring in April of 2007, and was involved in a fight that ended in a no contest against Ruben Galvan.
Later on that year, Judah found himself in another big fight against then undefeated WBA welterweight champion Miguel Cotto at Madison Square Garden, in a fight where once again, Judah started off strong, but then slowed down. This time the downfall was started early by a low blow in the first round by Cotto, and then another low blow was landed by Cotto in the third round, which resulted in the referee taking a point away.  This fight was one of the best fights of 2007, with action from start to finish.  Judah once again withered in the fight as Cotto's pressure broke him down.  Cotto's pressure was so overwhelming that Judah took a knee in the ninth round.  Cotto finally finished Judah in the eleventh round, when he knocked Judah down with a combination.  Judah got up from the knockdown but was immediately stopped by Cotto's continued barrage of punches, which forced the referee to stop the fight.  Cotto cruised to an eleventh round technical knockout victory.
After the Cotto fight, Judah fought two more times in 2007, gaining victories over Edwin Vasquez and Ryan Davis. In August of 2008, Judah faced off against Joshua Clottey in a fight for the vacant IBF welterweight title at the Palms Casino Resort in Las Vegas, Nevada.  Once again Judah started off fast against Clottey by using his jab and throwing effective combinations, but as the fight went on, Clottey stepped up his punch output, which caused Judah to start fading.  Judah was hurt by Clottey in rounds four and seven, and in the ninth round, the two fighters clashed heads which caused a bad cut over Judah's right eye.  The fight was stopped because Judah could not see, and the fight went to the scorecards.  All three judges scored the fight for Clottey, declaring him the winner by a unanimous technical decision.
Comeback
After the Joshua Clottey fight, Judah moved back down to the junior welterweight division where he had once shined so brightly.  Zab's comeback has been promising, albeit against mediocre opposition, with wins against Ernest Johnson in 2008, a second round technical knockout of Ubaldo Hernandez in 2009, and in July of 2010, a spectacular third round technical knockout of Jose Armando Santa Cruz.
A Look Ahead
On October 2, 2010 at the Prudential Center in Newark, NJ, Judah will return to the scene of the crime where he destroyed Jose Armando Santa Cruz the past July when he faces off against Michael Clark in a tune-up fight in which a win could earn Judah a showdown with one of the top junior welterweights in the division.  The future looks very bright for Judah, if he can get pass his upcoming opponent.