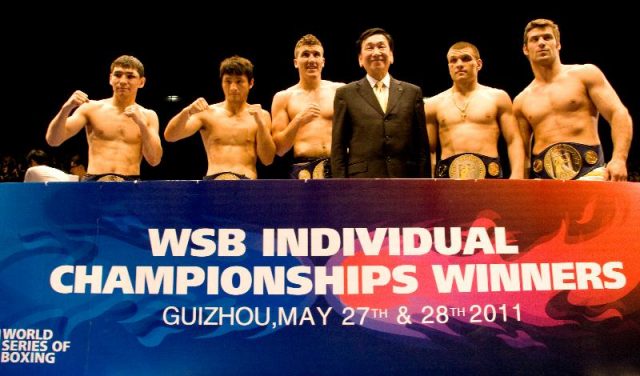 The inaugural season of the World Series of Boxing came to a close tonight as Sergiy Derevyanchenko of the Ukraine and Abdelhafid Benchabla of Algeria won the world titles at middleweight and light heavyweight and picked up the last two quota places for the London 2012 Olympic Games available through the World Series of Boxing.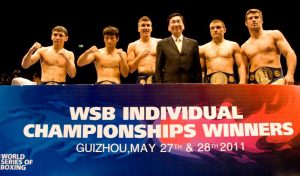 The night's action at the University of Guizhou Stadium opened with the middleweight contest between Sergiy Derevyanchenko of Dolce & Gabbana Milano Thunder and Soltan Migitinov of the Baku Fires.
Derevyanchenko took a second title of the weekend for the Milan team with a unanimous decision over his Azeri opponent (68-64, 68-64, 69-63) after seven punishing rounds from which both boxers emerged sporting battle scars.
The bout opened with a fast pace and showcased the full arsenal of boxing skills, with body blows, uppercuts and hooks captivating the capacity crowd.
Derevyanchenko dominated the contest, keeping Migitinov on the ropes for a full 15 seconds at the end of the third round, then scoring a knock-down in the final round.
"This was a tough fight and I'm delighted with the Olympic qualification," he said.
"I could feel that the bout was something special and I hope we gave the crowd a good show."
Algeria's Abdelhafid Benchabla, who boxes for the Pohang Poseidons, closed out the inaugural World Series of Boxing season with a consummate display against France's Ludovic Groguhe of Paris United in the light heavyweight contest.
He took the WSB light heavyweight world title with a win by unanimous decision (69-64, 68-65, 68-65).
It looked like the fight might not last the seven rounds as Groguhe exploded out of his corner at the start of the bout, but it was Benchabla who took control of the first four rounds.
Some taunting and dancing by Benchabla in the fourth round seemed to stir Groguhe into a response in the fifth, which he won. By the sixth round, though, it was clear that only a knock-out could win the fight for Groguhe.
"I am the first WSB World Champion at this weight and I'm proud that my name and my country will go down in the WSB history," Benchabla said after the fight.
"I'm also proud to be the first champion from Africa.
"It was the fact that I could be the first Algerian to qualify for the London 2012 Olympic Games that spurred me on to victory tonight."
The five WSB Individual Champions were awarded a cheque for 20,000 US dollars, the WSB titleholder's belt and all receive a quota place for the London 2012 Olympic Games.