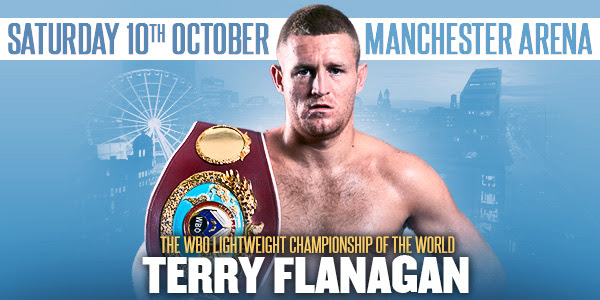 WBO Lightweight Champion Terry Flanagan might boast the second longest unblemished record in British boxing but, despite home court at Manchester Arena, the odds setters are struggling to determine a favorite when the 'Turbo' makes his maiden defense against Diego Magdaleno this Saturday.
That's because the 28 year old Las Vegan challenger is a proven quality operator; a former US national amateur champion who brings impressive 28-1 (12) pro stats and is enrolled on the roster of US promotional giants Top Rank – who seldom waste time with duds.
Though born in Beverley Hills, California, the stocky 5ft 6in southpaw moved to the world's biggest fight town aged eight and conducted his decorated 116-14 amateur career under the tutelage of 1986 world amateur champion Kelcie Banks.
Christened Diego Armando after Argentine soccer legend Maradona by his footie-mad Mexican father, Magdaleno boxed Terence Crawford and beat 'Mikey' Garcia – both two weight WBO champions – during his time in a singlet.
Turning pro as a 21 year old super-feather in December 2007, the busy box-fighter captured and made five successful defences of the NABF title in 2011-12.
And there is a strong swell of opinion that, like Flanagan, he is still to be mastered as a pro. The sole blemish on his slate was a highly questionable 12 round points reverse in a WBO super-feather tilt at Puerto Rico's Roman 'Rocky' Martinez in Macao two and a half years ago.
'I did what I had to do, clearly out boxed him but that's all in the past now,' says the polite and amiable Magdaleno who suffered one of three career knockdowns in round four.
'The 'loss' is certainly the fight I've learned most from, about what's needed to succeed at world title level, so maybe it was no bad thing.
'Fighting over in China certainly serves as good preparation that hopefully will allow me to now win the world title here in Manchester. Every fight since has been 'on the road' and I've been victorious in every one. The whole Martinez experience made me a better person and definitely a better fighter. Now I enter every fight with bad intentions. I try not to leave the outcome to the judges.
'But I'm really looking forward to fighting in Manchester. Coming from Vegas, I love the excitement of big fight nights. I know it's going to be 'stoked' in Manchester. Whether it's for me or against me, the energy will be wild and that will move me to deliver something spectacular.'
For his last six fights, Magdaleno has been schooled by highly regarded Joel Diaz – the Mexican born ex IBF lightweight challenger feted for his work with Tim Bradley, Abner Mares and Omar Figueroa – and he believes it is a union that will finally permit him to fulfil his obvious potential.
'Coach Diaz has made the world of difference to me as a fighter,' acknowledges the humble American who strongly rejects the 'Mr Superb' nickname mysteriously attributed to him on boxrec.
'He brings so much experience. He's been inside the ring at world title level himself and since retiring has produced several champions, many who've won overseas. He's a very talented coach.
'The decision to step up to 135 was all down to coach Diaz. I'm a far more complete fighter at lightweight. I feel great, much stronger. In my recent fights, I've put every opponent down, if not stopped them.'
Now well into his 29th year, the time has come for Magdaleno to deliver, in front of what is sure to be a partisan crowd in Manchester. He covets the opportunity.
'Come Saturday, the UK fans are going to love what they see from Diego Magdaleno. I guarantee to bring a lot of excitement, fire, heat, explosiveness. Plus I'm an artful boxer,' he says.
'Terry Flanagan seems a stand up guy. He knows how to box, use his reach, move his feet. He has many good qualities. But I just don't think he's fought a guy of my stature before. I'll be bringing something different.
'I won't know until the first few rounds on Saturday whether it'll be a cagey, technical fight or an all out war but I always come with a strong head game. Coach Diaz has a huge mental capacity. He has a back up plan for every back up plan! We're ready.
'I'll win because of my experience; my greater amateur background, the level of competition I've faced compared to Terry and particularly, because I have coach Diaz. I've all to gain, nothing to lose. I know your fans are gonna love me!