#2 WBO; #4WBA #4WBC world rated cruiserweight BJ Flores 27-1 (18kos) watched intently as the fight this past Saturday took place between Lateef "Power" Kayode vs. Antonio Tarver. He was hoping with the Showtime exposure that one of the two boxers would emerge as a star.
The bout ended in a draw. Neither guy moved forward, yet both received valuable tv time on a BIG time boxing network. BJ Flores was smiling.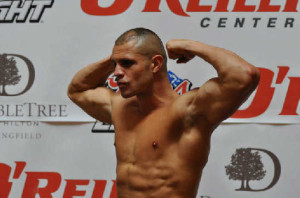 "The cruiserweight division is definitely starting to heat up", Said Flores. Flores has been not only one of the most active cruiserweights in the world scoring 3 wins in the last 8 months, but has attracted very large gates in Springfield Missouri where he has a HUGE hometown following.
"Both guys fought well and Tarver started a little slow but came on down the stretch. He definitely Hurt Kayode and showed he can still punch. The decision being a draw was just. I was leaning towards Tarver but this fight was good for the division. Both guys fought well"
But one of the fighters is on the radar of Flores.   Lateef Kayode.
Flores has desperately tried to secure a fight with the powerful Nigerian and now feels the timing is perfect.
"I want to make a formal challenge to Kayode. This is a fight between two top world rated Cruisersweights both trying to get into position for the world title. I need a fight like this to make a statement. A dangerous fight! A Big fight between two top #5 world rated guys on Showtime between us will be exciting and bring more notoriety to the cruiserweight division."
"It's no secret that I've wanted Kayode for a long time. After he beat Nick Iannuzzi , I contacted Gary Shaw Promotions immediately for a match between us. Well, they went in another direction and I fought Iannuzzi next to make a statement. They said the timing wasn't right. I respect their decision. But now the Time couldn't be more right! I have had 3 fights in 8 months and would love to face Kayode next. He has shown improvements and this fight can be big. We can do it in Springfield, Missouri and sell 5000 seats with this on Showtime or any network! But the truth of the matter is I will fight you anywhere. I just want it to be known that the money is there and we can easily make this happen"
"No cruiserweight can sell tickets in America like that so it makes perfect sense. Who else should Kayode fight with all the champions buys in upcoming defenses?? It's a natural fight.  Two top rated guys in America. We built up a VERY good fan base in Springfield and I want to bring a big fight back home. I am ready immediately!! Let's get it done!!"
"This is the kind of fight I need. I respect Kayode and his manager Steve Feder. I respect Gary Shaw Productions. I know this will be a difficult fight and this will bring out the best in me. I need a challenge like this. GSP, my phone lines are open!"