Mayweather Calls Pacquiao a Punk on Twitter
There's no other sport that lends itself so well to the world of social media and services like Twitter than boxing does. Floyd Mayweather yet again proved that point on Tuesday afternoon, as he publicly called out Manny Pacquiao and put the wheels in motion for more outcry to get a May 5th Mayweather vs. Pacquiao mega-fight put together. Take a look at what Mayweather had to say and what it might mean right here.
Here's what Mayweather said on his Twitter account:
Tweet #1: Manny Pacquiao I'm calling you out let's fight May 5th and give the world what they want to see.

Tweet #2: My Jail Sentence was pushed back because the date was locked in. Step up Punk.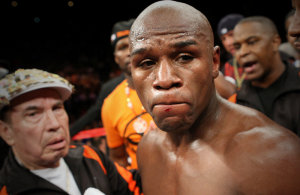 This comes after a week with several up and down developments about the on-again, off-again, never-gonna-happen, maybe-someday-soon dream fight that all boxing fans have been clamoring for.
First, Mayweather was due to report to jail to serve his 87-day sentence on January 6th. Meanwhile, Bob Arum was heading to the Philippines to present a list of four potential opponents to Pacquiao – Miguel Cotto, Timothy Bradley, Juan Manuel Marquez and Lamont Peterson.
Then, Mayweather got his jail sentence postponed, as he mentions in the Tweet. That sets up his availability for May 5th. However, Arum immediately put the kibosh on a clash with Pacquiao for that date, saying Pacquiao wouldn't fight until June, and that it would still be one of those four opponents.
Rumors have since been coming out that Pacquiao wanted to talk to Arum about fighting Mayweather, and not just the guys on this list. Meanwhile, the court of public opinion has been swaying and swaying to the side and favor of Mayweather, with Arum appearing as the central figure of blame in the entire fiasco.
Now, Mayweather decided to turn things up a little bit more. Boxing negotiating and baiting tactics have always been done publicly and through the press, and with Twitter, fighters like Mayweather can say what they want, how they want, when they want.
So he's saying it straight to Pacquiao's face, and he's letting the public get in on the fun. Ball is in your court now, Bob Arum.
Manny Pacquiao has to be itching to get this fight made more than ever. If the fight doesn't happen, and Pacquiao takes on one of those four guys in June, it will be hard for anybody with Team Pacquiao or Top Rank to claim that the fault lies with Mayweather. That alone could be enough to help spur on a deal. Calling him a punk for good measure just makes it a bit more juicy, and ensures it'll get even more coverage.
We'll see what happens next in the coming days, so keep on checking back with ProBoxing-Fans.com for more breaking boxing news and rumors about Mayweather and Pacquiao and their potential May 5th clash.