"Money" Mayweather better get ready for a lifestyle change. This afternoon Floyd Mayweather received his sentencing stemming from his guilty plea to the domestic violence and associated charges he faced from the incident with his ex-girlfriend and their children.
While the judge didn't throw the book at him, he didn't go light on the pound for pound champion, either. After working out a plea arrangement with prosecutors to drop certain charges, Mayweather has been sentenced to 90 days, three months, in jail.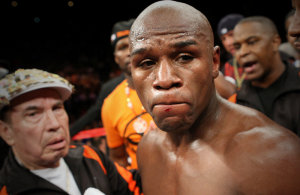 It's actually a six month sentence with three months suspended, and since he'll get credit for three days already served, it's an 87-day jail sentence. Mayweather will be held in a county jail, and his surrender date is January 6, 2012. I guess it's going to be a crazy New Year's Eve party for Mr. Mayweather, then.
He'll also need to undergo domestic violence counseling for 12 months and complete 100 hours of community service.
For boxing fans, obviously this means that you can kiss goodbye to a May 5th mega-fight against somebody like Manny Pacquiao. Mayweather will be in jail through the beginning of April, and that doesn't leave near enough time to get ready for a fight of that magnitude.
It's entirely possible that Mayweather still tries to put together a fight for that date, although with the short time-frame for readjusting to normal life and training, it would be more along the lines of a tune-up. That's all speculation for now, and it's probably the last thing on Mayweather's mind at the moment.
Mayweather was able to skate by and escape serious punishment for many transgressions and run-ins with the law over the years. But you can't escape them forever.
Hopefully this helps him get his head straight and clean up his act, so he can resume his career and have a more stable family life afterward. But we'll see, and that's certainly not always the way it works out.
Floyd Mayweather's going to jail folks.