Mayweather vs. Hopkins at Middleweight in 2014?
Rumors have been flying of a potential Floyd Mayweather vs. Bernard Hopkins fight for 2014. The topic seemingly came up by chance at first, but now it appears that there's legitimate interest from both parties. So, should the question for the proposed Mayweather vs. Hopkins clash be why, or why not?
Mayweather vs. Hopkins – Why?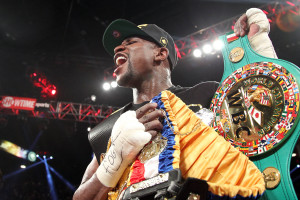 I've speculated about potential opponents for Mayweather following his master-class against Canelo Alvarez, and while there are only one or two "obvious" names, there's definitely a crop of solid options in and around the Welterweight division. This includes, most notably, Danny Garcia, as well as the winner of the Devon Alexander vs. Amir Khan clash.
Then, there are a bunch of "ifs", as in — Timothy Bradley if he defeats Juan Manuel Marquez, Marcos Maidana if he defeats Adrien Broner, Keith Thurman, if he defeats Robert Guerrero.
Another potential option though would be the Middleweight champion, Sergio Martinez. A fight against Martinez actually makes more sense than a fight against Hopkins on numerous levels.
Maravilla is the reigning champion in the division, which means that this is a legitimate and highly significant match. Mayweather would have the chance to capture the Middleweight Championship of the World.
At the same time, Martinez is himself an up-jumped Junior Middleweight competing with the big boys. Therefore, the size disparity wouldn't be nearly as much of an obstacle, and Mayweather vs. Martinez could even be contested at a catchweight of perhaps 158 pounds.
Keep in mind, Mayweather has never fought higher than Junior Middleweight, and he's only been in that division on three occasions. Bernard Hopkins, on the other hand, is a career Middleweight, who has been fighting at Light Heavyweight since losing for the second time to Jermain Taylor way back in 2005.
That's a pretty large gap, and while Hopkins has said he would come down to the Middleweight division limit of 160 pounds, you have to ask, what's the point? The whole reason that Hopkins moved up from Middleweight in 2005 is because he believed that cutting down limited his abilities. Indeed, it wasn't until he moved up to Light Heavyweight that his personal Renaissance as the Ageless Wonder of Boxing began.
The bottom line is that if Mayweather is willing to go up to Middleweight, there are more intriguing and meaningful options, and more feasible and legitimate fights.
Finally, in terms of aesthetics this is a fight fan's nightmare. Each man is a tactician, each man is fine with rough and tumble inside game of holding and clinching, and each is more than happy to wait out a timid opponent and pick him apart one punch at a time. It'd be ugly.
Mayweather vs. Hopkins – Why Not?
Mayweather vs. Hopkins would provide a rare treat for fans, two of the top fighters and longest survivors of their partially-intertwined eras. Together, Mayweather and Hopkins are two of the best fighters to lace 'em up over the past 25 years. Mayweather is the current pound for pound champion, a title which Hopkins has held in the past as well.
While Hopkins is past his prime, he's still competing and winning at the championship level. He's even regarded as the best fighter in his division.
He's the oldest champion in the history of the sport, facing one of the most dominant, undefeated fighters of the sport's modern era. What would make more sense than all of that?
So which is it – why or why not?
It's a resounding why — Why would I want to see this fight? Why would Mayweather go in this direction? Why wouldn't Golden Boy and Mayweather pursue more logical and entirely doable matches against Danny Garcia, or even Sergio Martinez?
Mayweather vs. Hopkins is a fascinating fight and an intriguing debate, but it's not a match I actually care to see.
Comments
comments