Flyweight Great Pongsaklek Wongjongkam Dethroned!
Big news out of Thailand on Friday, as longtime flyweight kingpin Pongsaklek Wonjongkam was stopped in the 6th round by unsung challenger Sonny Boy Jaro of the Philippines. Jaro, now 34-10-5, controlled most of the bout, flooring Pongsaklek, now 83-4-2, in rounds one and three, before Jaro dropped the hammer in the fatal 6th. Pongsaklek was beaten into submission against the ropes in a finish that conjured up images of Aaron Pryor smashing Alexis Arguello into defeat. Also coming to mind is when unheralded multi-loss Rolando Pascua of the Philippines shocked unbeaten Chiquita Gonzalez back in the day.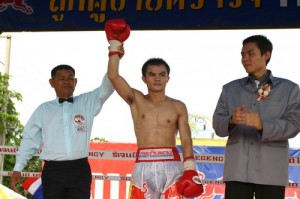 An early leading candidate for Upset of the Year, Jaro had shown himself to be a capable fighter during his 10-year career, but one who had come up decidedly short against the best. Among his 10 defeats are 7 stoppage losses, including a one-round loss to Giovani Segura in 2009. After consecutive losses to Oscar Ibarra (KO by 2) and 4-fight neophyte Hirofumi Mukai in 2010-2011, his career appeared to be winding down.
One could even question why Jaro received the shot in the first place. After those losses, he scored 4 straight knockouts–a slightly less impressive feat than it sounds considering that quartet of foes had a combined mark of 43-61-8. Nevertheless, he got the call and made the most of it against the 34-year old champion. It was jarring to see the heavily-favored future Hall of Famer so dominated by an opponent who was supposed to provide a routine night of work.
Jaro was incredible, plowing forward with resounding shots. While at 34, Pongsaklek is old for a flyweight, no one was really giving Jaro a chance outside of his camp. The Thai will likely seek a rematch, so Jaro will probably need to do it again.
This is a slight blow to Pongsaklek's legacy. One would have liked to see him lose his title to a fighter with a better track record. Then again, when a fighter gets old or becomes complacent, it doesn't always take a superstar to nudge him down the hill.
Jaro's win is another boost to Filipino boxing, which is enjoying a high-water mark in that nation's glorious ring history. It also makes Brian Viloria, a Filipino-American, the de facto #1 player at 112. A unification bout between Viloria and Jaro in the Philippines would probably do big business. But I wouldn't hold my breath, considering the general lack of unification matches seen at flyweight over the years.