AIBA's Pro Boxing's (APB) "Boxer of the Week" this week as attention turned to 2009 Italian World Champion Domenico Valentino.
Interestingly, the Italian boxer was born in the same small fishing village (with a population of just forty thousands) as super star Italian boxers Clemente Russo and Vincenzo Mangiacapre. Valentino hinted that there could be more to come from the Campania town. "We have a good boxing school in our town. If this year there are three of us who have made our names in boxing, there could be four or five of us in a year time". Said the three times European Champion.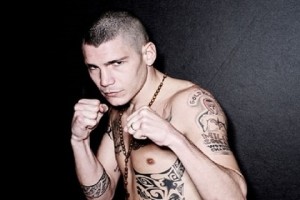 Answering a fan's question about dealing with difficult moments he may have faced in his career, Valentino replied: "You've got to be a champion once you become an athlete. That is my philosophy in sports. When I don't succeed, I always say to myself: 'One day I will get there' and as a result I usually do. However, in my gorgeous son I now have another motivating factor in my life. There is nothing that could help me overcome any professional crisis better than that".
He also revealed a little of his life outside the ring explaining "I always dedicate my free time to my beautiful family. I love spending time with them!" Though he admitted that in regards to sports "I practice a little bit of everything". Something that may surprise fight fans though is his love of a more homely activity. "One of my biggest hobbies is cooking", said the boxer. "Whenever I am at home, I cook for my son and my wife. Let's say, the ideal evening for me is to treat my family to a delicious dinner at home while watching sports on the TV".
He explained that in the future he is "looking forward to getting the satisfaction of boxing in APB" and admitted that he is "hoping to qualify through APB for the Rio Olympics".