Lewkowicz: Fortuna Would KO Any Featherweight in the World
Promoter Sampson Lewkowicz would like to congratulate his fighter, Javier "El Abejon" Fortuna (22-0, 16 KOs) of the Dominican Republic for his sensational first-round KO over Mexico's Miguel Zamudio.
Fighting in the main event last Friday (April 19) at the Tropicana Showroom in the Tropicana Casino & Resort in Atlantic City (and televised live worldwide on ESPN Friday Night Fights), Fortuna came out like a human buzz saw and dropped Zamudio twice, the second time rendering him unconscious for several frightening minutes at 1:08 of the first round.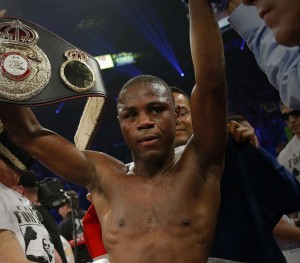 Unfortunately, Fortuna was unable to made the 126-lb featherweight limit before the fight (he weighed in at 126.6 lbs) and lost his WBA Interim belt on the scale, but the performance against Zamudio was eye-catching enough to cement him as a major force in the division, title belt or not.
Fortuna's promoter, however, says he's disappointed in criticisms from those who said Fortuna and Zamudio didn't belong in the same ring.
"How can anyone make that determination?" said Sampson Lewkowicz.
"What Fortuna did to Zamudio is what he did to Yuandale Evans, who was undefeated and many thought was going to beat Fortuna. It's the same thing he did to Cristobal Cruz, a former world champion. It's what he did to Victor Valenzuela, who was 8-0. He did the same thing to Zamudio that he did to two of his last three opponents and there was no questioning their quality as fighters. It's impossible to say based on what we saw if Miguel Zamudio belonged in there. Fortuna would do that to anyone in the division."
Lewkowicz says Fortuna will continue to campaign at featherweight and he will be looking to help him regain his championship as quickly as possible in a high-profile fight.
"Javier was only .6 overweight, and it's possible he could have lost the weight, but even though it cost me money I would not let him risk his health. My fighters are like my children. He will make the weight next time. I am putting a challenge out to the promoters of any world champ or any top featherweight to come and face Javier Fortuna. He is the best of the best at featherweight and he will do what he did to Zamudio to anyone. It really doesn't matter who I put in front of Javier. They're getting knocked out."
Additionally, Lewkowicz congratulates Virgin Islands slugger John "Dah Rock" Jackson (16-1, 14 KOs) for his impressive victory over formerly undefeated "Sir" Cerresso Fort. Fighting in the eight-round co-main event, Jackson was stronger and faster than the well-regarded Fort and won by unanimous decision (77-75, 79-73 and 79-73).
WBC #15 Jackson was expected to face a test against Fort (then 16-0-1, 11 KOs) but was simply a league above his game opponent. Jackson took Fort's power with ease while delivering world-class power shots in dazzling combination. It was an impressive win for the 24-year-old son of former world champion Julian Jackson.
"John was sensational," said Lewkowicz. "He showed he is a class above even well-regarded prospects. Fort is a strong fighter and John was just too good for him. Even though he is a KO puncher, he took his time and picked Fort apart. That was a veteran move and it showed his true championship character."
Lewkowicz says Jackson will be back soon in an even higher profile matchup. "The next fight will hopefully be an ESPN main event against a quality opponent that will showcase to the world that he is a future champion. And after that, I will be looking to the premium cable channels like HBO to put him in a world-title fight. I believe it's going to be a big year for John Jackson."