Friday Night Fight Results: Fortuna vs. Cruz & Abdusalamov vs. Byarm
The two main fights this Friday evening on ESPN's Friday Night Fights each featured a quick, concussive ending. In the co-feature of the evening, undefeated heavyweight phenom Magomed "Mago" Abdusalamov took a step up and smashed his opponent to the canvas, and in the headliner, undefeated featherweight prospect Javier Fortuna put forth an explosive display of his skill as he ousted former titleholder Cristobal Cruz.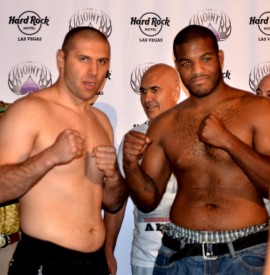 In the Abdusalamov vs. Byarm fight, one thing became clear. If you can't take a punch, or excellently get out of the way of one, you're not going to be able to hold up against Mago. Abdusalamov needed less than 4 minutes to dispatch of Maurice Byarm, a one-loss prospect who was the "A" side of the fight, his only previous loss, to Bryant Jennings not too long ago.
But Mago came at him hard and strong, and couldn't miss with his booming straight left hand. Towards the end of the 1st, Abdusalamov trapped Byarm in a corner, and just absolutely unloaded on him, nearly taking his head off at the bell. Byarm came out for the 2nd but it didn't take long before Mago closed the show, officially at :36 of Round 2.
He's now 15-0 with 15 knockouts. How's this for a fight in maybe six months or a year – Mago vs. Chris Arreola?
If Mago overwhelmed Byarm with sheer power, Fortuna used his speed and athleticism to befuddle the slow-starting Cruz. As opposed to the first fight's speediness, it took Fortuna a whopping five and a half minutes before he got rid of his man.
He was just too quick and dynamic in there, and Cruz couldn't see the shots coming, and certainly couldn't keep them off of him. After being sent down in the 1st, Fortuna pummeled him with a left hook as he took a half step back, inviting Cruz in for the pleasure of shattering his nose and sending him tumbling to the canvas.
Official time was 2:22 of the Round 2, and Fortuna is now 20-0 with 15 knockouts, and a rising force to be reckoned with at featherweight.