On Friday Night Fights this week, Javier Fortuna was set to put up his interim WBA featherweight strap against Miguel Zamudio. While the fight goes on, Fortuna's title defense bid does not. He lose his interim (Fake) strap on the scales this afternoon, when he failed to make the division's 126 pound limit. Check out the full weigh-in results for the card below.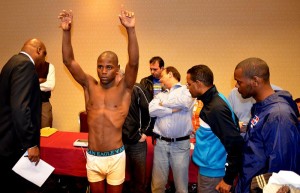 Javier Fortuna 126.8 vs. Miguel Zamudio 125.4
(Fortuna automatically loses WBA interim World featherweight Championship due to not making the 126-poundlimit. He initially weighed 127. Zamudio can still win title if he wins.)
John Jackson 154.2 vs. Cerresso Fort 155
Jonathan Batista 147.6 vs.Emmanuel Lartei Lartey 144.6
Dean Burrel 137.2 vs. Vernon Alston 135.6
Anthony Young 147 vs. Rafael Montalvo 145.4
Date: Friday, April 19
Promoter: Sampson Boxing
Venue:Tropicana Casino & Resort (Tropicana Showroom)
TV: ESPN Friday Night Fights
Tickets for "Fortuna vs. Zamudio" are available at all Ticketmaster outlets, Ticketmaster.com, by calling 1-800-745-3000 or at the Tropicana box office on fight night.
On fight night, doors open at 7:00 (approx.) and the action starts at 8:00. The Tropicana Casino & Resort is located at 2831 Boardwalk in Atlantic City.