Barry McGuigan announced today that his team will be promoting Carl Frampton's next three fights in Belfast, starting with a show in October this year. This follows the announcement today that European Champion Frampton will next box on Frank Warren's Wembley Arena show on July 20, when he defends his IBF Inter-continental Super Bantamweight title.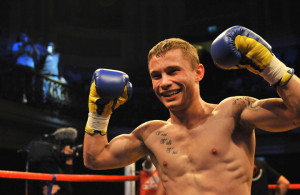 European and Commonwealth Champion Carl, who was previously promoted by Eddie Hearn, said:
"This is a life-changing opportunity and I feel comfortable in the knowledge that the team who have brought me through the whole of my professional career to date will now be able to promote the most important fights of my career going forward.  We have always operated as a team and from the outset I have been involved in all discussions regarding this switch.
The insinuations that the decision was purely financially motivated are wrong. Barry has always had mine and my family's best interests at heart and we all believe this is the correct route to the top for Team Jackal."
McGuigan who will retain his managerial role as well as being part of the new promotional outfit said:
"It's a very exciting time, taking this to the next stage and promoting these next fights in his home town.  Frampton sells out arenas and having worked with him now for 4 years, we know we're on the cusp of something major."
The former World Featherweight Champion added:
"I rebuke the statement by Matchroom Boxing and Eddie Hearn today that myself and Carl Frampton split with Matchroom due to a co-promotional issue. BoxNation made a considerably better all round offer than Matchroom Boxing for Carl's services. BoxNation will make Carl a top priority on the channel and the four fight deal we have signed will give us the opportunity to have three out of Carl's next four fights on home soil in Belfast."