Kayode vs. Alfredo Escalera Jr; & Unbeaten Bantamweights Chris Avalos and Chris Martin Square Off in Main Event
ShoBox: The New Generation fans will see a familiar face in the corner of Lateef "Power'' Kayode on Friday's telecast from Hinckley, Minn., as perhaps the world's most well-known trainer Freddie Roach will be coaching the undefeated upstart cruiserweight from Nigeria in a 10-round co-feature bout on SHOWTIME® (11 p.m. ET/PT, delayed on the West Coast).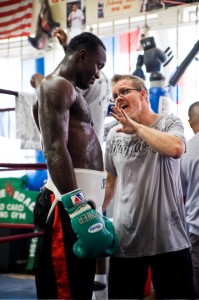 The 50-year-old Roach, trainer of former world champions like Mike Tyson and Michael Moorer among many others, is the current trainer of seven-division world champion Manny Pacquiao. Roach first met Kayode after the boxer and his manager, Hollywood writer and director Steve Feder, dropped by Roach's Wild Card Boxing Gym in Hollywood, Calif., a couple of years ago. And Roach was immediately impressed.
"I like anyone with a work ethic and that's what he has and that's what you always like to see right from the start," said Roach, who was named Trainer of the Year by the Boxing Writers Association of America in 2003, 2006, 2008 and 2009. "That's what I look for in people and that's what I think ultimately will make him a better fighter: his work ethic and his desire to be the best."
Kayode (12-0, 11 KOs) will seek his 12th consecutive knockout when he makes his ShoBox debut against Puerto Rico's Alfredo Escalera, Jr. (18-2-1, 12 KOs), the son and namesake of the former world champion at the Grand Casino Hinckley. In the main event, world-ranked bantamweight Chris Avalos (16-0, 13 KOs), of Lancaster, Calif., will face California state featherweight and junior featherweight champion Chris Martin (18-0-2, 5 KOs), of Chula Vista, Calif., in a scheduled 10-rounder.
Roach could not make Kayode's last fight, a non-televised undercard bout in Santa Ynez, Calif., in May. But he has no plans to miss Friday's scrap. "I have made this fight a special priority even though I have two other fighters on other shows that night," said Roach.
Roach began working with Kayode shortly before first appearing in his corner at a Hollywood Casino fight in late December 2008 in Inglewood, Calif. He said he noticed Kayode's exceptional strength from the moment he first saw him spar. "He's very strong and he's very physical," said Roach.  "I have some heavyweights that won't spar with him because they say he goes too hard."
Roach has experience training bigger fighters and heavyweight champions but admits that larger guys are tougher to train.
"I've had bigger guys like Tyson and Moorer before. It's hard work but it's fun," said Roach. "Lateef punches as hard as all those guys. I've trained some cruiserweights before but none like Lateef. He's a true heavyweight. He punches like a heavyweight."
The 6-foot-2, 27-year-old Nigerian grew up on the tough streets of the Surulere district of Lagos. After fighting as a heavyweight for his first 10 fights, this will be his third start at cruiserweight. He has said his goal is to become a cruiserweight world champion and Roach thinks that's a very realistic possibility.
"I feel like if we win this fight on Friday night, it's a step in the right direction for him to win his first world title," Roach said. "We should be looking for a world title fight by the end of the year."