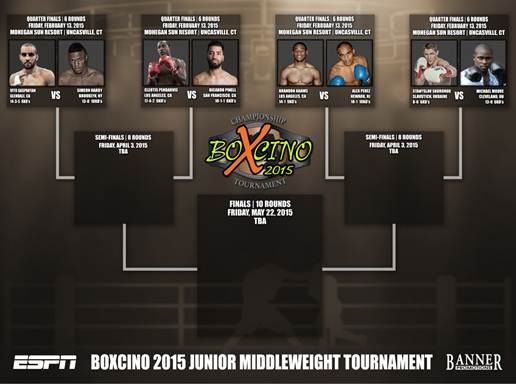 The February 13 edition of ESPN Friday Night Fights will feature the quarterfinals of the junior middleweight portion of Boxcino 2015. The single-elimination, two-weight class tournament will feature eight fighters in both the junior middleweight and heavyweight divisions. The telecasts will also flashback to Buster Douglas' historic heavyweight championship upset win over then-heavyweight champion Mike Tyson as the bout celebrates its 25th anniversary this week.
Friday's show, from Mohegan Sun in Uncasville, Conn., will air live at 9 p.m. ET on ESPN2, and the card is promoted by Banner Promotions.
Junior Middleweight Quarterfinal Matchups: Six Rounds Each
Stanyslav Skorohod (8-0, 6 KOs) vs. Michael Moore (13-0, 6 KOs)
Cleotis Pendarvis (17-4-2, 6 KOs) vs. Ricardo Pinell (10-1-1, 6 KOs)
Vito Gasparyan (14-3-5, 8 KOs) vs. Simeon Hardy (13-0, 10 KOs)
Brandon Adams (15-1, 10 KOs) vs. Alex Perez (18-1, 10 KOs)
Fighter backgrounds:
In his last fight, Cleveland's Moore scored a 10-round unanimous decision win over Antonio Fernandes, while Ukraine's Skorokhod is coming off a second-round TKO win over southpaw David Lopez. California's Pinnell is coming off a six round unanimous decision win over Rahman Yusubov, while Pendarvis, also from California, is looking to get back to his winning ways after a fourth-round TKO loss in an IBF junior welterweight title eliminator to Dierry Jean.
New York's Hardy, who is coming off a first-round TKO win over Malcolm Terry, is looking to remain undefeated against California's Gasparyan, who is looking to rebound from a 10-round unanimous decision loss to welterweight titlist Jessie Vargas. Los Angeles' Adams, a finalist in last year's Boxcino 2014 middleweight tournament, scored a second-round TKO win over Lekan Byfield in his last fight, while Perez of New Jersey is looking to score another victory after a third-round TKO win over Jeremiah Wiggins.