As Anthony Joshua and Tyson Fury stand on the cusp of an undisputed Heavyweight title showdown, there is a new generation of Heavyweights vying to follow in their footsteps.
Fabio Wardley continues his march up the ranks against Eric Molina on March 6, David Adeleye is looking to progress after an impressive start and Matchroom duo Johnny Fisher and Solomon Dacres are set to make their professional debuts in the coming weeks, to name a few.
Scottish Elite Heavyweight champion and former Rugby professional, Nick Campbell is taking his leap into the paid ranks this year after signing with with Mark Dunlop's thriving MHD Management stable.
The 31-year-old, whose Grandfather was a professional, spent eight years as a Rugby player before hanging up his boots in 2017, after his contract expired with the Jersey Reds and now intends on becoming Scotland's maiden British Heavyweight champion.
Campbell admits he has always been passionate about Boxing and was training whilst he was playing Rugby.
"I've always been interested in the sport, I've always done a bit of training on the side," Campbell told proboxing-fans.com.
"When I was over in jersey playing Rugby, I kind of started to get into some training with a lad, Alan Murray on my down days.
"He kind of said to me 'you're alright, have you ever thought about having a go?'
"At that time I was like, 'I'm playing Rugby, so I can't really commit', but then as time went on the idea grew, I started picking up my training with him and I decided after my last contract was up, I was going to stay in Jersey where I am, but box, try and become the Scottish Elite Heavyweight champion and I managed to achieve that."
View this post on Instagram
Campbell is training in the Belfast Kronk alongside Dunlop's other charges, with the likes of former world title challenger, James Tennyson and European Cruiserweight champion, Tommy McCarthy, as he hones his craft under the tutelage of Tony Dunlop.
First session down with the big man! @nickacampbell1 👊🏼 pic.twitter.com/YOitEc9b7b

— James Tennyson (@JamesT931) January 20, 2021
The Scot, who stands at 6"7 and 18st believes he has all the attributes to become a force and is determined to be remembered for his achievements in the ring, rather than just as a rugby player-turned fighter.
"I've only been boxing for four years, I've had 15 amateur fights," Campbell added.
"My technical ability is improving all the time, but [I like to] come forward, [I have a] big jab, powerful one too, [I] grind people down, break people down and like I say I like to think I can bang a bit, I'm 18st, 6"7, so hopefully some exciting nights, some exciting fights, take it from there and make a statement.
"[I want to] go out there to prove people wrong. A lot of people have been saying 'you're crazy, you should have stuck to Rugby,' I'm here to prove you wrong, I'm no gimmick.
"I don't want to be the rugby playing boxer, like I said I want to make a statement and like I say I wouldn't be turning professional if I didn't think in a couple of years time I could be up there challenging for who knows what.
"There's never been a Scottish, British Heavyweight champion before, so to achieve something like that would be amazing, who knows what will happen, but that's my goal, that's what I'm trying to work towards, that's what I'm training for.
"I'm not under no illusion it's going to be easy, but I'll give it my best shot and you can be sure that if I get that opportunity I won't let it slide through my hands."
The Glaswegian, who resides in Jersey, although is training in Belfast says he's inspired by his fellow countrymen including three-weight world champion, Ricky Burns and unified Super Lightweight champion, Josh Taylor and admits he is keen to a acquire a similar size fanbase and attract a different audience.
"I'm trying to bring something different to the table for Scotland and for Jersey where I live," Campbell continued.
"I want to make that island proud as well. I want to get Scotland and Jersey behind me and make a statement and do everybody proud and like I say there's the Rugby fraternity as well, who might not usually be interested in Boxing.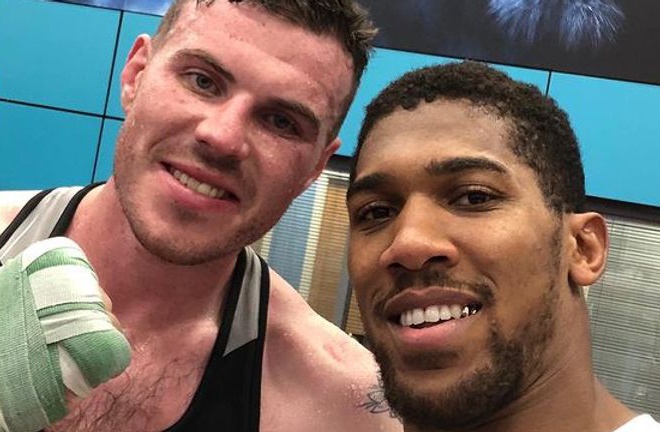 "They're going to maybe take an interest, 'I've seen that guy play Rugby before, you know what let's go watch him.'
"But like I said, I'm not a gimmick, that's not what I'm in it for, but if it gets more people interested in Boxing then brilliant, it's great for the sport."
Watch the full interview with Nick Campbell below where he discusses his amateur trips abroad, seeing Anthony Joshua train and more: