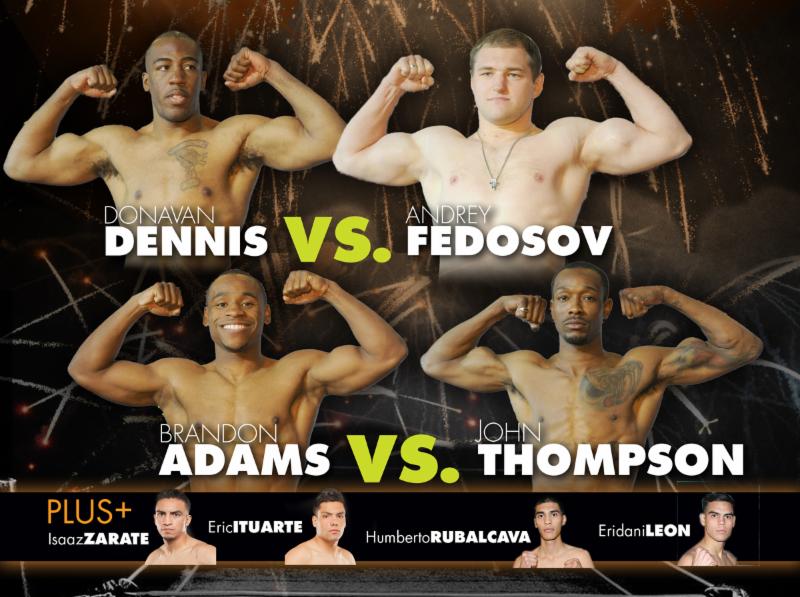 After 17 years, ESPN Friday Night Fights will celebrate its final show on Friday, May 22, with the finals of Boxcino 2015. The single-elimination, two-weight class tournament featuring eight fighters in both the heavyweight and junior middleweight divisions began in February. The show from the Omega Products Center in Corona, Calif., will air live at 10 p.m. ET on ESPN2
ESPN will continue its long history of carrying world-class boxing events, beginning Saturday, July 11, at 9 p.m. on ESPN, with the Premier Boxing Champions on ESPN (PBC on ESPN) series.
The 10-round junior middleweight final showcases Boxcino tournament veteran Brandon Adams (16-1, 12 KOs) of Los Angeles against the smooth boxing skills of John Thompson (16-1, 5 KOs) of Newark, New Jersey. The finalists will compete for the Boxcino crown on Friday, May 22, from the Omega Products Outdoor Arena in Corona, Calif.
The co-feature showcases heavyweight talents Donovan Dennis (14-2, 11 KOs) of Cleveland, Ohio and Andrey Fedosov (27-3, 22 KOs) of Russia in a 10-round fight to determine the 2015 Boxcino Heavyweight Champion.
The undercard features crafty super bantamweight Isaac Zarate (10-1-1,1 KO) of Los Angeles against Fernando Fuentes (5-4-1, 1 KO) of Hemet, Calif. Outside of the two televised bouts, the 8-round fight between Zarate and Martinez is among the most eagerly anticipated fights of the night.
"Zarate is one of the most exciting, young boxers in the 122 lb. division," said Ken Thompson, president of Thompson Boxing. "He won't blow you away with power, but his hand speed and work rate are definitely worth the cost of admission."
"I'm looking forward to a great night of boxing," said Artie Pelullo, president of Banner Promotions. "It's a great card all around, and the Boxcino finals will be fan friendly fights."
Zarate, a southpaw, makes life difficult for opponents by using an unlimited energy supply to launch punches from all sorts of angles. He's elusive in that he darts in and out of danger spots, which makes landing combinations on him a difficult matter.
"I try not to stay in the same spot for too long," said the 23-year-old Zarate. "By moving and changing the pace, my opponents typically can't time my movements."
In other action, Colombian lightweight Andres Figueroa (5-0, 3 KOs) faces fellow prospect Angel Martinez (5-1-1, 1 KO) of San Antonio, Tex. in a 6-round fight.
Humberto Rubalcava (1-0, 1 KO), a Riverside native who turned professional in April, faces super bantamweight Richard Tallmadge, who will be making his pro debut (4-rounds).
A pair of young welterweights in Eridani Leon (2-1) of Mexico and Isaac Freeman (1-1, 1 KO) of Los Angeles square off in a 4-round bout.
Also, Canadian junior middleweight prospect Cody Crowley (3-0, 2 KOs) will fight an opponent to be named later (4-rounds).
Opening the event is undefeated super bantamweight Adam Lopez (11-0, 6 KOs) of San Antonio going up against the veteran Miguel Tamayo (16-12-2, 14 KOs) of Mexico (6-rounds).
The Omega Products Outdoor Arena is located at 1681 California Ave., Corona, CA 92881 and can be reached at 951-737-7447. Doors open at 5:45 p.m. PT and the first bout begins at 6:15 p.m. PT.