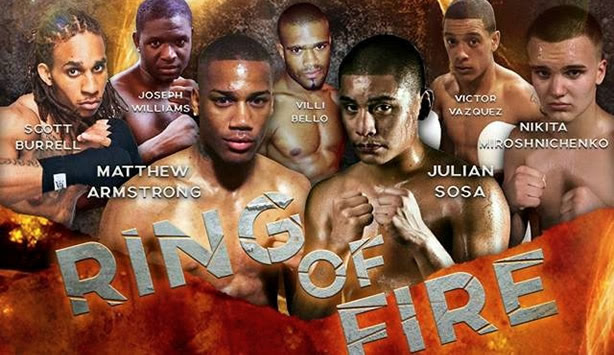 Ronson Frank's Uprising Promotions will be returning to action on Friday, July 24th, bringing another loaded fight card to the Brooklyn Masonic Temple. With many local prospects and rising stars, Ring of Fire will most certainly continue the tradition of Uprising Promotions to bring competitive and entertaining fights to boxing fans.
"We are excited to be back in the Brooklyn Masonic Temple. It is a great venue for boxing," said Ronson Frank, President of Uprising Promotions. "We have a deep lineup for this show. We have been faced with some tough decisions when putting together this card because it has been generating a lot of interest. As always, the card will have a lot of action fighters, and it will be a great night."
Scheduled to headline the July 24th show is a featherweight scrap between two aggressive fighters, with Dominican fighter Yenifel Vicente (26-3, 18 KOs) facing Manuel de los Reyes Herrera (21-16-1, 15 KOs) of Colombia. With 33 knockouts between the duo, sparks will definitely fly in this bout.
One fighter who no one will want to miss on this card is the New York debut of cruiserweight Alvin Varmall, Jr. (6-0, 6 KOs), a power-punching Louisiana native who has seen just two of his six professional victims make it to the second round. All six of his pro bouts have ended via knockout, so fans will want to make sure they are in their seats when the opening bell rings to start a scheduled contest opposite Lamont Capers.
Also slated for action on the card is lightweight Scott Burrell (9-2, 6 KOs), who will be fighting on his second consecutive Uprising Promotions show when he steps into the ring to meet California native Moris Rodriguez. Also returning for his second straight appearance on an Uprising Promotions card will be Villi Bello (2-1), a converted mixed martial artist who will square off against Francisco Cruz on July 24th.
Another key participant on the card is hard-hitting Queens native Joseph Williams (6-0, 5 KOs), who welcomes southpaw Michael Wilmer to New York in light heavyweight action. Also, New York native Jeff Laguree (1-0, 1 KO) will fight in front of his home crowd for the first time when he battles 28-bout veteran David Johnson of Los Angeles in a heavyweight tilt.
Three significant professional debuts are on tap for July 24th, with must-see pro entrances by middleweight Nikita Miroshnichenko, welterweight Carlos Adams, heavyweight Romarick Ngoula and junior middleweight Matthew Armstrong (facing Anton Williamson).
Additional fighters are also scheduled to appear on the July 24th card against opponents to be named. Those combatants are middleweight Akil Auguste (7-1, 6 KOs), welterweight Julian Sosa (1-0-1), super featherweight Frank Trader (10-2-1, 2 KOs) and flyweight Timmy Ramos.