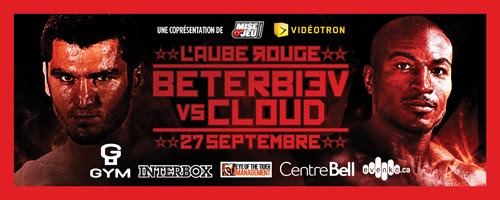 Two-time Russian Olympian Artur Beterbiev (5-0-0, 5 KOs) steps up in class this Saturday as he headlines "Red Dawn" against Tavoris "Thunder" Cloud (24-2-0, 19 KOs) in the 12-round main event at famed Bell Centre in Montreal.
The 29-year-old Beterbiev, who moved to Montreal last year, is on the fast track to stardom. Beterbiev has a rich amateur pedigree having captured gold medals in the 2006 World Cup in Baku and 2008 World Cup in Moscow, as well as at the 2009 World Championships in Milan.
During his incredible amateur career, Beterbiev was crowned Russian and European champion, and his amateur victims include present WBO Sergey Kovalev twice, WBO world title challenger Ismayl Sillah, U.S. Olympian Michael Hunter Jr., and 2007 World Championships gold medalist Abbos Atoev. Beterbiev turned pro in 2013 and he is undefeated with all five victories coming by knockout, fighting a total of only 11 rounds, compared to Cloud's 130.
The 32-year-old Cloud, fighting out of Tallahassee, Florida, currently world rated by The Ring Magazine (#7), as well as WBC #9 and WBA #14, is attempting to reposition himself for another world title shot.
Cloud won the IBF light heavyweight title in 2009 with a 12-round decision over Clinton Woods (42-4-1, 25 KOs). He successfully defended his IBF title four times against former world champions Glen Johnson (50-13-2, 34 KOs) and Gabriel Campillo (21-3-1, 8 KOs), as well as challengers Fulgencio Zuniga (24-4-1, 21 KOs) and Yusaf Mack (29-3-2, 17 KOs).
Cloud's undefeated win streak was halted in 2013 at 24, when he lost his IBF title by 12-round decision to living legend Bernard Hopkins (52-6-2, 32 KOs). Cloud was stopped later that year in seven rounds by WBC light heavyweight champion Adonis "Superman" Stevenson (24-1-0, 20 KOs) at Bell Centre.
In the co-feature, former world title challenger Dierry "Dougy Style" Jean (26-1-0, 18 KOs), fighting out of Montreal by way of Haiti, will defend his North Amrican Boxing Federation (NABF) lightweight title against Mexican invader Daniel "Cañerito" Ruiz (32-7- 2, 22 KOs) in a 12-round bout. Jean, who is ranked No. 10 by the WBC, is battling his way back to another world title shot.
Former No. 1 contender Stephane Ouellet (29-5, 18 KOs), of Jonquiere, Quebec, returns to action in a four-round middleweight fight against Belgium import Cedric Spera (10-2, 2 KOs). His return is creating a lot of interest in Quebec. He is one of the most beloved and charismatic fighter of the history of Canadian boxing.
At 43 he is not dreaming of world championship fights but to redeem himself after been knockout twice in his last two fights, in the second round against Omar Sheika in 2001 in Las Vegas and against Joachim Alcine in the first round, at the Montreal Bell Center, in an ill-advised return in 2004.
A pair of popular Quebec-based, world-rated welterweights, former world title challenger Antonin Decarie (30-2, 9 KOs) and Kevin Bizier (21-1, 14 KOs), will be in separate fights. WBC #6, WBO #10 and IBF #11 faces Ivan Pereyra (19-3, 13 KOs), of Belgium, in a 10-round fight, while IBF #6 Bizier meets Laszlo "Bulldog" Fazekas (25-15-1, 17 KOs), of Hungry, in an eight-round match.
Three undefeated Canadian prospects round-out a solid top-to-bottom card. Montreal super lightweight Junior Ulysse (3-0, 3 KOs) hopes to keep his KO streak alive against unbeaten Polish opponent Krystian Huczko (2-0), and Laval super middleweight Eric Bazinian (5-0-0, 3 KOs) puts his unblemished record on the line versus Baptise Castegnaro (5-2, 2 KOs), of France, in a pair of six-round matches. Montreal super welterweight Steven Butler (4-0, 3 KOs) meets his toughest opponent to date, Frenchman Bernard Follea (5-2-1, 1 KO), in a four-round bout.