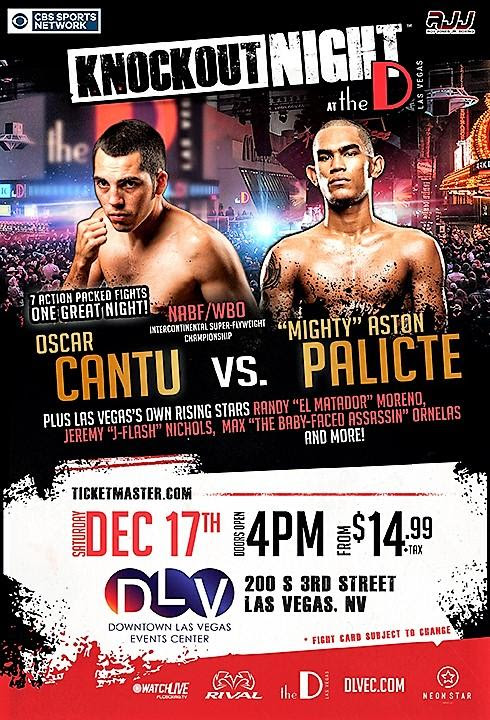 The strongest overall card of the highly acclaimed "Knockout Night at the D" series is set for this Saturday night, airing live on CBS Sports Network from inside the Downtown Las Vegas Events Center indoor facility.
The 10-round main event is a classic match-up of contrasting styles between undefeated Oscar Cantu (14-0, 1 KO) and Aston Palcite (21-2, 18 KOs) for Cantu's North American Boxing Federation (NABF) super flyweight belt, as well as the vacant World Boxing Organization (WBO) Inter-Continental super flyweight championship. Cantu is rated No. 4 (as a flyweight) by the World Boxing Council (WBC), while International Boxing Federation (IBF) Pan American super flyweight champion Palicte is ranked No. 11 by the IBF and No. 15 by the WBO.
Unbeaten Chilean junior middleweight champion Angelo Baez (15-0-1, 11 KOs) will make his U.S. debut against Jamaica-native Nathaniel Gallimore (15-1-1, 12 KOs), fighting out of Evanston, Illinois, in the eight-round co-feature.
Promising Los Angeles welterweight prospect Flavio Rodriguez (5-0, 4 KOs) faces Mexican foe invader Dilan "El Terrible" Loza (5-0, 3 KOs) in a six-round bout that will open the televised segment of the evening.
Las Vegas' new Big 3 – welterweight Jeremy "J-Flash" Nichols (7-0, 2 KOs) and RJJ-promoted junior lightweight Randy "El Matador" Moreno (7-0, 6 KOs), and bantamweight Max "The Baby-Faced Assassin" Ornelas (6-0, 3 KOs) – will all be showcased this Saturday night.
In a pair of scheduled six-round fights, flashy 26-year-old Nichols meets another undefeated opponent, San Diego's Kevin "KO" Ottley (3-0, 2 KOs), in an interesting match of unbeaten prospects that should propel the winner to the next level of the welterweight division, and constantly improving 21-year-old Moreno takes on Milwaukee's Mike Fowler (5-3, 2 KOs) in the former's eighth fight since turning pro March 20th. Fan favorite Ornelas, 18, will square off in his seventh the eighth fight of his six-month pro career against California bantamweight Jorge Perez (6-4-1, 3 KOs) in a four-rounder.
Ft. Worth, Texas junior featherweight Jessie Hernandez (7-1, 6 KOs) is also fighting on the undercard against Sharone Carter (6-1, 2 KOs) in a six-round match.
Comments
comments