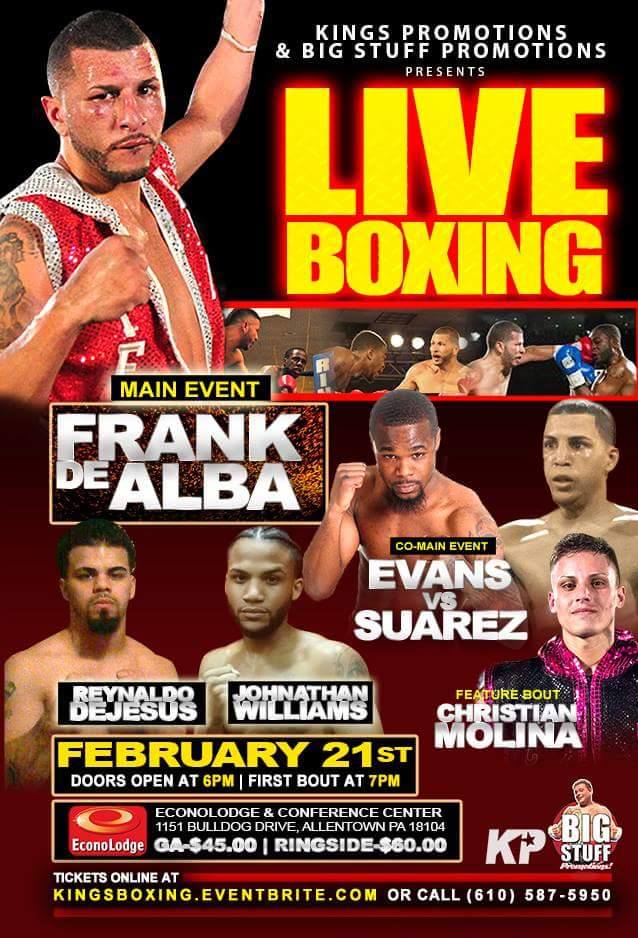 He is one of the hottest fighters on the east coast, a prospect on everyone's radar and this Saturday night, Jr. Lightweight Frank De Alba will look for his 13th consecutive victory when he takes on Jose Bustos in the main event at the Econo Lodge.
De Alba of Reading, PA has a record of 14-1-2 in and in addition to 12th straight wins, he is unbeaten in his last 14 bouts. De Alba, who won a 8-round unanimous decision over Jesse Carridine last October 4, went right back in the gym shortly after that bout.
"Training camp has been great. I have been in camp for two months. I feel great and excited. I am ready and in shape and am 100% ready for Saturday," said De Alba.
On Bustos, De Alba doesn't seem to know much on the man who will trying to break that winning streak.
"I know nothing about him other than he is from Mexico. Mexican fighters always come to fight, so I know it will be an exciting fight."
2015 plans to be a moving year for De Alba for prospect to contender and he knows that this fight could be a dangerous one.
"I know this is a big year. I have a good streaking going and by the end of the year I should have a good step up fight. First I am ready for Saturday and I have to start off on a good foot. I am ready to give my all."
Bustos of Ciudad Juarez, Mexico has a record of 7-2-3 with 4 knockouts.
The 23 year-old is unbeaten in his last three which includes that last two victories. He is coming off a 10-round split decision over Hector Mendoza on April 11, 2014 in Ciudad Juarez, Mexico.
Juan Dominguez (17-0, 11 KO's) of Brooklyn, NY will fight Jose Cen Torres (13-6, 1 KO) of Merida, Mexico in an 8-round bout for the UBF All Americas Super Bantamweight title.
In 6-round bouts:
Super Middleweight John Magda (8-0, 6 KO's) of Rutherford, NJ will take on Jay Williams (3-4) of West Monroe, LA
Ivan Golub (5-0, 4 KO's) of Brooklyn, NY will take on David Lopez (4-11-3, 1 KO) in a Jr. Middleweight bout.
Danny Kelly (6-1-1, 5 KO's) of Washington, DC will take on Kevin Franklin (6-10, 3 KO's) of in a Heavyweight bout.
In 4-round bouts:
Christian Molina (3-0, 2 KO's) of Allentown, PA will fight debuting Stacey Harris of Washington, DC in a Jr. Middleweight bout.
Robert Irizarry (2-0-1) of Cherry Hill, NJ will battle Benjamin Burgos (2-10-1) of Mount Pocono, PA in a Featherweight bout. This bout is a rematch of a bout from May where Irizarry won a unanimous decision.
Christopher Booker of Philadelphia will make his pro debut against Andrew Sosa (0-4-1) of Farmers Branch, TX i in a Middleweight bout.
Paul Koon (2-0, 1 KO of Philadelphia will battle Rex Harris (1-0-2) of Wikes-Barre, PA, in a Heavyweight bout.
Comments
comments