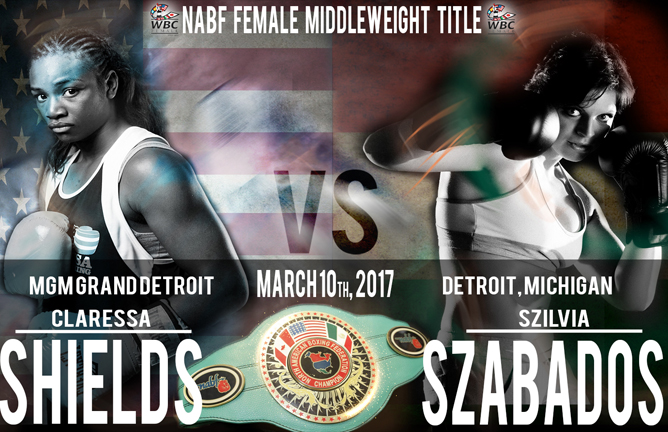 Six prospects will round out the ShoBox: The New Generation televised bouts for Salita Promotions' "Detroit City Gold" on Friday, March 10, at MGM Grand Detroit, live on SHOWTIME (10 p.m. ET/PT).
In addition to the history-making six-round main event featuring two-time Olympic Gold Medalist Claressa Shields (1-0) of Flint, Mich., taking on Hungary's Szilvia "Sunset" Szabados (15-8, 6 KOs) for the Women's NABF Middleweight Championship, there will be a trio of exciting bouts between rising prospects with a combined record of 80-2-5 with 39 KOs.
"Detroit City Gold" will mark the first time in history a women's boxing match has headlined on premium television. Shields and Szabados will also be the first women's fight on ShoBox, a series that has sparked the careers of 67 future world champions.
Antonio Nieves vs. Nikolay Potapov – 10-Round Bantamweight Bout
The co-main event will feature a 10-round battle between top-10 ranked bantamweight contenders Antonio Nieves (17-0-2, 9 KOs) and Nikolay Potapov (16-0-1, 8 KOs). Nieves is ranked No. 4 in the WBO, while Potapov is ranked No. 9 by the WBO, No. 10 by WBA and No. 13 by the IBF.
Nieves, a top amateur, was a five-time Cleveland Metro Golden Gloves Champion. In 2011, he was the National Golden Gloves runner-up and U.S. Nationals Bronze Medalist at 123 pounds.
A pro since November 2011, he won the initial 12 fights of his career before boxing to an eight-round draw with Stephon Young on June 20, 2015. The NABO bantamweight champion, he has gone 6-0-1 since and is coming off a second-round TKO over Szilvester Ajtai last Nov. 26. In August 2016, he fought to a 10-round split draw against Mexico's Alejandro Santiago on ShoBox.
Because they are both residents of Ohio, Nieves has long clamored for a showdown with former WBA Champion and fellow 118-lb contender Rau'shee Warren. A victory over Potapov may put him in the right position to have his wish granted later this year.
"I feel great about this opportunity and I'm going to take advantage of it," said Nieves. "He's a good fighter. He comes forward and throws a lot of punches. He's got a solid foundation. I believe it'll be a good fight but, overall, I'll be able to outbox him. I can make him make mistakes and take advantage of it. I will be 100 percent ready to show everybody the real Antonio Nieves. I'll use my legs more and throw a lot of combinations. I will box my way to my big shot."
The 26-year-old Potapov was an outstanding amateur with international success. The 5-foot-4 native of Russia had around 200 fights before he turned pro in March 2010. He went 13-0 as a pro in Russia before his U.S. debut.
Potapov had a 14-fight winning streak ended when he boxed still-undefeated prospect Stephon Young (13-0 going in) to a 10-round majority draw on April 15, 2016, on ShoBox. Potapov, who felt he had done more than enough to earn a victory, entered the ring ranked 10th in the IBF, rare for a fighter at that point in his career.
Since the disappointing result against Young, Potapov has fought twice, leaving nothing in the hands of the judges by winning both by early round knockout. He's coming off a fourth-round TKO over Alexander Saltykov last Dec. 15.
"I have been training in Russia and am excited to be in Detroit (since Feb. 1) training at the Kronk Gym with world-class trainer Javan SugarHill Steward," Potapov said. "Antonio Nieves is a very talented fighter and I look forward to a great exciting fight of skill and will on March 10."
Wesley Tucker vs. Ed Williams – Eight Round Welterweight Bout
Also on ShoBox: The New Generation will be an eight-round welterweight battle between local prospects with much to prove, Wesley Tucker (13-0, 8 KOs) and Ed Williams (12-1-1, 4 KOs).
The 29-year-old Tucker, of Toledo, Ohio, was a standout amateur. He was the 2012 National Golden Gloves runner-up at 152 pounds and had over 250 amateur fights. As a professional, he's stayed relatively active since his debut in February 2013, but the 5-foot-8 southpaw has been virtually untested. Tucker will be looking to score his first significant professional victory against Williams.
"I feel good. Excited about the opportunity," said Tucker. "He's a tough fighter from Detroit. But I'm better. I've seen every kind of style there is. You can expect fireworks that night. I'm 100 percent ready."
Detroit's Ed Williams is coming off a unanimous decision victory over then 6-1 Christon Edwards, last July at the MGM in Las Vegas. The 27-year-old suffered his lone career loss in November 2015 via unanimous decision to Marcus Beckford in Beckford's home state of Louisiana. As an amateur, Williams was a two-time Michigan State Champion and a two-time Detroit Golden Gloves Champion.
"I feel like this is a great opportunity to fight at home and on TV," said Williams. "It's the first fight at the MGM, first women's bout to headline. There's a lot of firsts going on that night and it's a big stage, but I'm not afraid of anything. I don't know much about Tucker other than he's from Oho and he's shorter than me. I'm just going to prepare for everything. One thing about me — I'm a gladiator. If he doesn't show up to go to war, I will get him out of there. Training is going great. I'm in Houston for this camp. I'm working on a lot of things and getting sharper and staying busy."
James Gordon Smith vs. Joshua Greer, Jr. – Eight Round Bantamweight Bout
Opening the telecast will be an eight-round bantamweight "Detroit vs. Chicago" showdown between James Smith (11-0, 6 KOs) and Joshua Greer, Jr. (11-1-1, 4 KOs).
The 26-year-old Smith was a standout amateur, going 110-9 en route to a bronze medal at the National Golden Gloves. He holds an amateur win over current top-10 bantamweight Antonio Nieves.
Smith, a 5-foot-4, is making his ninth start in Michigan, his seventh in Detroit and first at MGM Grand. A six-year pro, Smith has been victorious in three consecutive matches since a no-contest on Feb. 6, 2016. He is coming off a second-round TKO over Szilveszter Ajtai last Jan. 22 in his fourth consecutive scrap at Masonic Temple in Detroit.
"This is a great opportunity to better my career and keep moving it into the right place," said Smith. "A victory would get me ranked and keep me moving up the ladder. Plus the world will get to see me for the first time. I want to put on a good show, no matter how it goes. I just want it to be a competitive and exciting fight."
Greer, a 22-year-old Chicago native, was a Chicago Golden Gloves Champion. He will be coming down in weight to face Smith, having normally campaigned around 120 pounds. He was last seen stopping Cristian Renteria in the fifth round in October of last year. Before that he took the undefeated record of the Dominican Republic's Juan Gabriel Medina (then 10-0, 9 KOs) via unanimous six-round decision.
Greer suffered the lone loss of his career in the fifth fight of his career, a majority four-round decision against fellow unbeaten Stephen Fulton in December 2015.
"I feel really good about this. I'm ready and can't wait for it to happen," said Greer. "I don't know much about James Smith, but I know we fought the same opponent, Antwan Robertson, and he got dropped by him. And I stopped him within 24 seconds of the first round. Training is going great. I have the best sparring you can ask for, guys like Adrian Granados, Eddie Ramirez, Hank Lundy. I will be well prepared for this fight. If it was tomorrow, I'd be ready."