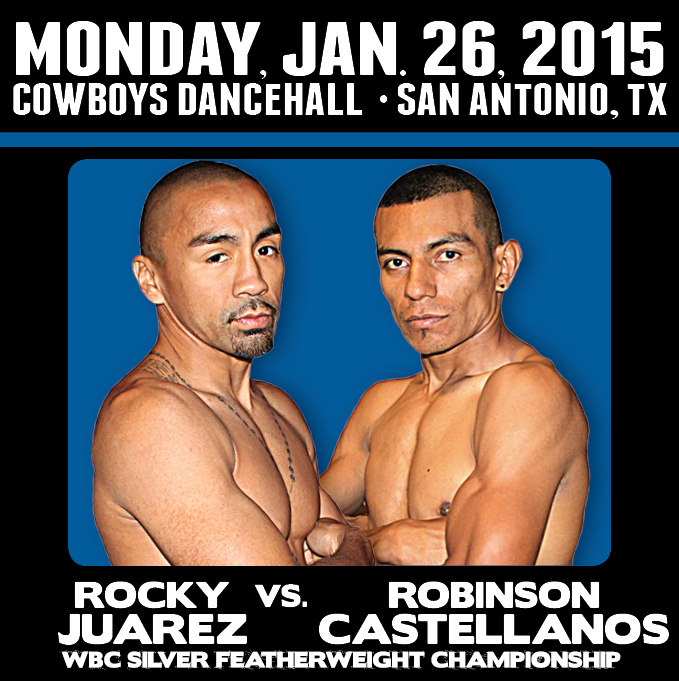 Before Rocky Juarez (30-10-1, 21 KOs) and Robinson "Robin Hood" Castellanos (20-10, 13 KOs) square off at Cowboys Dancehall in San Antonio, Texas, the Golden Boy Live! card on Monday, January 26 will feature Austin's own Travell "Black Magic" Mazion (9-0, 9 KOs) in the biggest fight of his young career when he battles Mexico's Nestor "Baby" Rosas (11-3, 7 KOs).
Also, the undefeated KeAndre Gibson (11-0-1, 5 KOs) will be featured in an eight-round televised-opening bout against Nelson Lara (15-6-5, 8 KOs) on FOX Sports 1.
Also in action will be San Antonio's super bantamweight standout Javier Rodriguez (11-0-1, 1 KO) and rising super featherweight from Alice, Texas Arturo Esquivel (9-1, 2 KOs) and several of the Lone Star State's premier talents as they compete on a stacked eight-bout card.
Coached by legendary female fighter Ann Wolfe, 19-year-old Travell "Black Magic" Mazion (9-0, 9 KOs) is one of the top prospects in boxing today, a fact evidenced by a perfect professional record in which he's ended five fights in the first round. Now ready for his biggest year yet, Mazion is looking forward to the co-main event spotlight in Cowboys Dance Hall, where he's already won four fights.
A hard-hitting veteran who is looking to get back on the winning track to kick off the New Year, 29-year-old Nestor "Baby" Rosas (9-3, 6 KOs) has already been in the ring with former world champion Victor Ortiz and top prospect Wale Omotoso over the course of his career, making it clear that he has the experience to test Mazion on January 26.
KeAndre Gibson (11-0-1, 5 KOs) now makes his home in Las Vegas, where he trains under renowned coach Kenny Adams, but the 24-year-old welterweight prospect has become quite popular in Texas, where he won impressive victories over John Nater and Jose Hernandez. Hoping to keep his winning streak going on January 26, Gibson will face Nicaragua's Nelson Lara in an eight-round matchup. Lara (15-6-5, 8 KOs) is a former WBA Fedebol champion coming off of a September bout with Fidel Maldonado Jr.
In a super bantamweight swing bout scheduled for six rounds, San Antonio native Javier Rodriguez (11-0-1, 1 KO) looks to show off his impressive boxing skills once more at home when he takes on Quincy Wesby (2-7) from Dallas. A professional since 2011, the 20-year-old Rodriguez always brings a crowd out when he steps between the ropes.
In a four-round lightweight bout, San Antonio's Cristian Santibanez (1-2) battles Austin's Alberto Romero (1-3-1) and in a junior welterweight matchup also scheduled for four rounds is local favorite Armando Cardenas (5-0, 2 KOs) from San Antonio, who risks his perfect record against Laredo's Albert Espinoza (2-5) in a welterweight bout.
Junior featherweight rising Texan star Arturo Esquivel (9-1, 2 KOs) will face off against Jesus Sandoval (3-5-3) in a six-round fight. Robert Vela (10-0-2, 5 KOs) of Robstown will face off against Ramiro Torres (4-27-1, 2 KOs) of San Antonio in a four-round lightweight match.
Juarez vs. Castellanos is a 10-round bout for Juarez' WBC Silver Featherweight Title and final title elimination bout presented by Golden Boy Promotions and Leija Battah Promotions and sponsored by Corona Extra, O'Reilly Auto Parts and Mexico – Live It To Believe It!. Cowboys Dancehall doors will open at 5:00 p.m. CT, and the first bout will start at 5:30 p.m. CT. The FOX Sports 1 and FOX Deportes' broadcast airs live at 10:00 p.m. ET/7:00 p.m. PT.