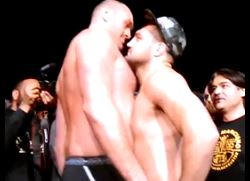 The weigh-ins were held today for Saturday's Risky Business card, headlined by Tyson Fury vs. Christian Hammer, and also featuring Dmitry Chudinov vs. Chris Eubank Jr. Right here, you can find the weigh-in results for the card, as well as some photos and videos of the fighters on the scale and squaring off.
Fury vs. Hammer Weights
Tyson Fury: 260 lbs — 18 stone, 8 lbs
Christian Hammer: 248 lbs — 17 stone, 10 lbs
Chudinov vs. Eubank Jr Weights
Dmitry Chudinov: 159.75 lbs — 11 stone, 5.75 lbs
Chris Eubank Jr: 159.5 lbs — 11 stone, 5.5 lbs
Select Undercard Weights
BRADLEY SKEETE (10st 6½lbs) vs. ANZOR GAMGEBELI 141½lbs (10st 1½lbs)
LIAM WALSH 129lbs (9st 3½lbs) vs. JOE MURRAY 129lbs (9st 3¾lbs)
FRANK BUGLIONI 167¾lbs (11st 13lbs) vs. IVAN JUKIC 166lbs (11st 12lbs)
All the fighters are on weight and ready to go. No surprise that things got a bit feisty between Fury and Hammer, because Fury makes it his business to rile everybody up. By contrast, things went surprisingly calm between Chudinov and Eubank Jr, despite Eubank's own propensity to rile up everyone as well.
Check back in with us tomorrow as we'll have post-fight coverage and analysis of the Chudinov vs. Eubank Jr and Fury vs. Hammer results.