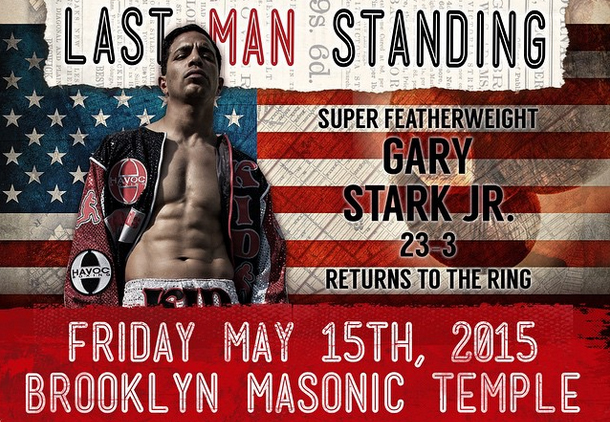 Ronson Frank's Uprising Promotions will be bringing another fight card to the Brooklyn Masonic Temple on Friday, May 15th, with super featherweight Gary "Kid" Stark Jr. (23-3, 8 KOs) slated to end a nearly five-year layoff against Jose Valderama of Puerto Rico.
This show, titled Last Man Standing, will continue the initiative of Uprising Promotions to KO Autism, with proceeds from the night getting donated to The School For Language and Communication Development (SLCD) in Glen Cove, New York.
"I'm born and raised in Brooklyn, so I'm glad to have this fight in Brooklyn where so many people can come watch," Stark said of the May 15th show. "I'm grateful to Ronson for putting me on this show so I can help move some tickets and make it a great night."
Stark is known for having a large following, and his crowd-pleasing tactical style is the reason behind that. Prior to turning professional, Stark created a huge buzz for himself after becoming a three-time New York City Golden Gloves Champion and reaching the Olympic Trials. However, chronic shoulder problems eventually sidelined him in 2010, and the long road back to the boxing ring will finally end on May 15th.
"After shoulder surgery and the birth of my daughter, it has been so long since I've fought," Stark stated. "There are certain people who have always stood by me. My father, my wife, Dr. Victor Khabie (who performed the shoulder surgery with Dr. Osric King), my rehab guy Tim Stump and definitely my job as a personal trainer at Chelsea Piers. I always wanted to come back to show these guys and so many others how much they helped me."
Scheduled to return to action on this card is middleweight Delen "Sniper" Parsley (11-1, 3 KOs), facing Bronx native Troy Artis. The bout will end a year layoff for Parsley, who takes a 6-2 frame into the ring. In his last outing, the Brooklyn native handed Marcus Beckford his first career loss. A professional of nearly six years, Parsley has impressive wins over battle-tested Ibahiem King and then-unbeaten Boyd Melson on his resume.
Queens native Devaun Lee (3-1, 1 KO) also returns to action on May 15th, facing Haitian middleweight Deferson LeGrand (3-2, 2 KOs). A super welterweight scrap between Villi Bello (1-1) and Jonathan Jeter is another contest currently on the fight sheet as well.
A couple of intriguing women's bouts are on the docket to go down on this card as well. Brooklyn featherweight Ronica Jeffrey (13-1, 1 KO) will take on Crystal Hoy (5-7-4, 2 KOs), while a rematch from Uprising Promotions' last card in February is on tap when Susan Reno meets Paola Ortiz for a second time. When the two fought previously, the fight was declared a majority draw.
Other fighters slated to compete on the May 15th card include two hard-hitting unbeatens in super bantamweight Marcos Forestal (2-0, 2 KOs), who made his pro debut on the last Uprising Promotions show in February, and Neslan Machado (9-0, 7 KOs). Their opponents, as well as additional bouts, will be announced in the very near future.