I was at the Garden this past Saturday night to witness the inevitable outcome of Gennady Golovkin vs. Gabriel Rosado.  True, the Kazakh wasn't at his best, while the young Philadelphian proved even tougher than I had anticipated.  Golovkin nevertheless won handily, via seventh-round TKO, and it's now time (well past it, really) for the leading lights of the middleweight division to prove their mettle by stepping into the ring with the undefeated WBA titlist.
Why haven't they?  Why won't they?  Because they know they can't beat him, that's why.
While there are several boxers who could give Golovkin a warm welcome — Felix Sturm and Julio Cesar Chavez Jr. come most immediately to mind — the three men he needs to defeat in order to unify the titles, to be recognized as undisputed Middleweight Champion of the World, are Peter Quillin, Daniel Geale, and Sergio Martinez.
Let's take a closer look at the credentials of the Feared Man, as well as those of the Reluctant Three.
Gennady Golovkin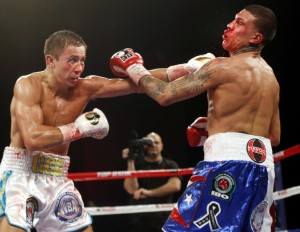 In a word-association test, the words "great amateur boxers" would trigger certain names — Laszlo Papp, Teofilo Stevenson, Felix Savon, Mark Breland, Guillermo Rigondeaux.  Gennady Golovkin?  If not among the first tier, then certainly at the very apex of the second.  The Kazakh, for example, won the silver at the 2004 Olympics, defeating Andre Dirrell, among others.
Golovkin, 30 (25-0-0, 22 KOs), turned pro in 2006.  Third-ranked by ProBoxing-Fans.com, "GGG" is eager to take on all comers, of which there's been a deplorable dearth.  Golovkin was only able to scrounge up two fights in 2012, neither of which was against top-of-the-line opponents.  The Kazakh stopped Makoto Fuchigami by third-round TKO in May and Grzegorz Proksa by fifth-round TKO in September.
Golovkin is criticized for not taking on more formidable competition, which is akin to blaming the householder for the burglary.  It's Geale, Quillin, and Martinez who are the felons, robbing Golovkin of the opportunity to win their belts.
Peter Quillin
Seventh-ranked Quillin, 29 (28-0-0, 20 KOs), holds the WBO strap.  "Kid Chocolate" had two fights last year, beating Winky Wright by unanimous decision in June and Hassan N'Dam N'Jikam in October, also by UD.
He's slated to face Fernando Guerrero on February 9, which will do little to enhance his reputation — but nevertheless is at least a good of an opponent as Gabriel Rosado. If Quillin doesn't start taking on more impressive competition, he risks being perceived as an undercarder, rather than as an elite of the division.
Daniel Geale
Defeated by Golovkin while amateurs, Geale's ring name is "Real Deal".  And not without reason.  Perhaps the best middleweight to come out of Australia since the legendary Les Darcy, second-ranked Geale, 31 (28-1-0, 15 KOs), became a pro nine years ago.  The IBF champ fought twice in 2012, defeating Osumanu Adama in March by unanimous decision and the German Sturm in September by split decision. Geale's next fight, scheduled for January 30, is against Anthony Mundine, thus far the only man to beat the Australian.
Sergio Martinez
Current King of the Middleweights, "Maravilla" will turn 38 next month.  A pro since 1997, Martinez (50-2-2, 28 KOs) is the WBC champ.  He had two matches in 2012, retiring Matthew Macklin in the 11th in March and decisioning Chavez Jr. in September.  The Argentine is taking on Martin Murray on April 27.  Murray's a fine boxer, but Martinez defeating him, as he almost certainly will, does nothing more than add another notch to his championship belt.  Martinez is an old bull elephant, and the time is now, 2013, to determine if he still has what it takes to break the tusk of the only challenger worthy of the name — Golovkin.
If the Sweet Science were as sweet as it should be, Golovkin would be given the opportunity to take Quillin's WBO, Geale's IBF, and Martinez's WBC in his next 3 fights, and thus reign as undisputed Middleweight Champion of the World.