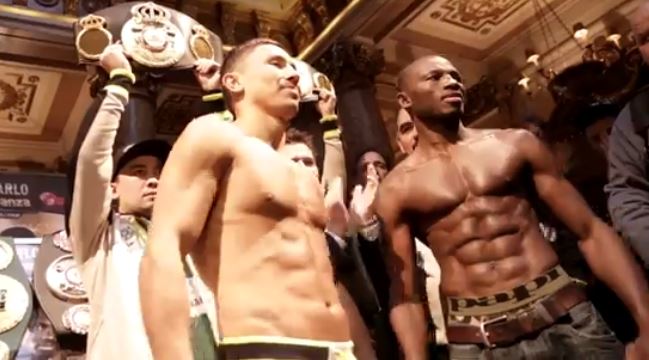 Golovkin vs. Adama Results:
Gennady Golovkin retained his Middleweight title belts with what has become a fairly routine stoppage for him, taking out Osumanu Adama in Monte Carlo last night. The ref ended the fight in the 7th after a total of 3 knockdowns in Golovkin's favor.
Adama went into the bout with a respectable record and had never been stopped previously. The difference in class was clear though from the first round and Golovkin never looked uncomfortable with the tough Ghanaian.
The opening round was an image of what was to come throughout the fight. Golovkin controlled the center of the ring and was difficult to hit. Adama looked a little nervous and perhaps twitchy; GGG's reputation perhaps at the back of his mind. Golovkin struck with a solid left and then followed with a right hand over the top to put Adama down in the first round.
The next couple of rounds were relatively subdued, with Golovkin stalking Adama and picking his precision shots incredibly well; very reminiscent of his fight with Curtis Stevens. Adama started to work his jab more with more success, managing to cause some blood to drip from the nose of Golovkin.
However, Golovkin showed no sign of actually being hit with any venom and continued to avoid pretty much everything Adama was throwing, walking through the occasional shot that landed. Golovkin wasn't landing any huge shots himself, but the occasional hook and jab combination which did land looked ferocious.
Round 6 saw Adama knocked down again. Adama would actually spit out his gum shield several times, bringing him a warning from the ref. A stony left hand from the Kazakhstani fighter knocked Ousama Adama down for an 8 count. Golovkin didn't rush in to end the fight, showing the composure of an experienced fighter.
Finally, the fight was stopped by the ref in round 7. The first jab thrown by Golovkin in this round put Adama back to the canvas for a third time. He got up, but his legs were clearly gone. Another sharp shot struck him on the chin, prompting the fight to be called to a halt. Adama hadn't really landed cleanly on Golovkin in the last couple of rounds and was begging to look a bit like a training exercise for the unbeaten champion.
Gennady Golovkin's Next Fight?
What's next for the fighters? Well, Adama gave a very spirited and honest performance against one of the top fighters at this weight, so can perhaps look to rebuild from here before looking towards another big fight opportunity. Golovkin called out Sergio Martinez after the fight which is exactly what most boxing fans want to see. Hopefully, the promoters can put this one together so we can finally see GGG up against top quality opposition.