Fight Pick & Preview – Golovkin vs. Stevens:
On November 2, Gennady Golovkin defends his WBA middleweight belt against hard-punching challenger Curtis Stevens. The fight will take place in Stevens; hometown of New York City. Golovkin, 31, is a robust favorite, with Stevens, 28, looking to spring the upset of the year. Golovkin hasn't just been winning–he's been utterly dominant. Golovkin has won 14 straight bouts by knockout.
Date: Saturday, November 2, 2013
Site: Madison Square Garden Theater, New York, New York
Titles: WBA Middleweight Title: 12 Rounds
Gennady "GGG" Golovkin, 27-0 (24 KOs), Karaganda, Kazakhstan
Vs.
Curtis "Showtime" Stevens, 25-3 (18 KOs), Brooklyn, NY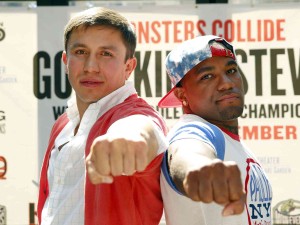 I wonder about Stevens. And not always in a good way. He is unquestionably a violent slugger, capable of explosive offensive output. He's a decorated amateur and one of the more damaging punchers in the business. He can take a good shot and possesses a lot of overall boxing talent. So then why after all these years has he never been able to forge his way past top-20 contender status? It's a fair question.
The answers, I'm afraid, don't paint Stevens in a very flattering light. It's just that the thing we hate most as fans are fighters who seem to get the least out of their talent. Based on ability strictly, Stevens should have some big wins by now, maybe even a belt or at least perennial top contender status.
The bottom line is that he remains, at best, a darkhorse contender. His talent would indicate he's better than that and the fact that he's not is based on something mental.
[Also See: Is Golovkin heading towards a clash with Peter Quillin?]
Still, let's not completely write Stevens off. He took off two years after losing to Jesse Brinkley and came back with 4 straight wins, 3 of which came by violent first-round knockout. That's part of the problem right there–losing to guys like Brinkley, fighters he should be beating.
His comeback showed a lot of what he does best. When he connects, he has power that you don't see a lot at 160 pounds. But against tough gatekeeper Derrick Findley in an 8-round decision win, some of the old bad stuff started to resurface. He was underachieving, showing apathy in the ring, and coasting when he could have been pressing his advantage.
That's what Stevens is–a mercurial and inconsistent fighter who at his best is a handful, but can stink it up every now and again. Maybe that's a good thing for the purposes of this fight. Golovkin has been so devastating lately that it would be hard to fancy the chances of a more consistent and accomplished challenger, but one who had no capacity for the spectacular. Stevens is an on-again/off-again fighter and one without deep credentials perhaps, but at least he has the ability to rip someone's head off.
The problem for Stevens is that he's facing a guy where you don't have to wonder if his A-game will materialize. Golovkin also has a ton of menace and power-punching in his game, but he always sees to it that it manifests. Stevens is a question mark, Golovkin is a certainty. Questions still loom, however. Having never faced a puncher on the level of Stevens, maybe Golovkin's chin will be put to the test.
Even that is iffy, being that Golovkin has shown himself to be an ultra-durable sort. In addition to never being dropped as a pro, he reportedly went an entire 350-fight amateur career without seeing the canvas. So don't expect him to fall to pieces if Stevens manages to connect with his Sunday punch.
Stevens at least is fighting a guy in Golovkin who isn't too deft on defense. He doesn't move his head very much and is what you can describe as "available." Golovkin is relaxed and seems durable, but you can never be so sure. The fact is that there a lot of hopes being put on Golovkin and he hasn't really beaten anybody unless you count Matthew Macklin among the elite.
Golovkin can really bring the noise on offense, with fast hands and a punch that seems to carry that legitimate heavy-handed power you want to see. When he's rolling, there are flashes of a vintage Duran on offense. Defensively, that's another issue. On paper, though, Stevens does carry that X-factor, making this less of a gimme than what their records and statuses would indicate.
Golovkin vs. Stevens Prediction
With Golovkin's abilities and power, coupled with Stevens' apparent mental fragility, this could be an early one-sided beatdown in favor of the titlist. It's just that you can't be so sure. If you were going to take a massive underdog, Stevens is the kind you want. He's not a steady force, but within him lies the rare ability to suddenly flatten people.
Should Golovkin get through this? Yes. It's just that you can only be so certain fighting a puncher like Stevens. It's hardly a probability, but the potential exists for a shocker in this fight. Stevens' best chance would be maybe to catch Golovkin cold when he's not fully acclimated for battle. Stevens at least needs a big start out of the gates.
While Stevens may be able to buzz Golovkin or at least lend some interest to this fight, I see this as too tall of an order for "Showtime." Golovkin still has a ways to go before he's hailed as the natural inheritor of the pound-for-pound throne, but he should have more than enough firepower, focus, desire, and skills to win–even if he needs to call on his durability more than he ever has before.
Prediction: Gennady Golovkin by 4th-round knockout.
Comments
comments