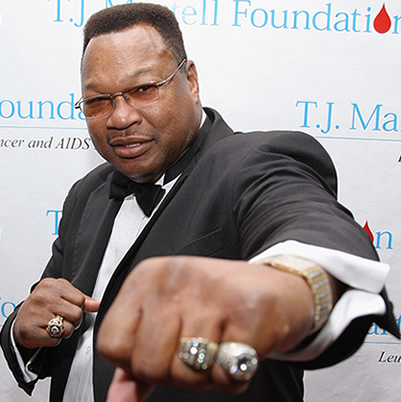 George Foreman and Larry Holmes both signed a contract to finally meet in the ring of the Houston Astrodome, slated for January 1999. Big George ultimately bailed when the promoters failed to pony up enough cash to make Foreman's $10 million purse. The two aged greats went home with the non-refundable deposits, and the idea of a Foreman vs. Holmes clash was never revived. But what if it was? What if the money had been paid, or some other financier stepped into the promotion — and the fight went ahead for sometime in early 1999.
Backdrop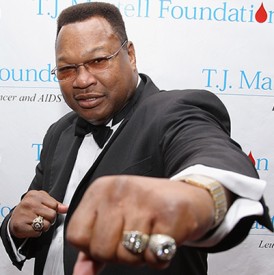 George Foreman began his historic comeback in March 1987, which culminated with his knockout of Michael Moorer in November 1994 and capture of the WBA-IBF titles. Foreman fought four more times after beating Moorer, against three fringe contenders (Axel Schultz, Lou Savarese, Shannon Briggs) and one journeyman (Crawford Grimsley). His last fight saw him lose a Majority Decision to Briggs.
The second comeback of Larry Holmes came after his disastrous one-shot comeback against Mike Tyson, starting in April 1991. This roughly coincided with Foreman's high profile challenge for Evander Holyfield's Undisputed World Heavyweight Championship, and to a large extent it was the eventual success of Foreman's comeback (four long years in the making) that inspired Holmes to return to the ring. Holmes had winning a world title in his sights, but also was eager to square off with George Foreman in an old timer's bout, and Holmes constantly called out Foreman during his third run in boxing.
Neither man was quite the somewhat flabby, but relatively well-preserved specimen they were in the early-to-mid 1990s, but the odds-makers favored Holmes. For one thing, Holmes was slightly younger, and would be 49 to Foreman's 50 on fight night.
Also, Holmes had the better recent record, having been robbed of a victory against Brian Nielsen in the Danish creampuff's backyard of Copenhagen and out-foxing fringe contender Maurice Harris in 1997, while Foreman was losing to Shannon Briggs that year. Briggs was more formidable than Harris or Nielsen, but Briggs clearly beat Foreman, and a loss is a loss is a loss.
Foreman vs. Holmes: The Fight
The two old giants met in the center ring, each looking to establish his jab. Foreman plodded forward behind his cross-armed guard and firing his thudding, telephone pole left, as Holmes moved and stuck the somewhat tarnished version of his "golden jab." While Holmes's jab was still regarded one of the best in the heavyweight division in 1999, Foreman's own jab was severely underrated and he actually owns a reach advantage on Holmes, so it was a surprise to many that night when this contest to establish the jab actually turned into a real contest.
The first two rounds were such that either fighter could have won, and being devoid of anything beyond careful probing with the jab, those opening rounds were so boring the rowdy Texas crowd actually began booing the fighters. Things picked up in the 3rd, as Holmes started to really get his jab going, and finding Foreman easy to hit (if not hit cleanly because of Foreman's cross-armed guard), started picking combos off of it. Somewhat slower and more immobile than Holmes, Big George has no choice but to continue following Holmes, work the jab, and hope for a mistake to exploit.
It's long in coming, and Foreman drops four straight rounds as Holmes keeps sticking the jab, putting in a straight right or sneaky left hook for good measure. Then in Round 7, Foreman finds his opening. With 0:41 remaining in the round, he cuts Holmes off and puts two hard blows down the pike and through the angles. He went down with a thud, landing flat on his back and looking much as he did when Earnie Shavers got him in 1979. Holmes got up, hung on to Foreman for dear life, and survived the round.
Holmes went back to sticking the jab in Round 8, and took no chances from that point to the final bell in Round 10. Almost all ringside observers thought Holmes had won the fight on points, as did Holmes himself, so there was concern in the stands when the first score read was 95-94 for Foreman. The second scorecard was 96-93 for Holmes, and the third and final scorecard read 96-93 for Foreman!
The Texas judges gave their hometown favorite a gift decision, much to the disgust of everyone who thought Holmes had won seven or eight out of ten rounds, knockdown or no. George Foreman promptly retired, while Larry Holmes went on to fight Mike Weaver and Bonecrusher Smith in two more "old guys" fights, and finally retired himself after beating Eric "Butterbean" Esch.