George Groves goes up against veteran Glen Johnson at London's ExCel Arena on December 15. The clash forms part of Frank Warren's end of year showpiece, and despite the bill being topped by a Ricky Burns' WBO lightweight title defense against a currently unknown opponent, the chief supporting bout between Groves and Johnson is the one that really whets the appetite.
Groves has only fought once so far this year against relatively unknown Francisco Sierra, so a fight with Johnson, the former IBF Light Heavyweight champion, is one that should keep fans of the Londoner happy.
George Groves
Age: 24
Record: (15-0, 12 KOs)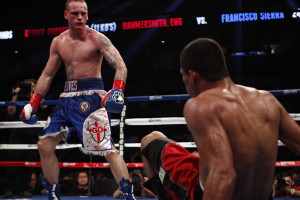 The current Commonwealth champion is one of a number of British fighters who will be looking to fight for world honors come 2013, and will see the Johnson clash as a stepping stone to this ambition. Outside of Carl Froch, the 24-year-old can lay claim to being Britain's finest in the 168 division, and will point to his resume to back this up, which includes the names of domestic rivals James DeGale and Kenny Anderson.
Groves has already proved on numerous occasions in his short career that he possess explosive power and the predatory instinct to blast out opponents, including his recent stoppages of Sierra and Paul Smith. However, the fight that has taught us most about Groves was his grudge match with long-time rival DeGale.
On that occasion, Groves demonstrated his vast skill set to prove just how accomplished a boxer he already is. Entering the fight as a huge underdog, Groves executed Adam Booth's game plan to a tee, showing an ability to box off both the front and back foot, control rounds with the jab and slug it out when needed.
However, what was arguably most impressive from that outing was Groves' defensive performance, with his use of footwork and body movement keeping him out of harm's way and frustrating the Beijing gold medalist, while on the occasions when he did get caught, his chin was up to the challenge. A similar sort of performance will need to be produced come fight night against an opponent who has mixed it with the very best.
Glen Johnson
Age: 43
Record: (51-17-2, 35 KOs)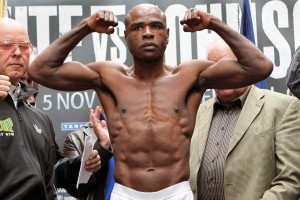 Johnson is getting on now and will be just two weeks shy of turning 44 when he enters the ring against Groves. The years, and his 70 previous bouts, are starting to take their toll on the 2004 Boxing Writer's Association of America fighter of the year, who has now lost three fights on the trot and had temporarily retired before accepting this bout.
However, if Groves is naive enough to underestimate the Jamaican, he could well be in trouble against a man who has beaten Roy Jones Jr., Antonio Tarver and Montell Griffin in his illustrious career, and 18 months ago went the distance with Carl Froch only to lose on a majority decision.
Johnson will undoubtedly be a danger come fight night, due to his aggressive stalking style and the fact he still possesses enough power in his right hand to trouble his opponents. More significantly though, this is man who truly does have a granite chin.
Despite having lost on 17 occasions, and having mixed it with the biggest hitters in both the 168 and 175 pound divisions, only once has the Road Warrior not seen the final bell and that was against future Hall of Famer Bernard Hopkins. This durability at least gives him a puncher's chance every time he enters the ring.
Groves vs. Johnson Analysis and Prediction
First and foremost I am slightly surprised Groves has chosen this fight, it seems like a lose lose situation to me. Yes, Johnson is a big name and has mixed it with the best, but at the same time has lost 5 of his last 7 fights.
If Groves wins a lot of the post-fight analysis will be centered on Johnson being shot and a long way past his prime, while if he loses it's back to square one and his world title aspirations are further away than ever. Despite this, I do feel it will still be a good challenge for the youngster and has the potential to be an exciting encounter as neither man is afraid to let their hands go.
I would presume that Groves will start this fight similarly to his clash with DeGale, looking to stay out of danger and peppering Johnson with the jab early while fighting from range, looking to build up a lead on the scorecard. If Groves does start by fighting from the outside, I can see Johnson getting frustrated by his counterpart's superior speed and think he will look to turn the fight into a brawl at every opportunity.
Booth will undoubtedly have prepared his fighter for these tactics, and I'm sure Groves will be using plenty of footwork to move the veteran around the ring and to make sure he keeps distance between himself and the ropes.
Groves' biggest problem could be if he loses concentration in the middle rounds. He should be focused enough in the opening rounds; however, if things go to plan and he racks up early rounds, he mustn't take his foot off the accelerator, because Johnson will take advantage.
We have seen before that Groves has a tendency to switch off and get over complacent, which has resulted in him being dropped by Anderson and hurt by Paul Smith, a fighter not renowned for his power. If the same happens come Saturday, Johnson has the power in his right hand to make sure Groves finishes the fight on the canvas.
I don't think Groves will switch off on this occasion but nonetheless can see the fight opening up in the second half. It might be due to the crowd getting on his back slightly if he fights cautiously behind the jab, it might be because Johnson begins to have success on the inside or maybe because Groves is spotting the odd opening and begins to smell blood as Johnson tires. Either way, I see one of these scenarios playing out in the second half with the both men eating the odd shot to return one.
In the end, I think this fight will last till the final bell. However, Groves could potentially stop the Jamaican for only the second time, if he can land a few of his trademark right bombs on a tiring Johnson, after all this is a 43-year-old who has fought only once in the last year.
This isn't to say the result a formality though, the Londoner cuts easily and can be hurt, while the Road Warrior's durability will mean Groves might take unnecessary risks and could end up getting caught. However, I think age will be the decisive factor; Johnson's isn't the force he once was, which means Groves should look good on the way to victory.
Prediction – Groves via Unanimous Decision