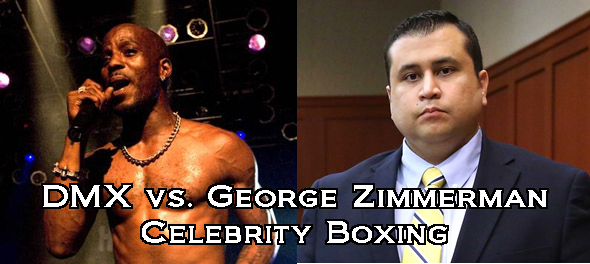 DMX vs. George Zimmerman in Celebrity Boxing:
George Zimmerman's celebrity boxing match has been set. He'll be taking on rapper DMX, chosen out of a pool of about 15,000 total applicants who wanted a chance to lay a beating on Mr. Zimmerman.
When Zimmerman announced he'd be participating, he essentially released an open challenge to all comers. The challengers came by the thousands, and surely, there was more to that than the chance to be in a "celebrity boxing" match. A fight against Zimmerman was a chance for the ultimate justice and catharsis. Show him who's boss and give him what he deserves, right?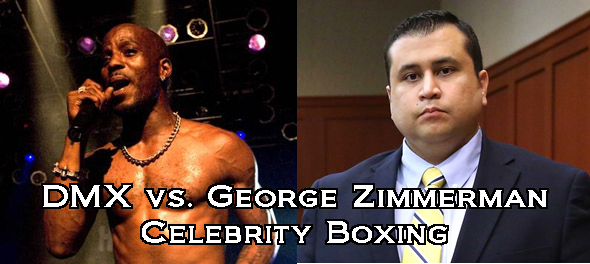 (Click for full size)
George Zimmerman vs. DMX Tale of the Tape:
Zimmerman

Age: 30
Height: 5'8″
Weight: 200 lbs
History of legal issues: Yes

DMX

Age: 43
Height: 5'11"
Weight: 175 lbs
History of legal issues: Yes
Zimmerman's weight was reported at 200 lbs during his trial, however, he has seemed to slim down a bit as of late. Reportedly, he has been in the gym training for this fight.
DMX of course cuts a much leaner and more muscular physique. Zimmerman better hope he doesn't bring any of his dogs with him into the arena, at least. Zimmerman has youth on his side, DMX has the athleticism, and what I'm assuming is a much lengthier history of and experience with fights.
Here's what DMX has to say about the fight:
"I am going to beat the living fuck out of him… I am breaking every rule in boxing to make sure I fuck him right up."
Rapper The Game was also amongst the applicants. No word on if 50 Cent was, as it's long known he's been in the gyms. It's unlikely he did though since he's now an active participant in the legitimate promotional side of the sport.
The Zimmerman vs. DMX fight has been set for 3 rounds. Date, time and location will be set next week.
Regardless of what you think about this fight and all of the shenanigans surrounding it, there will be plenty of people who will watch it. You can count on that, for the same reason that 15,000 applied for the ability to get in the ring.