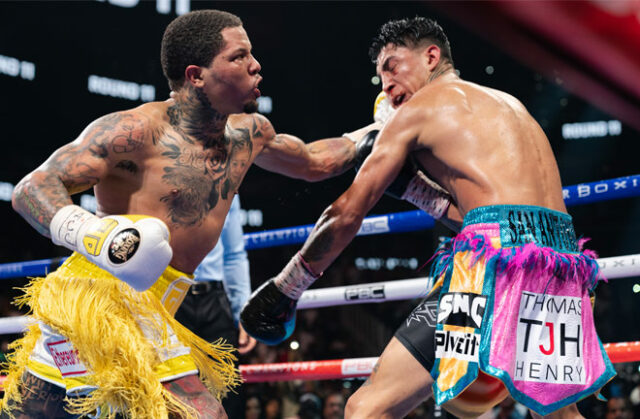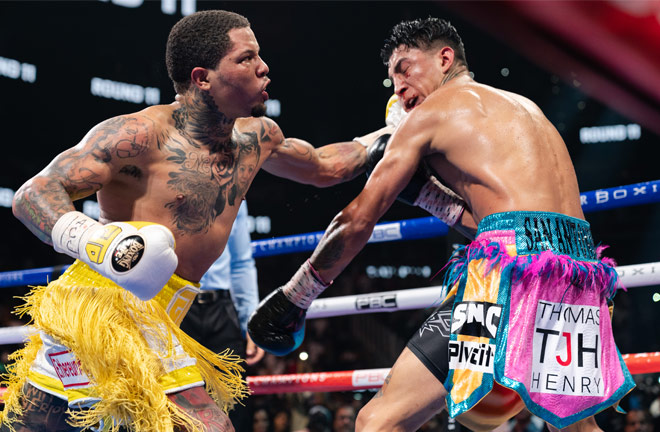 Gervonta Davis found another gear to blast out Mario Barrios and storm to a world title in a third division, after an enthralling showdown in Atlanta on Saturday.
Davis (25-0, 24 KOs) appeared on the brink of a sensational victory, after knocking Barrios (26-1, 17 KOs) down twice in the eighth round, but his bravery saw him rally to the 11th round where 'Tank' closed the show with a further knockdown and the referee's intervention to rip away the WBA 'Regular' Super Lightweight title and hand the Texan a first professional defeat at the State Farm Arena.
The 26-year-old had four-and-a-half inches in height and reach to negate, although the opening two rounds saw both men cautious to throw anything of note.
The pair began to open up in the third round with Barrios landing some hard shots to the head, although 'Tank', a champion at 130lbs and 135lbs, was using his speed and superb head movement to evade attacks, whilst his promoter and Hall of Famer, Floyd Mayweather Jr passed on instructions from a distance during the rounds.
The Baltimore man upped the ante in the fifth, knocking the champion's head back with a number of accurate left hands, edging closer and catching him with a flush left hook which he was able to hold well.
The action continued to ebb and flow, but Davis began to take away Barrios' jab in the sixth round, placing him on the back foot and using his defence to avoid head shots.
Barrios' success was being limited, with Davis landing jolting left hands in the seventh round.
The bout was still a chess match at this point, but 'Tank' flicked a switch in the eighth round, finding his range to land a right hook to the head, with Barrios dropping to the canvas for the first time in his professional career and providing proof that his power has carried up from the lighter weight classes.
The champion seemed to recover instantly, but was on the deck again this time from a powerful left hook. He bravely rose to his feet, but was placed under a sustained assault, as Davis looked to finish proceedings.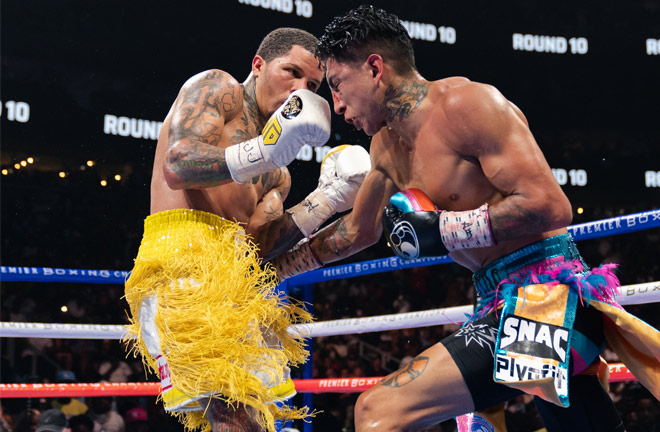 Barrios withstood the onslaught and showed true champion heart and spirit to fight back in the following rounds, even appearing to momentarily stun his rival to the ropes with a pinpoint left hook in the ninth round.
However, Barrios was forced to endure further artillery with uppercuts and left hands flying in, with Tank unrelenting.
The finish came shortly afterwards, with Davis ripping in a body shot which saw Barrios reeling in pain on the canvas for the third time. Determined to make the final bell, he showed incredible bravery to beat the count, but his resistance was broken when Tank landed an unanswered head shot, with referee Thomas Taylor pulling him from battle.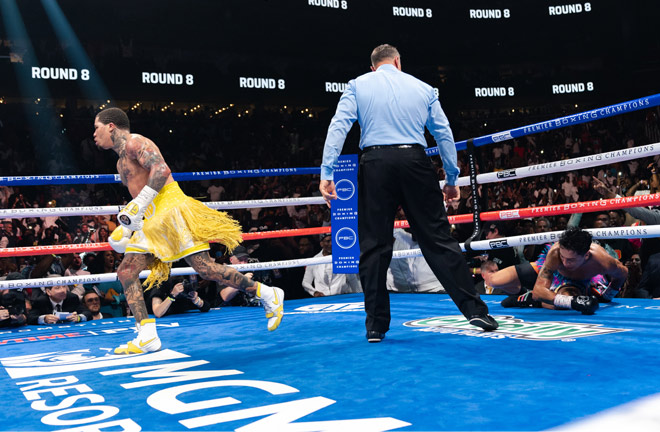 Tank celebrated his victory in style, backflipping off the ropes back into the ring as joined the likes of Manny Pacquiao, Oscar De La Hoya, Mayweather and Julio Cesar Chavez as champions at 130lbs 135lbs, 140lbs.
Davis would not be drawn on who may be next for him, with Josh Taylor holding all four belts at 140lbs, whilst Devin Haney, Ryan Garcia, Teofimo Lopez and Vasiliy Lomachenko are also future options.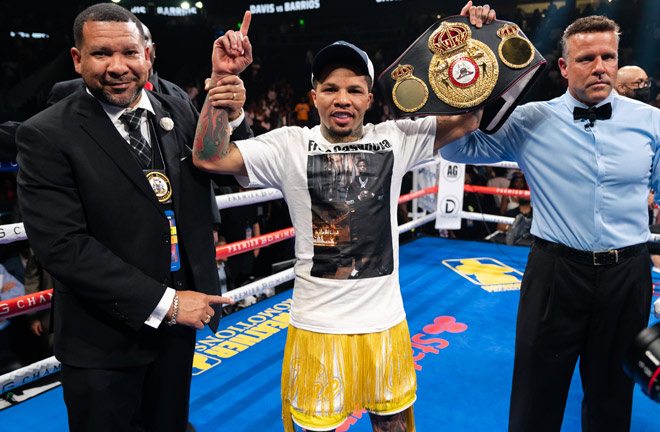 "I knew he was hurt. I just had to catch him at the right time," Davis told SHOWTIME post-fight.
"Floyd [Mayweather] came to me and was honest and said I was down.
"So he said 'show me that you're great.' And you know how we do it in the doghouse, baby."
Lubin powers past Rosario
Erickson Lubin edged closer to another world title shot after halting former unified world champion, Jeison Rosario in six rounds to win their WBC Super Welterweight title eliminator.
Both were on the wrong end of defeats to current unified titlist, Jermell Charlo, yet it was Lubin (24-1, 17 KOs) who moved towards another tilt at world honours.
The current WBC Silver champion, used his fleet of foot and hand speed to great effect throughout with his Dominican foe unable to work him out particularly early on.
Lubin started to land clean combinations in the third and even had Rosario wobbling back to the corner on unsteady legs, after landing after the bell.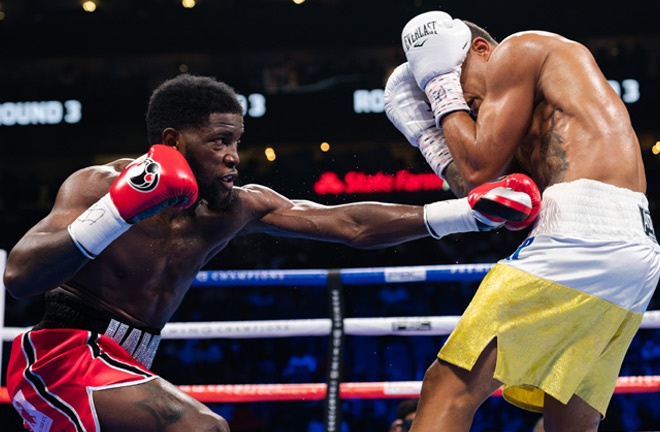 Although, the momentum shifted almost immediately, with 'Banana' buckling the legs of the Florida man in the fourth round.
However, Lubin always looked the more likely and secured his big breakthrough in the sixth round, dropping Rosario with two body shots and a follow up to the head.
The 26-year-old rose to his feet, but the respite was only brief with 'The Hammer' closing the show with a body shot, with referee Jerry Cantu intervening, as Rosario fell to the canvas again.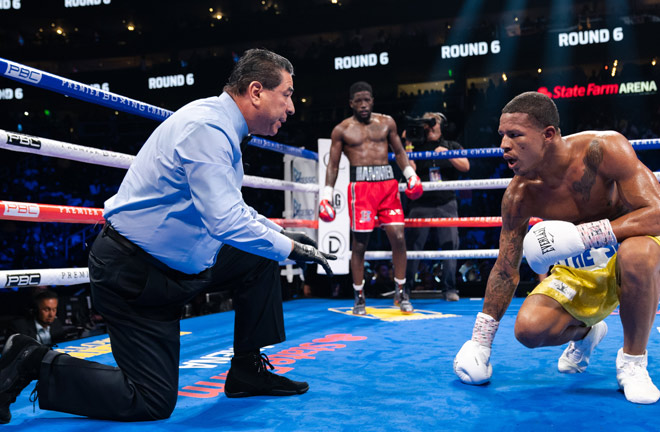 It's a second successive stoppage defeat for Rosario (20-3-1, 14 KOs), after losing his world titles to Charlo in September, although Lubin has earnt himself another opportunity in the near future.
It seems unlikely that will be in the form of a rematch with Charlo who has revealed plans to move up to Middleweight following his undisputed title showdown with Brian Castano on July 17.
Adames stops Salazar in style
Carlos Adames stopped Alexis Salazar with a huge left hook in the third round of their Super Welterweight clash.
After a cagey opening few rounds, Adames (20-1, 16 KOs) pinned his foe back onto the ropes and had the Mexican wilting to his knees.
The Dominican, trained by Ismael Salas, was perhaps unfortunate not to have been awarded a knockdown and his momentum was momentarily thwarted with referee Jim Korb deducting him two points for holding.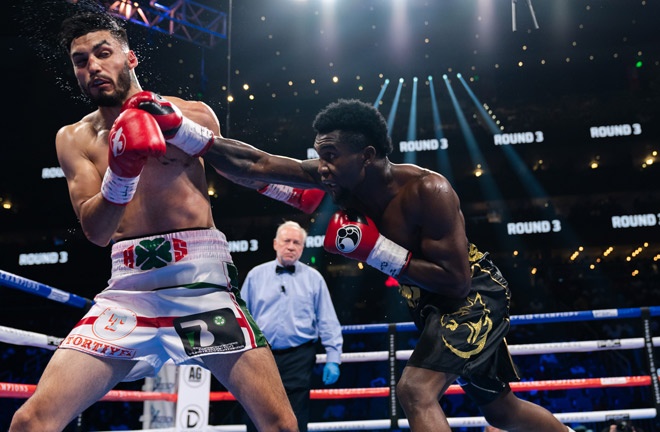 However, this did not deter the 27-year-old who ended proceedings in emphatic fashion, landing a devastating left hook flush on the temple, which floored Salazar (23-4, 9 KOs).
The 25-year-old rose unsteadily to his feet and referee Jim Korb waved off the contest to hand Adames a TKO victory.
Akhmedov strengthens world title credentials
Batyr Akhmedov moved closer to a world title shot with an eighth round stoppage over former world champion Algenis Mendez in their WBA Super Lightweight title eliminator.
Despite suffering an early cut, due to an accidental head clash, Akhmedov (9-1, 8 KOs) was the busier of the two fighters and appeared in control throughout, although Mendez (25-7-3, 12 KOs) remained competitive.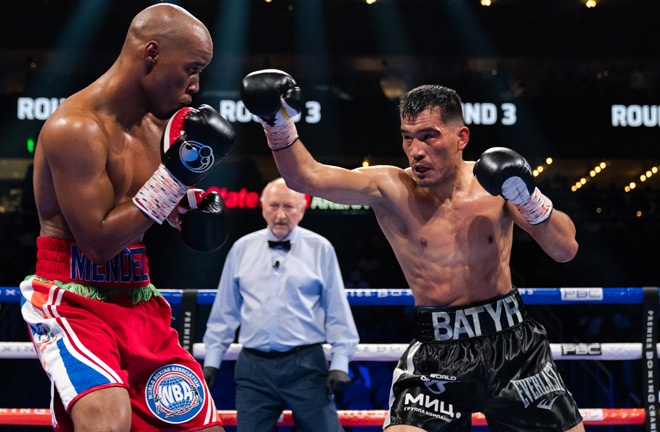 However, after returning to his corner at the end of the eighth, the Dominican was unable to return from his stall after suffering what appeared to be an arm injury, with referee Brian Stutts waving off the clash at the request of the corner
Akhmedov, a 2016 Olympian was ranked at #4 by the WBA heading into the bout putting him now in line for a future world title shot.