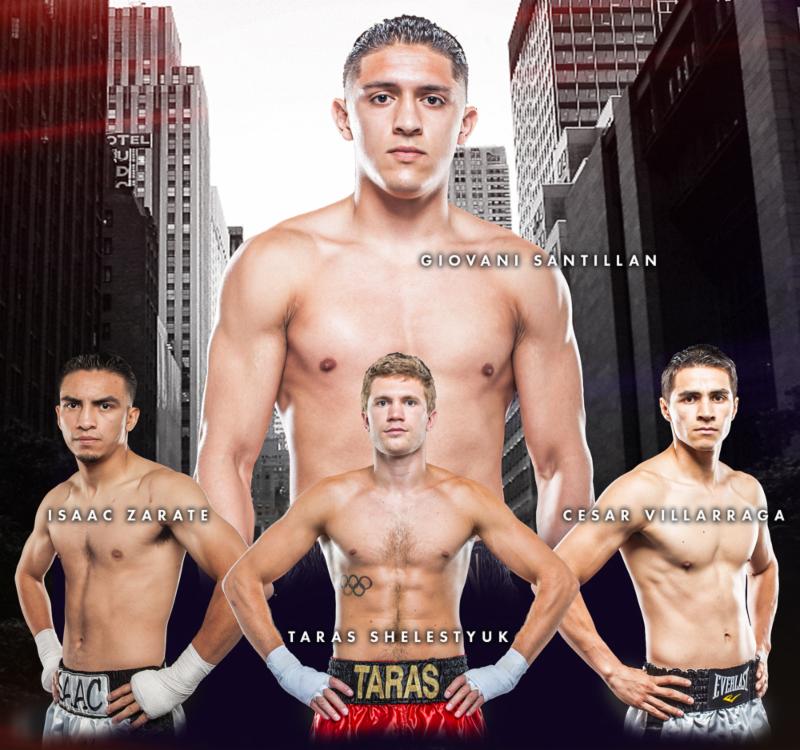 Undefeated junior welterweight Giovani Santillan (15-0, 8 KOs), one of Thompson Boxing Promotions most promising prospects, headlines "Path to Glory," Friday, Feb. 20, from the Doubletree Hotel in Ontario, Calif.
Santillan, a San Diego native, takes on Rafael Cobos (15-5-5, 3 KOs) of Tijuana, Mex. in the 8-round main event.
Santillan is coming off a monster year in 2014. The 23-year-old southpaw recorded four impressive wins against quality opposition, took the next step in his development by winning a vacant regional title, and further improved his resume by successfully defending his championship.
"I want to build on what I accomplished last year," said the 23-year-old Santillan. "I know things will only get tougher from here on out, so the only thing I'm focusing on is beating Cobos. Nothing else matters for me right now."
"We feel very confident in Santillan's abilities," said Ken Thompson, president of Thompson Boxing Promotions. "He has an appetite for winning in dramatic fashion and is well disciplined. He's on the doorstep of becoming a fantastic, crowd pleasing boxer."
Santillan has been on a tear since turning professional in 2012, while Cobos was beginning to turn his career around until dropping a decision to popular welterweight contender Josesito "Riverside Rocky" Lopez in September. Lopez is co-promoted by Thompson Boxing and Goossen Promotions.
"I can't afford to lose back-to-back fights at this point of my career," said Cobos, who has been active since 2006. "I'm a natural welterweight, so by dropping to a lower division I know I'll have the power and strength advantage."
"I'm not worried that he might be bigger than me," Santillan said. "I've fought guys at 147 before and I have the longer reach so I'm not worried about that. I know have the boxing skills and acumen to win this fight."
The co-main event features super bantamweight Isaac Zarate (9-1-1, 1 KO), newly signed to Thompson Boxing Promotions. Zarate is a quick-handed southpaw from the Los Angeles port city of San Pedro.
His exciting brand of boxing – high volume boxer-puncher – has made him a fan favorite on the Southern California boxing scene. He faces a more experienced fighter in Pedro Melo (12-6-2, 3 KOs) out of Tijuana, Mex.
"Melo may have more experience, but I have better skills and a higher aptitude for the game," said the 23-year-old Zarate. "I'm looking forward to the challenge."
Additionally on "Path to Glory"
Taras Shelestyuk vs. TBD (8-rounds/super welterweights)
Ukrainian super welterweight prospect Taras Shelestyuk (10-0, 7 KOs) puts his unbeaten streak on the line against an opponent to be named later. Shelestyuk last fought on a Thompson Boxing card in September – an 8-round split decision win over Patrick Boozer.
Cesar Villarraga vs. Eduardo Rivera (6-rounds/lightweights)
Former Colombian Olympian Cesar Villarraga (5-0, 3 KOs) looks to remain unbeaten against Eduardo Rivera (9-1-2 3 KOs) of Mazatlan, Mex. Villarraga, 29, got a late start to his professional career, but nevertheless, has made excellent progress thanks to his outstanding amateur career that saw him win more than 200 fights.
Francisco Javier Lapisco vs. Gilberto Mendoza (4-rounds/junior flyweights)
Francisco Javier Lapisco (7-0, 2 KOs) of Sonora, Mex. is among the most exciting prospects in the junior flyweight division. While not particularly powerful, Lapisco more than makes up for his power deficiency with his high work rate and ability to throw punches from virtually any angle. He will be tested against Gilberto Mendoza (4-4, 1 KO) of San Francisco.
LaRon Mitchell vs. Chad Davis (4-rounds/heavyweights)
Undefeated heavyweight LaRon Mitchell (5-0, 5 KOs) aims to score his sixth knockout win against Chad Davis (5-12, 1 KO) of Phoenix, Ariz. Mitchell possesses the height (6'4″) and punching power to advance in boxing's most glamorous division.