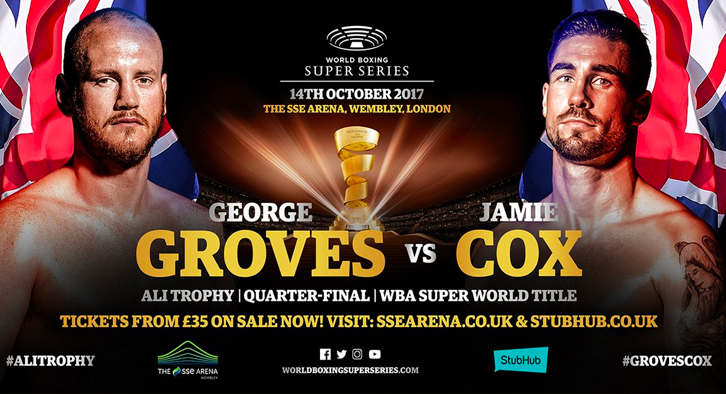 The first domestic showdown of the World Boxing Super Series is scheduled for October 14th when top seeded super middleweight George Groves (26-3, 19 KOs) puts his WBA World title on the line against his undefeated countryman Jamie Cox (23-0, 13 KOs) in a 'Battle of Britain' at The SSE Arena, Wembley in London, United Kingdom.
Groves, the 29 year-old from Hammersmith, London, claimed the WBA strap with a sensational sixth-round stoppage victory over Fedor Chudinov on May 27th at Bramall Lane in Sheffield, and will make his maiden defence in this quarter-final clash with Cox, whom the 'Saint' selected as his first round opponent at the live Draft Gala on July 8th at the Grimaldi Forum in Monaco.
''I'm really looking forward to getting started,'' said Groves. ''It's great to have a date set so early to give you something to strive for. I'm already in the gym plugging away and I've got plenty of time to prepare. The SSE Arena, Wembley Arena has always been a happy hunting ground for me. I've had many good nights there, and I'm looking forward to fighting there again on October 14th. It's my first World title defence, my first fight in the World Boxing Super Series, an all-British affair and hopefully something everyone is going to be excited about.
''I'm happy with my choice of opponent. I know there are no easy fights in this tournament and there are no easy fights at World level, but Jamie is the guy I know the most about. I know about his background, I know how he trains, I know who he trains with, but most importantly, I know the things you need in this tournament, such as composure and experience at the highest level, he's lacking. I've got them in abundance, but he's brand new, he's a total novice. I don't think he's even headlined his own show yet and he's getting flung in the deep end with me. This is a big pressure fight for him and I think he'll struggle to cope.''
Looking to secure his semi-final spot, Cox, the unbeaten 30 year-old contender from Swindon, Wiltshire, is confident he can dethrone his domestic rival and move a step closer to claiming The Greatest Prize in boxing, the Muhammad Ali Trophy.
''I'm really excited for this fight,'' said the 30 year-old southpaw. ''To win a World title on the way to fighting for the Muhammad Ali Trophy would be a huge honour. I'm glad George picked me. I was prepared for anyone but I was hoping for a UK fight so I can't wait. George is a tough opponent. He has some good attributes but I'm prepared to shock everyone. This is what I've been working towards all my career, and to be a part of something this big is amazing. Now I'm here, I'm ready to capitalise on it and win my first World title and progress to the semi-finals.''
Roberto Dalmiglio, Comosa's Head of Management Board, believes the World Boxing Super Series has delivered on its pledge of bringing together the best boxers in the world, and is expecting a memorable fight on October 14th. ''The World Boxing Super Series promised to pit the best against the best, and I believe we he have delivered on that promise,'' said Dalmiglio. ''All our quarter-final fights are stacked with talent, and George Groves versus Jamie Cox is no exception. The SSE Arena, Wembley will play host to a fantastic night of boxing."
Comosa's Chief Boxing Officer, Kalle Sauerland is predicting a fan friendly affair from the domestic foes. ''This is a going to be a great fight for the fans,'' said Sauerland. ''Domestic dust ups always bring with them an added excitement and intensity, and here, we have a British World Champion against an undefeated British challenger, it doesn't get any better than that!''
In the World Boxing Super Series, 16 elite fighters – eight super-middleweights and eight cruiserweights – will battle it out in a bracket-style elimination tournament. In both divisions, there will be four quarter-finals (September / October 2017), two semi-finals (early 2018) and one final (May 2018), making for a total of 14 high-class fights.