Even the most ardent boxing fan would find it hard to claim that 2010 has been a vintage year in the ring. As we enter October we are still lacking a real candidate for Fight of the Year, the ground breaking Super Six has ground to a halt, and the only fighting between the sports two biggest stars has taken place through press releases and interviews.
Out of the ring it has been a different story. It seems the fans aren't the only ones becoming frustrated by the lack of action. As boxing has followed its traditional self destructing path of denying opponents deemed to be too dangerous their deserved chances, and as promoters continue to value a fighters '0' above anything else, the fighters themselves have been coming out fighting. Out of the ring at least.

Over the years personal differences, and in some cases genuine hatred, have fuelled some of boxing's greatest bouts and rivalries. One only has to sit back and rewatch any Barrera – Morales brawl (as I was driven to after round 5 of the recent Mosley – Mora 'fight') Ali – Frazier match or even a Ricardo Mayorga bout to see just how much extra drama can be injected into a fight by even a drop of bad blood. There can be any number reasons for a grudge to develop between two fighters but be it personal history, frustration at perceived 'running', good old fashioned trash talk or, surprise-surprise, money, this year has seen an increasing number of feuds.
Lets have a look at some of the grudges currently simmering which could reach boiling point and ensure that the remainder of 2010 and the beginning of 2011 is a period to remember.
Amir Khan vs. Marcos Maidana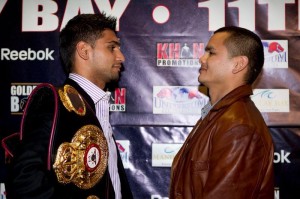 Khan and Maidana have been linked since Maidana claimed the interim WBA belt with an exciting off the floor victory over highly rated "Vicious" Victor Ortiz. On the other side of the Atlantic, Khan was rebuilding from a devastating first round loss to Breidis Prescott and claiming the full WBA title with what now looks like a very good performance in a points victory over Maidana-conqueror Andreas Kotelnik. With the pair in discussions regarding a matchup, a back injury forced Maidana into a spell on the sidelines allowing Khan to increase his standing in the division with a first round blitz of Dimitry Salita, a move to Golden Boy Promotions and an excellent 11 round beating of Paulie Malignaggi.
Since then the pair have traded insults with the Argentinean slugger Maidana constantly claiming Khan is avoiding him and is a "liar" and "coward". Indeed, in the weeks before the fight was signed he even threatened legal action to force Khan in to the ring. Khan has fired back by insinuating that maybe Maidana wasn't so badly injured in the first place and stating that Maidana has "talked his way into a fight now. Unfortunately for him, his mouth isn't going to help him in the ring and I'm going to prove to him that I'm on another level."
After 18 long months of constant baiting, the pair are finally set to meet in Las Vegas on December 11th. With knockout puncher Maidana claiming he is going all out for a KO win and the fast, skilful Khan facing a puncher for the first time since the Prescott annihilation, the fight promises to be as explosive as the build up but not as drawn out.
David Haye vs. Audley Harrison (& Wladimir Klitschko)
David Haye's arrival in the heavyweight division was seen by many to be the start of an exciting new era in the sport's most glamorous weight class. After clearing up the cruiserweight division, the charismatic Haye burst onto the scene amid a storm of insults, trash talk and publicity stunts mainly aimed at the reigning WBO/IBF and Ring magazine champion Wladimir Klitschko.
Haye ignited genuine bitterness into the fight by arriving at a press conference to announce an April 2009 fight with Wladimir wearing a t-shirt depicting him holding the severed heads of both brothers. After months of negotiations, and signing for and withdrawing from 2009 fights with both of the brothers, Haye chose a different route and backed up his talk by taking the WBA title (in reality a bargaining chip) from Nikolai Valuev.
After defending it in impressive manner against the faded John Ruiz all seemed set for a late summer unification blockbuster until suddenly, the talking stopped. Wladimir, who normally talks as much trash as Justin Bieber, was even driven to release a video on YouTube calling out Haye but it was met with nothing more than a list of reasons why the fight hasn't taken place. Wladimir's promise to "carry and hurt Haye for every round and knock him out in the 12th" has added fuel to the fire with Wladimir believing Haye is scared to face him.
Surprisingly, Haye has remained reasonably quiet on the matter which has infuriated Klitschko even more. The meeting will happen in 2011. It is the only fight that matters in the heavyweight division and Haye is the only opponent capable of making a Klitschko fight slightly more entertaining than the dreadful Scorpions concerts which now routinely proceed them.
In the meantime, Haye has chosen to take care of a personal matter with an old adversary. For what can only be financial reasons, Haye will make a voluntary defence of his title against 2000 Olympic gold medallist and fellow Londoner Audley Harrison in a fight which means absolutely nothing outside the British Isles. Harrison is seen as having earned at the title after pulling out a last round come from behind knockout of the journeyman Michael Sprott.
Ordinarily, this would be seen as a laughable contest. Harrison has done absolutely nothing in his professional career to warrant a match for any of the alphabet belts, but since the fight was announced the pair have traded insults at press conferences and on live TV, and habe grabbed the public's imagination. Hayes claims that Harrison will need to be stretchered out of the ring and his prediction that the fight will be as "one sided as a gang rape" have earned widespread condemnation.
The feud really took hold when Haye denied a struggling Harrison a place on one of his undercards. Harrison took this as a huge insult as a few years earlier he had provided the then up and coming Haye with the exact same showcase. Harrison began disparaging Haye in the press and in effect talked his way into the bout. Real fight fans may be disgusted at the matchup but with boxing crying out for events and genuine stars maybe, in the UK at least, this fight is a blessing in disguise.
Vic Darchinyan vs. Nonito Donaire II
With the supremely talented "Filipino Flash" Donaire seemingly stagnating on Pinoy Power PPV shows and Darchinyan having his hands full after entering the Showtime 4 man bantamweight tournament, this highly anticipated rematch may seem a long way from taking place. However, money usually talks and as the match up is one of the biggest available in the lower weight classes the pair seemed destined to finally re-engage within the next 18 months.
Darchinyan has chased a rematch with Donaire ever since the exciting Filipino inflicted both the Knockout and Upset of the year on him in a 5th Round victory in 2007. Although "The Raging Bull" claims he's going to "forget about him. He's nothing" it doesn't take a genius to realise that the complete opposite is true. Darchinyan can find a reason to turn even a routine defence into a bitter feud, so one can imagine how much a shock defeat to a fighter he has described as "chicken" is eating away at him.
Donaire seems more laid back about the whole situation. "He always calls me out. He's always doing that. There's nothing new about Darchinyan. That's how he is and that's how he'll always be. If they can make the fight happen that's fine. I'm well ready for this fight and I'm actually excited to see that the fight will happen."
It's a big 'if' but should Darchinyan enter a rematch as the winner of the Showtime tournament, and Donaire finally finds and wins a meaningful fight in the meantime, the rematch would be one of the biggest to be made in the lower weight divisions in recent years.
James DeGale v George Groves
Whilst many fans of UK boxing know Groves as the Commonwealth Super Middleweight champion, DeGale prefers to call him "that ugly ginger kid".  David Haye protégé Groves on the other hand describes the Olympic gold medallist as "Destined to Fail DeGale". The London pair have been rivals for years and met on the amateur circuit with Groves triumphing.
DeGale may have eventually scaled far greater heights in the unpaid ranks with his Olympic triumph, but the defeat still rankles with him. Both turned over to the professional game around the same time and have made excellent progress with Groves beating DeGale to a title when he impressively halted Charles Adamu for the Commonwealth belt.
In a rare, but welcome, move the rivals are keen to face each other early in their careers and their respective promotional companies are equally sure of victory, with DeGale's promoter Frank Warren offering to make a fight on his December show and Adam Booth making a counter offer for the fight to take place on a Hayemaker promotion. Whether the fight does actually happen at this early stage in their careers or whether it is allowed to grow into a big domestic clash in 18 months it is one to look forward to. Both have shown superb boxing skills and serious power so far and the needle between them is genuine.
With Rafael Marquez scheduled to take on Juanma Lopez at featherweight, Carl Froch taking on Arthur Abraham in a rescheduled Super Six bout and Bernard Hopkins somehow being rewarded with yet another big fight when he takes on Jean Pascal for the light heavyweight title, boxing has some of its finest grudge holders and trash talkers on display in the upcoming months. Suddenly the landscape doesn't look so bad and who knows, if a certain 2 welterweights can a) remain out of jail and b) but petty differences aside for long enough to make the biggest fight of this generation, maybe we could actually be entering a exciting new era for the sport.
-John Evans was the winner of the ProBoxing-Fans.com contest to reward one of our followers with a chance to write a guest column for the website. Congratulations John, and good work!-